Many a time your iPhone might get locked because either you have entered the wrong password, and had exceeded the number of tries. Usually, iPhone displays this message "'iPhone is disabled try again in X minutes", and when you exceed the limit, it will permanently lock your iPhone.  You will get a message saying "iPhone is Disabled Connect to iTunes".  In this review, we will share solutions which will help you unlock iPhone XR, iPhone XS (Max), or any other iPhone model.
When you input incorrect passcode for the 6th time, it gets locked for 1 minute. The 7th attempt results in 5 minutes lockout, the 8th attempt for 15 minutes, 9th incorrect attempt results in 60 minutes lockout, and the 10th attempt is when your phone will be permanently lockdown.
Unlock locked iPhone
While iTunes can unlock your iPhone using your iCloud account, using Restore iPhone option, sometimes it doesn't work. However, you will need to have a PC which is trusted before. You cannot unlock on a new computer. It gets even worse if you have forgotten your password or never connected to an iCloud account; you can use drfone – Unlock to unlock your locked iPhone.
Warning: All your data will be lost when using this method. The same happens with iTunes as well, and everything is restored with iCloud Backup. So if you haven't backed up your iPhone, you are in a state of bad luck.
drfone – Unlock iPhone review
1] Download, and install dr.fone software (iOS) from the website. Once installed, launch the software. Select Unlock from all the available options available in the software.
The software also offers to switch between two iPhones, transfer between computer, and iPhone, permanently erase your iPhone and backup-restore social apps.
2] Connect the disabled iPhone to the computer using the USB or the lighting cable. The software will automatically identify the phone.
Note: This works with iPhone XR, iPhone XS (Max), or any other iPhone model.
3] Post detection, the software will instruct you to boot your iPhone into DFU mode or Device Firmware Upgrade mode. This mode allows one to restore the device from any state, including the locked state. In this state, information about your iPhone including version, model, etc. will be detected.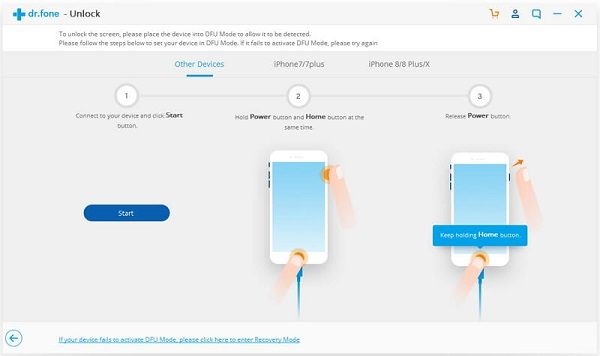 4] Once all the information is gathered about the iPhone, you will be then prompted to download the firmware. This firmware will then be flashed to your iPhone. Usually, the size of the firmware is around 2GB+, so depending on the speed of your connection, it may take some time.
Click on the Download button, and it will start downloading the firmware through your default browser.
Since the firmware is usually around 2GB, it will take a few minutes to finish the download. You can also click "Copy" to copy the download URL to the browser to download.
5] After the download, click on the Select package option. Post this, dr.fone will start recovering your iPhone or rather unlock your phone.
The application will prompt you at crucial places for confirmation to make it clear that files will be deleted when opted in with this method.
6] Next, the package will be flashed, and iPhone will reboot into a state as if it was new. The password will be removed, and you will have to install all the apps again and use your iCloud id. In case you have a backup, you can restore which will install all the apps, messages, photos, and so on.
In case the device fails to get into DFU mode, you will get a link to boot your phone into recovery mode. While you can manually boot into DFU mode, it varies from iPhone to iPhone.
For example on iPhone 8 or later, you need to press and quickly release the Volume Up button. Press and quickly release the Volume Down button. Then, press and hold the Side button until you see the connect to iTunes screen. While on iPhone 7 or iPhone 7 Plus its simpler. You need to hold the slide + volume button buttons at the same time until you see connect to iTunes Screen. So make sure to follow the instructions correctly
That said, in a situation where you have no access to trusted iTunes installation, have forgotten your Apple account, and nothing you can do, Dr Fone should be able to unlock your iPhone. It makes use of the similar method but doesn't restrict on trusted PC issue. You will lose all your data, but there is nothing you can do about it.
One tip I will offer to everyone using iPhone. Enable iCloud and Lost My Phone feature. That will make sure it easy to reset your phone and make sure nobody gets access to your data.
Visit this page for details and for downloading drfone – Unlock.
Dr.fone - Unlock (iOS) -
Free
Navigation & UI -

90%

Software Performance -

92%

Recovery Options -

92%

iPhone is Disabled Connect to iTunes -

92%

iTunes Compatibility -

95%