Thanks to this digital world, PDF editors are more important than ever. Every once in a while, you do need to edit PDF files. Maybe, you want to add a sign on a PDF document, replace a few words here and there, and so on. The use of PDF editors is endless. But the thing is that there are not too many great PDF editors out there. Even if there is, they do come with expensive price tags. And this is where the UPDF comes to the rescue. If you have never heard of it, here is a UPDF for Windows review.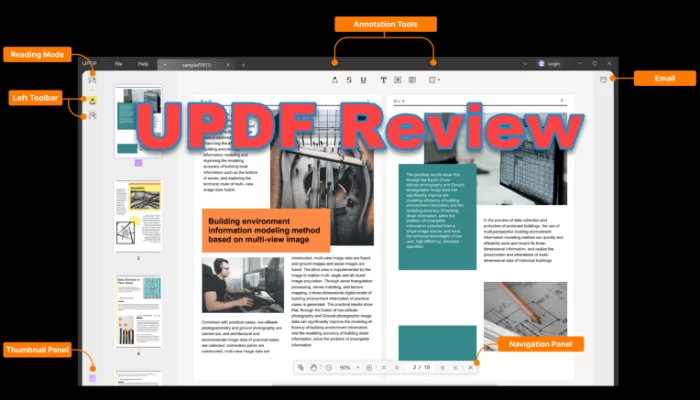 UPDF for Windows Review
UPDF is a free PDF editor that supports exiting text and images across all platforms, including Windows, macOS, iOS, and Android. It has multiple features that make editing PDF files super easy and enjoyable. The software is developed by a startup named Superace Software Technology Co. LTD.
UPDF works as a one-stop solution for all your PDF problems. You can view, edit, annotate and convert your PDF files in easy steps. Along with that, it comes with a modern and user-friendly design. So even if you have never used a PDF editor, onboarding to the software would not be an issue. Also, the software is designed to suit heavy PDF workflows. Talking about the features, using this, you can read PDF files, view the properties of your PDF files, manage your PDF files, share PDF, or print PDF.
Apart from this, it comes with a split screen feature that allows you to open two PDF files simultaneously, which would come in handy in certain situations.
PDF Editor, Reader, Annotator and Converter doe Windows and Mac:
Here is the list of features you get when UPDF using Windows and the Mac version for managing your PDF documents:

Edit Text
With UPDF, you can easily add, delete or modify texts in a PDF file. You can also increase the PDF file's modified text size, font, and change color.
Edit Image
Want to add an image to your PDF document? UPDF can be a great help. The software only allows you to insert images into a PDF file. But you can also export images in PDF, rotate, resize, and crop images. This feature would come in handy while inserting e-sign on your documents.
Edit Pages
You can also edit pages in your PDF files. Pages in a PDF document can be rotated and reordered. You can insert or extract pages or replace pages easily using the PDF editor.
Annotate PDF
Annotating PDFs is another useful feature. You can add highlight, underline, strikethrough, text box, shapes, stamps, stickers, and more to mark up your PDF. In short, you will get a complete PDF experience with UPDF.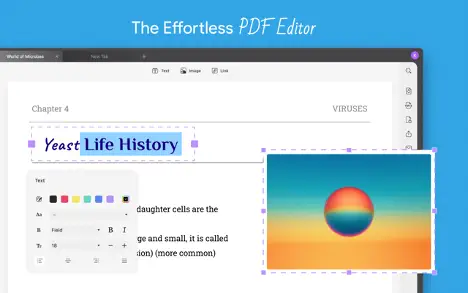 Convert PDF
You can also convert your PDF files into Word, Excel, PPT, Images, texts, HTML, and many other formats. Also, you can convert any type into a PDF file using its convert feature.
Sign PDF
Signing PDF documents is common, and with the UPDF, you can easily insert handwritten signatures to your PDF or contact form.
Read PDF
It has 4 reading modes for reading PDF files, making your PDF reading more enjoyable. It also supports dark mode, which would make your PDF reading experience better.
How To Use UPDF To Edit PDF?
As mentioned earlier, UPDF is straightforward software, and using it wouldn't be an issue. But to give you a quick heads up, here is how you can edit a PDF file:
First, download and install UPDF from its official website.
Next, launch the software, and you will see an Open file button.
Click on it and select the PDF file you want to edit.
Next, select Edit PDF from the sidebar, and you will get into edit mode.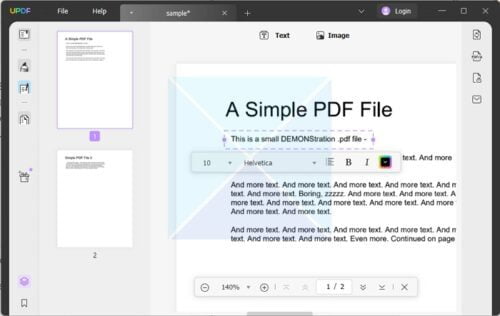 On top, you will find a Text and Image button; you can use these two options to add images or text to a PDF file.
Also, you can select a text or image area to edit it.
Once done, simply save the file, and you are good to go.
How To Use UPDF To Convert PDF Files?
Just like editing PDF files, converting them is also super easy. You can follow the below steps to convert your first PDF file using UPDF:
First, launch UPDF.
Click the Open file button and select the PDF file you want to convert.
Next, you can edit the PDF file if you wish to.
Else on the right side of the screen, you will find a PDF Export button – click on that.
Over here, choose the export file format such as Docs, HTML, CSV, Image, etc.
Export PDF as PDF/A
Another feature that UPDF has is the PDF to PDF/A. PDF/A is an archival PDF format that includes all fonts used in the document as embedded fonts within the PDF file itself. This ensures that the file receiver will not need the same fonts installed on their computer to see the PDF in its original fonts. Instead, they will receive the same PDF file you sent them.
To convert your PDF files into PDF/A, follow the below steps:
Launch UPDF and add the PDF file that you want to convert.
From the right side, click on the PDF/A icon.
Next, select the destination folder where you want to save the PDF/A file.
Click the Select folder, and UPDF will convert your PDF file to PDF/A format.
UPDF Pricing
While you can download and use UPDF free of cost, the free version has limited features and will add a watermark when you save your PDF files. Also, you can only edit one PDF file daily and convert up to 5 free PDF files in a lifetime.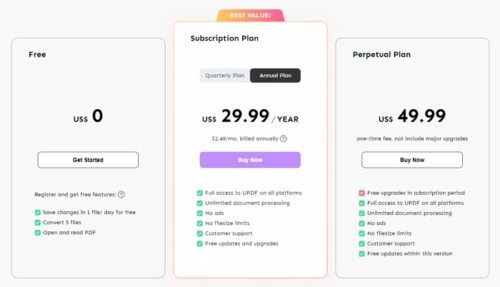 The free version is only good for trying out the software. But if you want to use it without limitations, you must get a premium license.
Regarding pricing, UPDF comes with two paid plans, the Subscription, and Perpetual plans. And these plans cost you $29.99/year and $49.99 One-time fee, respectively.
The paid plans will give you full access to all the features with no file size limits and no ads and offer you free updates and upgrades.
However, with the Perpetual plan, you will not get any free upgrades during the subscription period. So compare both the platforms and choose the one that suits your needs.
Also, unlike other PDF editing software, you don't need to buy a separate license for Windows or Mac. Instead, you will only have to purchase the license once, and it can be used across all the supported platforms, i.e., Windows, Mac, iOS, and Android.
Also, you can get up to 40% off UPDF when you use our link to purchase the software. Or you can enjoy one month's free license per successful invite.
UPDF Review
Features & Functionality

PDF Editing Accuracy

PDF convert and Export Options

Processing Time
Summary
Looking for a complete PDF editor for Windows? Check out a detailed review of UPDF for Windows that offers all these features.