Video content has become a popular form of media because it's entertaining, educational, and easy to process. Marketers also prefer to use video content because it boosts the return on investment. To make professional videos you need to brush up on your video editing skills. Movavi will explain what the advantages are for adding video editing to your skillset in this article. Continue reading to find out more.
Advantages of Video Editing
In What Profession are Video Editing Skills Important?
Video editing allows you to alter video shots by doing the following:
 Adjust lighting
 Add background sounds or music
 Cut out shots that aren't needed
 Change filters
 Add subtitles
 Put together various shots from different videos
 Remove unwanted background noise
 Add visual effects
These skills are needed in the movie and broadcast industry. However, if you make videos of any kind you'll need to know how to edit videos the correct way. Here is a list of professions where video editing is important:
Online educators: To teach people online you can provide written and video content. Educational videos must be concise so students don't get distracted by unnecessary information. Online educators can use video editing skills to cut out the fluff and adjust audio on their videos.
YouTubers: Some YouTubers create tutorials and others create content to entertain their viewers. YouTubers should know how to edit videos to add smooth transitions, music, and effects to their content.
Marketing: Anyone in the marketing industry will benefit from professionally edited video content. No matter what industry you're in you can use videos to advertise your products and services. But to make videos appealing you'll need to edit them correctly.
Multimedia artists: This type of artist is skilled in graphic design and creates effects for digital media. They may create their video content for various types of organizations. Multimedia artists will need to learn how to edit videos correctly to create professional content for their clients.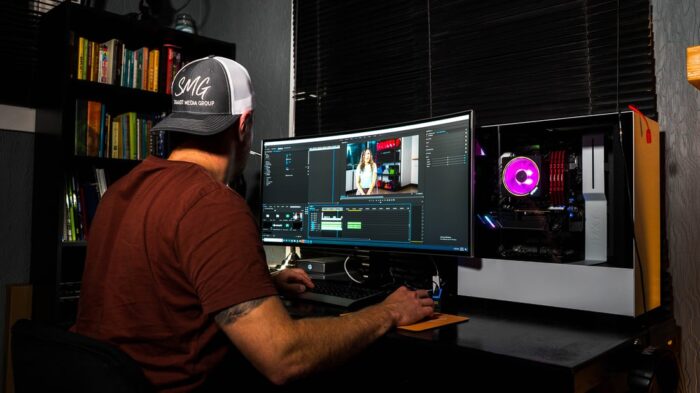 Where Can I Learn How to Edit Videos?
If you want to learn how to edit videos there are many ways that you can go about doing it. The advantage of living in the digital age is that you can access any educational video online to learn a new skill. Take a look at the different ways you can learn how to edit videos in this next section.
Online Courses
Some people don't have the budget to attend university or the means to travel to a school. If you're one of those people then online learning is for you. There are thousands of online platforms where you can learn how to edit videos such as Udemy or Shaw Academy.
You can opt for free courses with basic information on video editing or you can pay a small fee to get access to hours of content to teach you how to edit your videos.
Video Tutorials on YouTube
Watching YouTube tutorials is an ideal way to learn the fundamentals of video editing. Some videos may teach you how to use specific settings on the software you're using. You can watch tutorials from professional video editors or those that are learning about their platforms.
YouTube tutorials are ideal for freelance video editors that are either editing their own videos or creating content for other creators.
Study Video Editing at College
You may need a college degree to work as a video editor in the entertainment industry. Most professional video editors have a bachelor's degree in a field that's related to broadcasting. If you want to go into the film and television industry you may need to explore specific degree requirements such as a bachelor's degree in film production.
Video Editing Through the Software You Use
Some video editing software will provide video tutorials or written content on how to edit your videos using the program. You may find the content on the brand's website or inside the program, you're using.
Additionally, there may be prompts as your working through the video editing software to help you learn how to use the program.
Start with software for beginners, and then gradually develop your skills: Use an online video editor or other software.
What Skills are Additionally Important to the Skill of Video Editing?
Video editing isn't simply cutting out unwanted shots or adding or removing background noise. Some video editing will require additional skills such as:
Digital imaging
Scriptwriting
Sound engineering
Film production management
Graphic design
Photography
You may also need a list of interpersonal skills such as:
The ability to work under extreme pressure
A keen eye for detail
High levels of creativity
Patience
Time management skills
Excellent communication skills
Other tasks may be expected of you such as correcting faulty footage or enhancing colors.
How Can You Make a Unique CV With Video Editing Skills?
Creating a video resume is an ideal way to apply for a video editing position. Ideally, you want to increase your chances of getting hired. Your video resume won't require you to speak or show your face in the video. It's simply a digital version of your CV. To create a unique CV for video editing follow these steps:
Add your contact information to the header of the video. This will allow the employer to contact you for a second interview or if they want to hire you for the position.
Write a short, professional summary of 50 to 60 words that highlights your most important skills.
Include a list of work experience and references. Place the most relevant work experience at the top. Under each company, list your duties.
Under your working experience add a section about where you attended school and college. Add any certificates or degrees you've earned under this section.
Add a section about your video editing skills, experiences, and awards under your education section.
Avoid using fancy fonts when creating your video CV. Use a font that's easy to read such as Arial and use font size 10 or 12. You should also avoid using neon colors. A neutral off-white font tone with a gray background will work well.
4 Advantages of Learning How to Edit Videos
According to Zippia, video editors are paid on average $46,954 annually. That's not the only advantage. Here are four more benefits when you learn how to edit videos.
1. Increase Online Views
Messy videos that have random clips and content won't have the potential to go viral. What's more, viewers tend to skip videos that are long and drawn out and don't get to the point immediately. If you want to increase online views you must learn to cut out the fluff and create quality content that people will stay to watch. This means adding visuals, proper lighting, and removing unnecessary clips.
2. Save Money with Your New Skill
Some professional video editors can charge a lot of money for their skills. If you don't have the budget for third-party video editing then why not learn to edit your own videos? The only money you'll spend is on the software you use or the online courses you sign up for.
Although editing your videos will take time to complete, you'll save money by doing the task yourself.
3. Become a Freelancer
You can become a competitor in the industry by offering your video editing skills to people that need them the most. 86% of businesses use videos as a marketing tool so the need for skilled video editors may be in high demand as video content increases.
4. The Opportunity to Learn Additional Skills
Video editing isn't simply splicing and combining clips. You have to opportunity to learn other important skills such as sound engineering, proper camera angles, scriptwriting, and more. You can also boost your creativity by coming up with new video concepts that have the potential to boost views and engagements.
Final Thoughts
Since video content is increasing every day, the need for skilled video editors is increasing. You can use your new skills to help organizations create professional video content. Or you can use your new video editing ability to create your own videos and monetize them. With the proper video editing skills, you can branch off into other industries that are looking for someone with your expertise.