4k videos are everywhere – you can record them on your phones, action cameras, HD Cameras, and other devices. While 4K videos promise unmatched quality, they are unsupported or lag in old devices, and they are very large. So, playing 4K videos is not a quality that every device is capable of. In this post, we are going to talk about a powerful software called VideoProc, a great video editor with strong 4K abilities.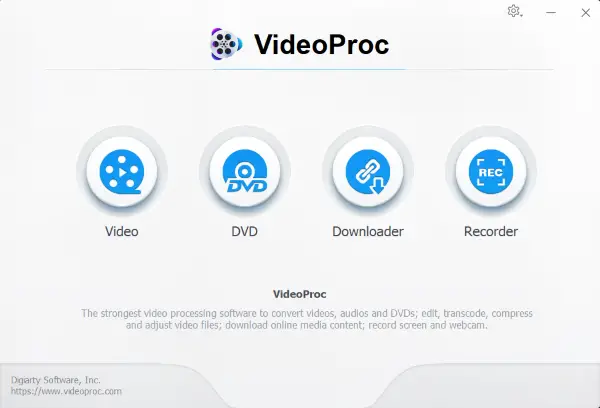 VideoProc Review
VideoProc is an easy to use premium video editor software that gives its users a great experience while editing their videos. It comes with amazing 4K capabilities that would let you process your 4K videos and convert them into formats supported by other devices. It is a very powerful yet a simple to use the tool.
To get started, you can head over to the home page and download the tool. The installation process is straightforward. Once installed and activated, the tool would perform a quick scan on your system and will benchmark its capabilities. It will tell you what the hardware is capable of. Once everything is set up, you can dive right into the tool's features.
It offers four toolboxes, Video, DVD, Downloader and Recorder.
1] Video
Video toolbox offers you all the tools that you will need while editing your videos. To start with, you can import videos or an entire video folder. You can also import audio files if you need them in your project.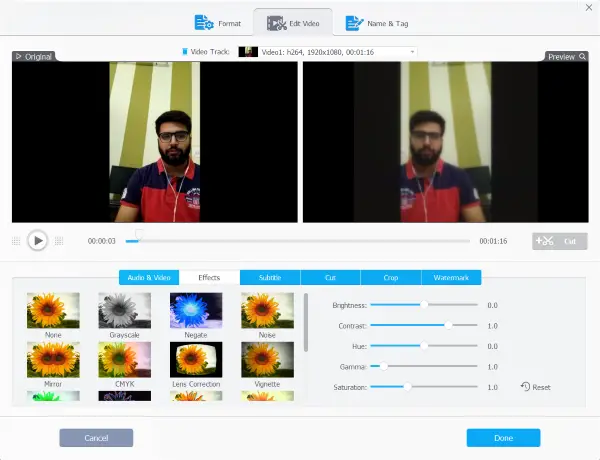 Once you have imported all your videos, you can start editing them. The program offers all basic and advanced video editing features. Here are all the features offered by VideoProc:
Audio & Video
You can rotate or flip your video, adjust playback speed, add audio delay and adjust audio tracks. There is also an option to completely disable audio tracks and Recalculate Time Stamp.
Effects
This tab would let you add general effects to your video. There are a lot of pre-sets available such as sharpen, blur, mirror, vintage, grayscale, noise, etc. You can also manually adjust other parameters such as brightness, contrast, hue, gamma, and saturation.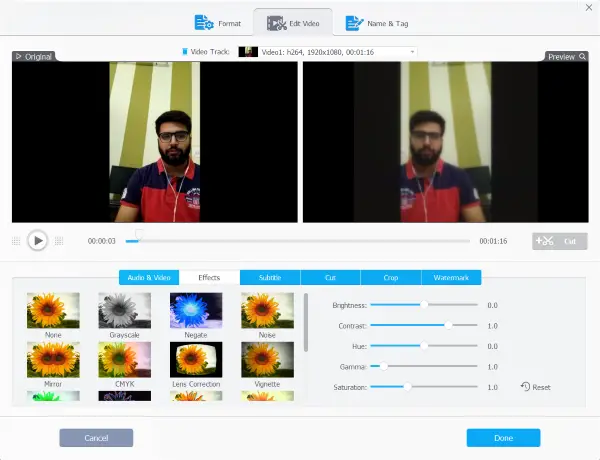 Subtitle
If you have a subtitle file for your video, you can use that to embed the subtitles in your video. Which means you can view subtitles on those devices which do not support them at all. If the video that you are editing is a popular movie or tv show, you can use the inbuilt search functionality to search for subtitles on the internet.
Cut
This features probably the most basic one. You can adjust the sliders to mark a starting and ending position and trim the video to a desirable length.
Crop
This would let you crop your video, there are a lot of pre-sets available, and you can also use the free option to manually select the crop boundary.
Watermark
Watermarks can be easily added as well. You can add text, images, adjust their size and transparency.
Once you are done editing your video, you can finally choose the output format, and you are almost done. The program comes with a plethora of pre-sets again. You can simply select an output video format, or you can choose a device on which you want to play the video. This comes handy when you are trying to downscale your 4K videos so that you can run them on other devices.
All the features mentioned above work very well with all 4K videos, and you can use this tool to convert 4K videos to suitable formats for different devices. Social platforms such as Facebook and Instagram do not support 4K videos currently, so you can use this tool to convert them. Also, if you simply want to reduce the file size of a 4K video, the tool can be helpful. Files with lesser size can be easily uploaded to drive and transferred quickly across devices.
Hardware Acceleration
VideoProc takes full advantage of underlying hardware to convert and process videos at the fastest speed possible. Hardware Acceleration processing of 4K videos, and you can read more about it here.
2] DVD
The DVD toolbox is all you need if you have a few old DVDs around. It lets you convert existing DVDs into modern digital formats such as MP4, etc. You can convert DVDs to mobile or YouTube suitable formats or just keep a digital backup of your DVDs on your computer.
3] Downloader
VideoProc comes with a built-in video downloader, just in case if you want to grab something from the internet. The video downloader is super simple to use and supports a ton of websites including the most popular ones such as YouTube, Vimeo, DailyMotion, Facebook, etc.
4] Recorder
The last toolbox in the program is a screen and a webcam recorder. You can record screen, webcam, or both of them together. You can also enable system and microphone input as well. So you can make a good quality screen and webcam recordings using VideoProc Recorder.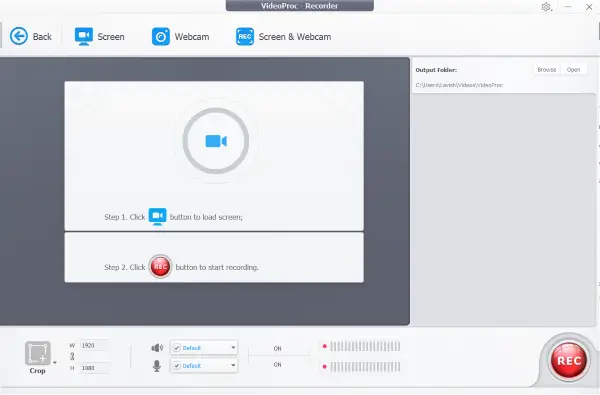 VideoProc is a great and simple video editor. The fact that is works flawlessly well with 4K videos makes it a better option, given that almost all the devices are capable of recording 4K videos these days. Plus the added benefits of DVD, Downloader and Recorder toolbox makes the tool worth its price.
The tool is competitively priced, you will have to pay $29.95 for a 1 Year License, or you can get a lifetime license for 1 PC for $42.95.
You can read the how-to guide and download VideoProc from videoproc.com.
Navigation & UI -

90%

Software Performance -

92%

Quality of video output -

92%

Video File Format Support -

92%

Processing Time -

95%