In recent years, content creation has flourished, making it much easier to generate clips for a portfolio, a project, and other purposes. However, if you decide to generate material, you'll need to edit it, so which video editing application is the best? Video Editing is a vast field that encompasses anything from developing short clips to share on social media to producing videos for professional use cases.
One such all-in-one video editing tool is VideoProc Vlogger. It's is a cross-platform video editing tool that allows organizations of all sizes to edit audio, video, and graphics using an easy drag-and-drop interface. This post will look at VideoProc Vlogger, its features, pricing, and the overall experience.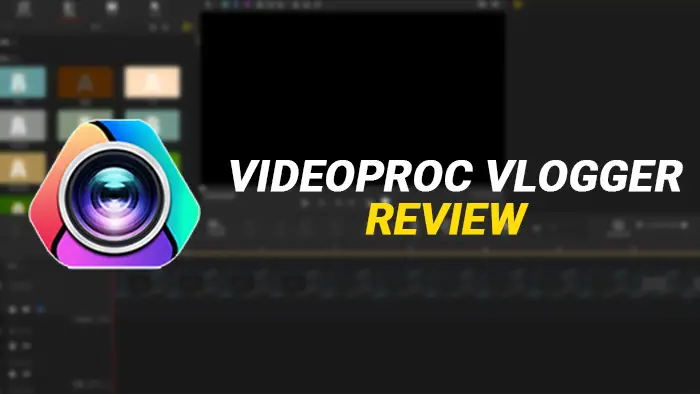 VideoProc Vlogger Features and Review
One of the most appealing features of VideoProc Vlogger is its user-friendly interface, which makes video processing a breeze for beginners who are just starting.
Installation and Interface
Once you have downloaded the software, the installation procedure is simple, and the installer does a good job of guiding you through it.
VideoProc Vlogger doesn't require a tremendously powerful machine to function smoothly. The minimum software requirements are a 2GHz Intel or AMD processor paired with a minimum of 1GB RAM and 600MB of empty hard-disk space for installation.
Why is VideoProc Vlogger the best tool for Vloggers?
Vloggers can now effortlessly trim parts of a video, remove any unneeded bits, and rearrange clips in any order to form a sequence. VideoProc Vlogger also makes it quite simple to cut a video track, remove black bars, reduce distracting elements, crop in, and emphasize the critical area. Once you read through the features, it will be clear why it's the best free video editing software for Windows PC.
Some of the other features include support for adding and exporting subtitles and applying preset visual effects and filters (such as Grayscale, Edge, Mirror, Painting, and Sharpen). The Motion tool allows users to use simple camera effects with 28 motion presets or personalize the path and direction with keyframes.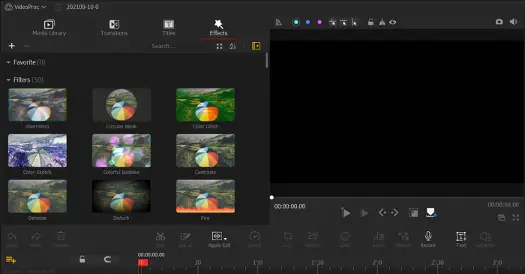 What we most loved about the software was how it can easily create professional-looking camera movements, including Zoom in/out, Pan, Tilt, Dolly, Truck (move left or right), Pedestal (move up or down), Rotate and Dolly zoom (Hitchcock shot). The effects turn out to be pretty cool looking and could help vloggers keep the audience engaged.
One of my other particular favorites is the ability to speed up the videos, aka Speed Ramping Effects. The Bezier curve allows users to ramp up the pace or slow it down to provide a cinema-like effect, giving the clip a more natural and professional look. If you're looking to shoot epic sport B-roll videos, in-depth tutorials, or any thumb-stopping content, this tool might be the perfect fit for you.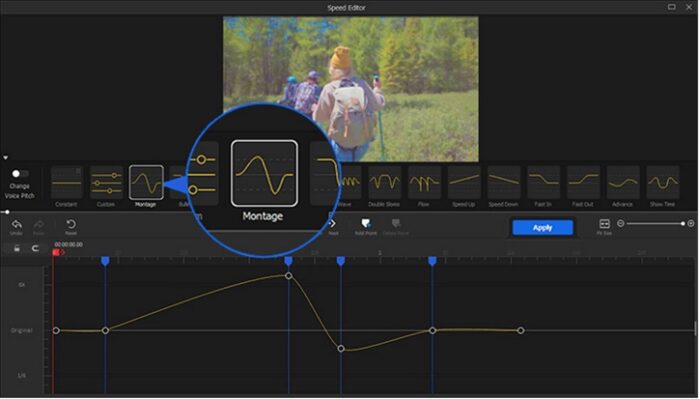 There are over 14 Bezier curve presets to enhance the sports videos, adding focus and emphasize the part where skills are shown. This magnetic timeline comes with rulers guides that allow you to cut, edit, delete and set video sped points with higher accuracy. The speed can change from anywhere between 1/32X to 32X.
Then comes the Camera Movements. Using this feature, you can add camera movements after shooting the video, making it one of a kind.  The motion includes Zoom, Pan, Tilt, Truck, Pedestal, Push-In, Pull Out, Roll, Shaky Cam, Randon, and Dolly Zoom.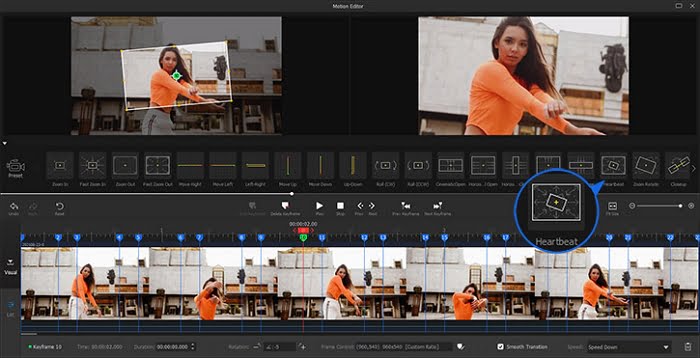 VideoProc Vlogger uses GPU acceleration to speed up editing and transcoding while maintaining excellent video quality. Moreover, you can choose the different aspect ratios for your videos to perfectly meet your needs, such as 16:9 with 4K/1080p/720p quality, 9:16 for TikTok, 1:1 for Ins.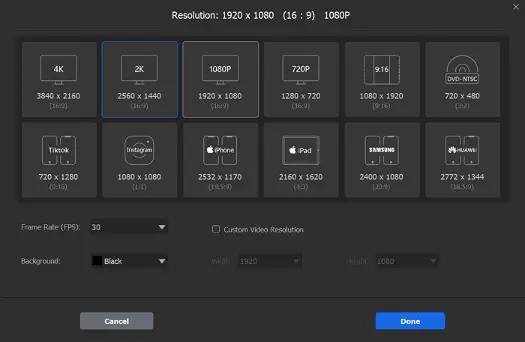 More to Love:
Edit to the beat: Matching up your cuts with the beat of the background music is cool, right? VideoProc Vlogger makes it happen effortlessly. To start, you just need to select "audio editor", then click "Analyzer" to select a detecting mode, then you can see all the markers on the timeline. Of course, you can also simply adjust the volume and change the tone from Man, Child, Woman, to Robot.
Color Grading: Using VideoProc Vlogger for color grading is much easier for Davinci Resolve. You can just choose the preset  93 built-in Luts/filters for videos and images, or make the precise adjustments from the right toolbar.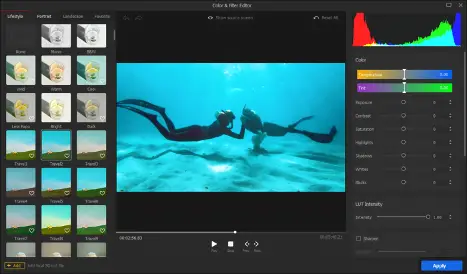 Covers all essential tools: From the basic cut, merge, crop, rotate, split, transitions, subtitle, add music, overlays, to advanced motion and speed ramping, VideoProc Vlogger has all the tools you will need for quick editing. And there are no limits, no need to pay for using all these features!

VideoProc Vlogger Pricing
VideoProc Vlogger is offered absolutely free for both Windows and Mac. All you need to do is register your email ID to get the license code and activate it. At first, it may look like it asks you to buy, but that's not the case. The code will be instantly sent to your Email ID once you register.
Who is VideoProc Vlogger suitable for?
While it is clear that the software is for videographers, let's also look at a specific set of features that makes it best for hobbyist videographers and vloggers.
Most video bloggers take video on the move, which gives them the freedom to shoot without limitation. Then some people use their GoPro. However, putting it up in raw format and simple video editing will not create an impact.
That is where the software aces using its Speed Ramping Effects and Camera Movements. All this, combined with its precise editing, makes it perfect for Vloggers.
On top of the easy-to-edit video features, all of this makes it a perfect choice for those who have just started with video editing. Instead of figuring out complex tools in advanced video editors, it offers straightforward options that help you cut, credit, merge videos, re-sequence parts, slow-motion, and more.
Verdict
Overall, VideoProc Vlogger is an extremely light, fast, feature-packed video editing tool for Windows and other platforms. The tool has its upsides compared to other applications such as iMovie and Windows's Video Editor. Thanks to its GPU acceleration, processing 4K videos isn't a hassle anymore. As for its downsides, there's a lack of 24×7 telephone or live chat customer support. You can contact their support via email and get replies within 24 hours, or read the step-by-step user guide.
Camera Movements & Editing Flexibility -

92%

Functionality & UI -

91%

Performance -

91%

Audio Optimization -

90%

Heterogeneous file export -

92%