VideoSolo BD-DVD Ripper converts Blu-ray & DVD videos at super fast speed with predefined options for various devices. Blu-ray discs replaced the outgoing DVDs, and CDs thanks to the quality attributes like increased disc capacity and higher resolution. High Definition Movies are best enjoyed with Blu-ray discs, and that's why you still have many users of Blu-ray discs even in the age of virtual storage like Cloud. However, carrying data in Blu-ray discs has its disadvantage too; not all devices can play Blu-ray discs, and that limits its usage especially when you want to share your favorite movies or shows with your family and friends. So how to overcome this issue? The best way is to use a BD-DVD Ripper software, and one of the best among them is VideoSolo BD-DVD Ripper.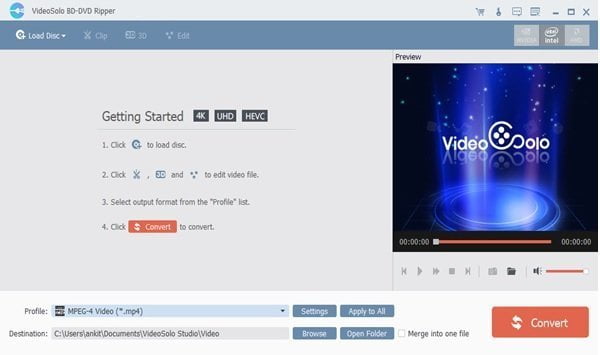 VideoSolo BD-DVD Ripper is not just a regular BD-DVD Ripper software but performs various other functions too. Let's find what all does it offer.
VideoSolo BD-DVD Ripper is a fast DVD and Blu ray ripper
Apart from ripping Blu-ray discs and DVDs, VideoSolo is loaded with features that let you convert videos in a variety of formats and enhances video quality. Here are the 10 best features that we identified. :
1] Converts to Multiple Formats:
VideoSolo BD-DVD Ripper can rip any Blu-ray disc or DVD to 300+ Formats without any limitation. You can convert to MP4, MKV, MOV, FLV, M4V, as well as popular audio formats such as MP3, AAC, OGG, WAV, M4A, etc.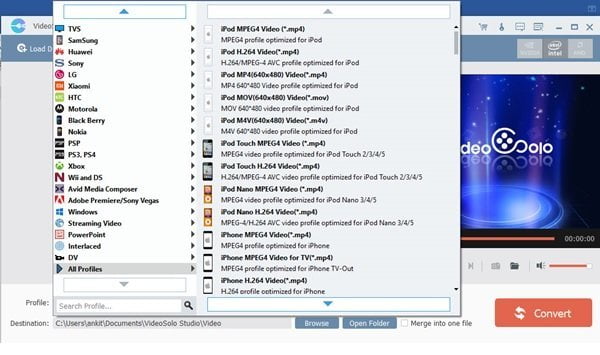 2] Predefined Output file for Popular Digital Devices:
VideoSolo BD-DVD Ripper comes with predefined output file for popular digital devices such as Samsung/Sony/LG/Huawei smartphones/tablets, Apple iPhone/iPad/iPod/TV, PS3/PS4 game console, Windows-specific formats, Streaming formats and more.
3] Adjustable Parameter Settings:
With VideoSolo BD-DVD Ripper you get adjustable parameters settings. You can easily adjust resolution, aspect ratio, bitrate, frame rate, video encoder, audio channels, sample rate, audio encoder, etc. to tailor your ripped Blu-ray/DVD movie.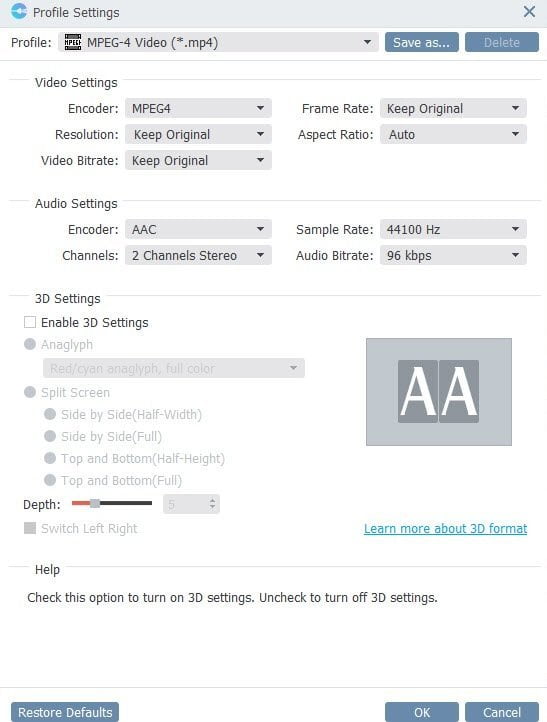 4] Highest Output Quality:
It's a common phenomenon that most ripped videos suffer from quality issues post-conversion. VideoSolo BD-DVD Ripper rips your DVD/Blu-ray movie with keeping original quality as much as possible and provide 1080p and even with 4K resolution output.
5] Faster Conversion Speeds:
While most BD-DVD Ripper Software suffers from slow conversion speeds, VideoSolo utilizes your hardware specification to come up with faster conversion speeds. Hence, if you have a powerful PC, you will get a faster conversion speed.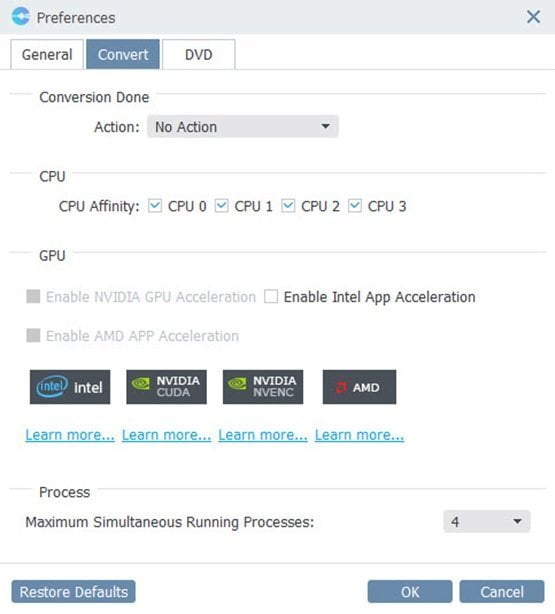 6] 3D Output for better visual experience:
With VideoSolo BD-DVD Ripper you can rip your Blu-ray or DVD movie to 3D modes, like Anaglyph (Red/Cyan), Side-by-Side (Full/Half-Picture), Top/Bottom (Full/Half Picture). The depth setting of 3D can be adjusted according to your need.
7] Subtitle and Audio:
VideoSolo BD-DVD Ripper lets you customize subtitle and audio tracks. You can pick one subtitle from the original options or import the external subtitle and audio track.
8] Build in Player:
VideoSolo BD-DVD Ripper comes with a Build-in Player that let you preview your Blu-ray/DVD movie or even take a snapshot during the preview.
9] User-friendly Interface:
VideoSolo BD-DVD Ripper has an extremely user-friendly interface to work with. With the right placement of necessary tabs, you won't feel the need for any manual to assist you in getting started at all.
10] Platform Compatibility:
No matter if you are equipped with Apple's Mac or Microsoft's Windows PC, VideoSolo BD-DVD Ripper offers the same user experience across both of these platforms.
How to use VideoSolo BD-DVD Ripper
Installation
To get started, visit the official site of VideoSolo and download the installation file. The installation file is around 37MB, which means it should not take too much time to be downloaded. You will be asked to Register or continue with the Trial version.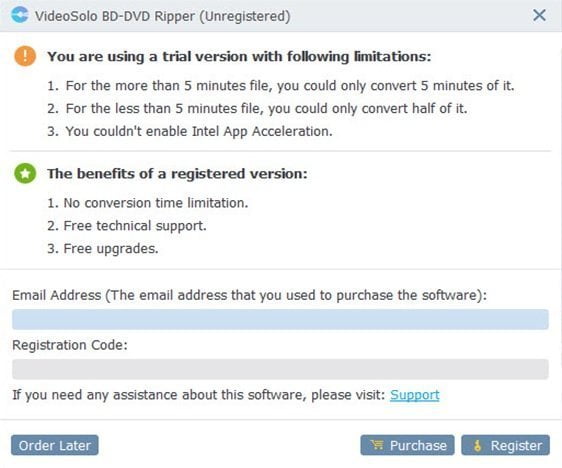 Using VideoSolo BD-DVD Ripper
1] Load Disc into your Drive
2] Launch the software and click on Load Disc. Choose the loading option, in case you have an ISO; you will need a virtual drive. The software presents a list of DVD chapters. You can decide which chapters you want to include, change between different audio languages and even add subtitles (internal or external ones).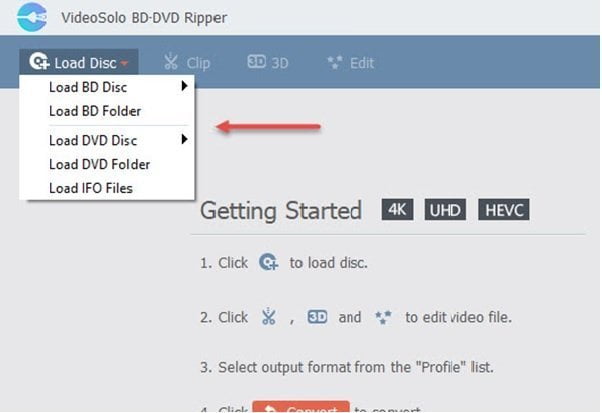 3] Choose the Output format. There are various profiles already present. You just need to pick a device.
4] Choose the destination folder where you want to save the converted file.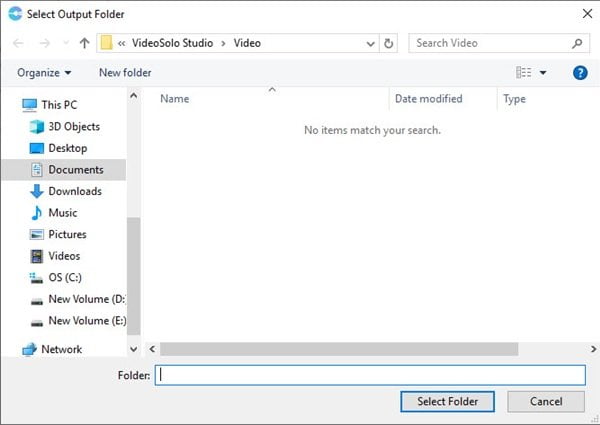 5] Click on Convert to start the Ripping. The Ripping time depends on your hardware specifications.  Video conversion takes all your PC's resources, including its CPU and GPU unit.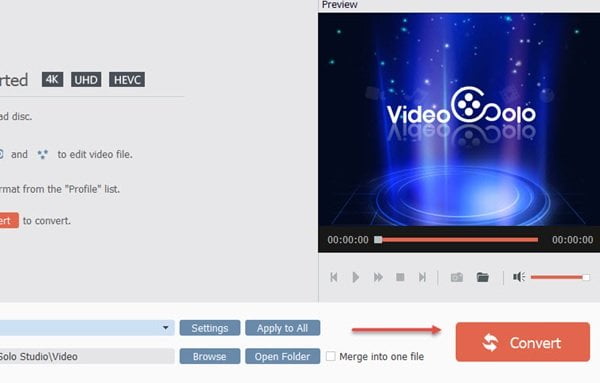 Pricing
Since the Trial version functionality is limited, we recommend that you purchase a full version from videosolo.com. Based on your usage and the number of PCs you use, you can select from the below 3 options.
1-year subscription for $29.95
Single License lifetime subscription for $39.95 with unlimited use and future updates
Family License for $69.95 covering up to 5 PC. It also includes a lifetime of free updates.
Payment Methods
You can choose from more than a dozen different payment methods that include all major payment cards, PayPal, WeTranfer, etc.
Conclusion
While there are many BD-DVD Ripper on offer, VideoSolo BD-DVD Ripper could outscore most thanks to the enhanced features that it offer. The most interesting feature of this software is that it can use all your computer's resources. Hence, the conversion time is shortened.
VideoSolo BD-DVD Ripper -
$39.95
Ripping Quality -

88%

Functionality & UI -

88%

File Format Supported -

88%

Processing Time of Ripping -

88%