This article will review one of the best VPN applications for Windows, VPN master Pro. We will cover all the features and help you make an informed decision. Using the internet is not what it used to be in the early days. Nowadays, websites are tracking your activity everywhere, governments censoring content and tracking citizens, hackers trying to get hold of your personal information, and whatnot. Because of so many threats, you can never be at true peace of mind while working on the internet. Well, when there is a problem, there is a solution. VPNs or Virtual Private networks help by protecting you from threats and allowing you to bypass censorship by rerouting your internet traffic to a secure server located in a remote region and encrypting your traffic.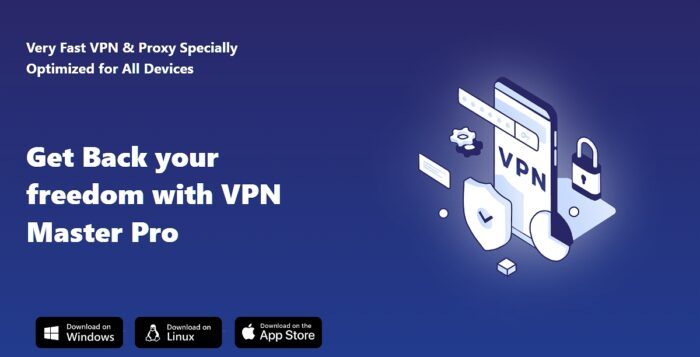 What is a VPN & how does it work?
Using a VPN (Virtual Private Network) protects your online identity, hides your IP address, and prevents third parties from viewing your online data on unsecured networks. Your data is encrypted in real-time through a VPN and sent over a secure virtual tunnel. As a result, third parties like hackers cannot track your online activities.
VPN Master Pro Review
There are countless VPN services out there, and most of them work the same way, but what distinguishes this VPN software is the distinct set of useful features and simplicity. The service is also very affordable and certainly has the upper hand regarding user privacy and protection.
Unblock websites and apps to work everywhere
VPN Master Pro has been featured worldwide for its excellent services on top media outlets. The service is backed by huge servers capable of handling terabytes of data smoothly and securely. You can surf the web from 60 locations worldwide virtually. You get the ability to bypass any censorship, get region-specific discounts, skip captcha, and complete privacy with the application.
Enjoy a fast and reliable connection wherever you are
It has a straightforward interface. All you need to do to use the application is to install it on your device, sign in, sign up to the application, select the server and get going. The application gives you 100 GBs of unrestricted bandwidth across all the servers, including top locations like the USA, Israel, Italy, Japan, Australia, Singapore, and many more.
The servers are designed to give you blazing fast speeds, unlike other VPNs which slow your internet, we have tested the internet speed on multiple servers, and no difference in the speed was experienced. The company has 5000 Gigabit servers to serve all the requests.
Cross Platform
Got multiple devices? No worries! VPN Master Pro has covered you as there is cross-platform availability, and one subscription works for all devices. So you can use VPN Master pro on your Windows or Mac PC, Android or iOS Smartphone or tablet, and even on Linux devices.
Keep your devices safe
Are you a Windows user at work, a Mac user at home, and a Linux user for special projects? On every platform, you will be safe and secure online. In addition to Windows and macOS, VPN Master Pro supports iOS, Android, and Linux. Chrome, Firefox, and Edge extensions will also add a secure proxy. This VPN service is the best for all your devices, and many people trust it.
Application across all platforms packs a minimal interface, and anyone without knowledge of VPN applications can use VPN master pro. To subscribe to the service, you must go to the website, sign in with your account, and make the purchase. The subscription will then be linked to your account, and unrestricted access to the VPN Master Pro's blazing-fast VPN services will be activated across all your devices.
How to use VPN Master Pro
Step 1: First download, and install the software. Once you open it, you will get a sign-in page. If you already have an account, you can enter the credentials or sign up first to create an account.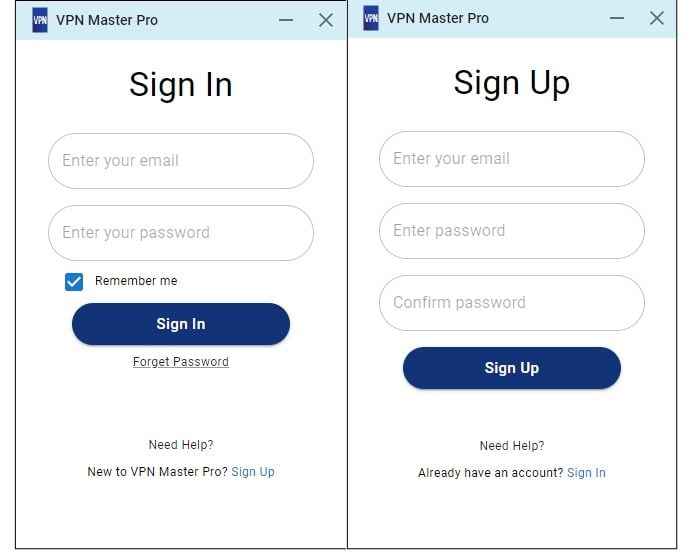 Step 2: Once you sign in, click on the hamburger menu on the top left. Below that, the app shares details on the data limit and then connect button and server button. However, before you connect, you need select a server location.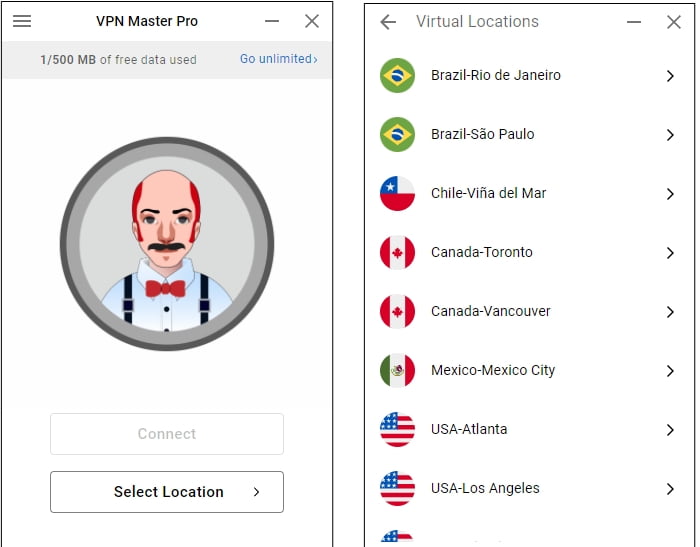 Step 3: You can now browse your PC using a VPN until you reach the data limit. Lastly, you can sign out if you don't want anybody else to use the VPN. After every session, the app asks for feedback, but you can always skip it.
Conclusion:
VPN Master Pro, in all totality, is one of the best, if not the best, VPN services out there, with a wide range of servers to choose from, affordable pricing, and fast speeds. The interface is simple, clean, and adaptable to everyone. The free bandwidth of 100 GBs gives you adequate time to try the service and see for yourself if it's worth it or not. We hope you found our review insightful and made a wise decision for yourself.
Visit the official website to download this VPN software right now!
Is It Legal To Use VPN?
Yes, it is legal to use VPNs in most countries. Suppose VPNs are used to commit any digital or other crime. In that case, the user may have to face appropriate charges, and the VPN service provider is required to assist the authorities in any way possible. Using a VPN itself is perfectly legal.