VPNs are one of the best privacy & security tools on the internet, which let you get access to websites and services which may be blocked in your country or blocked from the service. However, the problem with VPNs is the VPN itself. There are too many of them, and it's very difficult to select a VPN which suits your need. So today, we are talking about a website called VPNRanks, which helps you decide on the best VPN software for your needs.
VPNRanks offers best VPN reviews
VPNRanks is a website which compares VPN, offers legit reviews not just by looking at the features but testing it. The team evaluates and tests several VPNs like geolocation access, number of real servers, pricing, payment options, security, jurisdiction, speed, streaming support, IP, DNS, WebRTC leaks, Logging, and compatibility. All these factors help the team to put up a comprehensive and accurate review of each VPN provider.

Since the process needs a constant update and tracking of the changes, VPNRanks offers the best VPN section updated every year.
During the process, the team rigorously tests 100+ VPNs and shortlists only top 7 VPN Services. You can find their VPN analysis for all those services, including 
review of NordVPN
, Surfshark, and more, on their website.
Here is the list of factors, in brief:
1] Pricing of VPN – Plans, Payment Methods & Refund Policy
Not just the face price, but factors like the zero question asked refund policy, payment methods including cryptocurrency, and types of plan for each of the payment slot. Everything is taken into evaluation.
2] Security – Protocols, Encryption, & Features
Since all your data is passed through the VPN server, security is essential. VPNRanks make sure to check on the level of encryption, protocols, and features.
3] Jurisdiction – Physical, Virtual, & Obfuscated Servers
Most fo the VPNs physical servers are located in countries which offer full support to privacy. When choosing a VPN, they make sure they check the location of its physical virtual or any other services they offer.
4] Speed – Connection Speeds on Different Servers
While your internet speed matters, but it also matters how fast are the VPN servers. Consider it as the download server, if it limits or is slow, no matter how fast your speed is, it will not work.
5] Streaming – Netflix & Other Streaming Platforms
There is a good percentage of users who use VPN to access geo-restricted content. Netflix is a classic example which has shows restricted to only a few select countries. However, if someone uses a VPN, he can unlock those videos without paying anything extra.
6] Leaks – IP, DNS, WebRTC Leak Tests & App File Check
It is one of the most important factors to check because if your IP, DNS, etc. are detectable, then the VPN will not work as expected. If a service can detect your real IP address or figure out that you are using a VPN using WebRTC leak, then it will block you.
7] Trustworthiness – Warrant Canary, Support & User Reviews, etc.
Those who buy VPN want to make sure they are not tracked. It means whatever passes through the VPN servers do not get logged, doesn't have any auditing and the recent one — GDR compliance. It's important. Many countries have laws which do not allow free access to some services, and some are even forbidden. They also make sure to take feedback from the support, and user reviews to make reviews trustworthy.
8] Compatibility – All the Major Platforms and Devices
VPNs are not just for desktops. The number of users on the mobile platform is increasing exponentially! Users expect it to be available on more platforms, and available at no extra price. It includes Kodi, FireStick, Apple TV, Roku, Google Chromecast, and NVIDIA Sheild.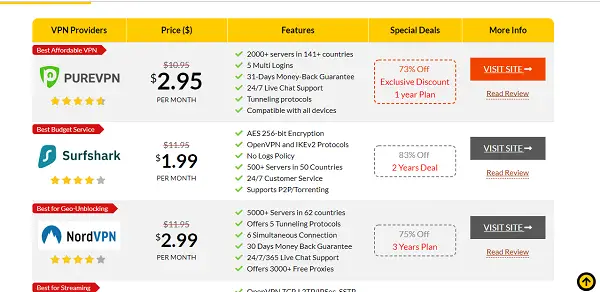 VPNRanks offers more
Apart from reviews, Best VPN Services Guide by VPNRanks also provide a comparison between different VPNs. It helps end-users get a clear difference not just from the pricing perspective, but also from the features point of view
They offer coupons which you can use to get a discount if you have taken a final decision to buy one of the VPN services. Overall, we find it to be an excellent service to help users to figure out a VPN for you.