With news breaking daily about threats to online privacy, security, and freedom, it's imperative people around the globe educate themselves about the risks – and more importantly about what tools are available to stay secure and bypass Internet restrictions. VPN services are becoming an absolute necessity – and not only for an added layer of privacy on public Wi-Fi and other unsecured networks. VPNs are also essential for preventing ISPs, governments and companies from logging, tracking and selling user data – practices which are becoming standard around the world. In restrictive countries like China, a VPN service is literally the only way citizens can get around censorship and access a free and open internet.
VyprVPN is the world's most powerful VPN, offers unparalleled Encryption, worldwide Internet Privacy and Freedom. Let us take a look at some of the features that it has to offer.
Golden Frog's VyprVPN review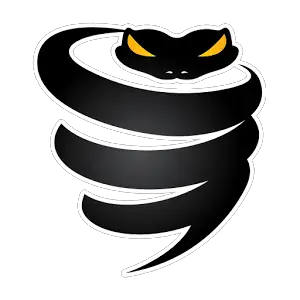 Golden Frog, the company behind VyprVPN, are Internet veterans who are garnering a strong reputation in the world of Internet privacy and security as the VPN provider that actively advocates for a free and open Internet. It is because of this growing reputation that trusted tech companies and privacy groups choose to partner with VyprVPN. Reddit, Freedom House, Greatfire.org, DigitalSafe, Dashlane and the Internet Infrastructure Coalition are just a few of the names that have chosen to work with VyprVPN.
Says Reddit:
"We evaluated several VPNs, and it became clear that VyprVPN is the best service on the market. It's the only VPN that is reliable, with user-friendly apps and fast enough for the business use."
Golden Frog GmbH is incorporated in Switzerland because of the country's favorable privacy laws.
Accessing Geo-Blocked Content and Streaming Sites
VyprVPN allows its users to bypass georestrictions and streaming sites, despite blocks in place. VyprVPN continues to have great success in allowing users to access streaming sites such as Netflix USA, BBC iPlayer, Hulu, Sky Go and Sky Go Italy.
No Third Parties or Third-Party Servers
When it comes to servers, VyprVPN stands out because they 100% own, engineer and manage their own servers and network. Other VPN providers use third-party companies to host their VPN servers, and VyprVPN is one of the only providers who does not. It's extremely important that VyprVPN hosts their own servers. Since they are the only company that handles your data, your privacy and security are protected end-to-end. There may be other VPN providers that you like and feel you can trust, but what about the third party companies that they use to host their servers? What do you know about those companies – are they also trustworthy?
Chameleon

Chameleon is Golden Frog's proprietary VPN protocol which was created to help users that live in or travel to countries with restrictive networks such as China, Russia, and Turkey.  It is also utilized by customers around the globe to circumvent firewalls on University and Business campuses.
Chameleon works by scrambling OpenVPN packet metadata to ensure it's not recognizable via deep packet inspection.  The result is an open and uncensored browsing experience, as users who enable the feature can bypass restrictive networks (such as those put in place by oppressive governments) without sacrificing security.
VyprDNS – Encrypted, Zero-Knowledge DNS
While still on the subject of third parties, another feature of VyprVPN is VyprDNS, which is Golden Frog's 100% owned and operated encrypted, zero-knowledge DNS. When the average user connects to the Internet, they rely on their ISP's DNS servers, which are often configured to comprehensively log Internet activity and even censor websites (even if using a VPN).
What is zero-knowledge?
Most ISP and third-party DNS servers log, meaning they can keep a perfect record of when and where a user goes online. For example, Google DNS logs IP address; websites visited, geolocation data and much more. VyprDNS is a zero-knowledge DNS, so Golden Frog never retains hostnames, including hostnames found in URLs.
VyprVPN Apps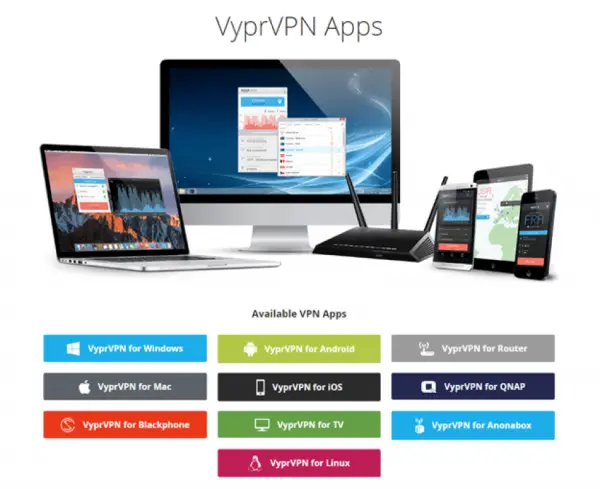 Along with an app for Windows which we'll get to shortly, VyprVPN provides apps for a wide variety of platforms and devices so you can stay secure at all times. VyprVPN offers apps for the following devices and more:
Mac
Android
iOS
TV
Router
QNAP
Anonabox
Blackphone
VyprVPN also has a CLI for Linux.
VyprVPN for Windows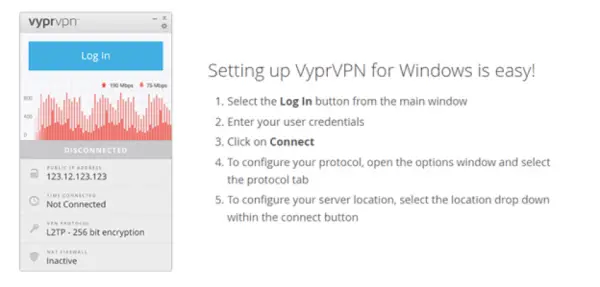 The VyprVPN for Windows app is very easy to set up and use. You simply download and install the app from the VyprVPN website, log in with your credentials and connect. That's it! After the app is installed, you can even adjust the settings to automatically connect, so you don't have to remember to do so yourself!
TheWindowsClub readers can get a 25% discount on VyprVPN annual plans
Protocols
The VyprVPN for Windows app allows you to select from several protocols so that you can choose your preferred level fo encryption, speed, and protection. The available protocols are:
PPTP
L2TP/IPsec
OpenVPN (160-bit and 256-bit)
Chameleon (Golden Frog's proprietary VPN protocol)
Servers
Users have the option to choose which server they want to connect to from a drop-down list. VyprVPN offers over 70 global server locations across six continents. Users have the option to connect to the fastest server available or save favorite servers so they can connect quickly to frequently-used servers. This option saves time scrolling through the server list each time you want to connect.
Kill Switch
The app also comes with a "Kill Switch" feature. When Kill Switch is enabled, it automatically blocks all Internet and network traffic if VyprVPN is disconnected or is not enabled. This keeps users protected 100% of the time. The Windows app also offers the option to automatically connect on untrusted Wi-Fi networks (trusted networks are easily added to a list configured by the user), and also supports UDP Port Selection.
NAT Firewall
NAT Firewall is an additional layer of security provided by VyprVPN. The Firewall works by blocking unrequested inbound traffic when you're connected to VyprVPN. You do not need to do anything in the way of configuring the firewall because it runs in the background on the VyprVPN servers. Windows users are probably already using the operating system's built-in Firewall. Unfortunately, operating system firewalls aren't perfect. Bots and hackers look for bugs and mistakes in OS firewall permissions. NAT Firewall blocks this traffic completely, thus eliminating a range of exploits. You should look at the NAT Firewall as an extra line of defense.
Something to bear in mind is that although most operating systems come with firewall solutions installed, mobile devices such as phones do not.
Plans and Pricing
VyprVPN has two plans available and can be purchased on a monthly or annual basis. Purchasing an annual account offers users up to 50% savings.
TheWindowsClub readers can get a 25% discount on VyprVPN annual plans
VyprVPN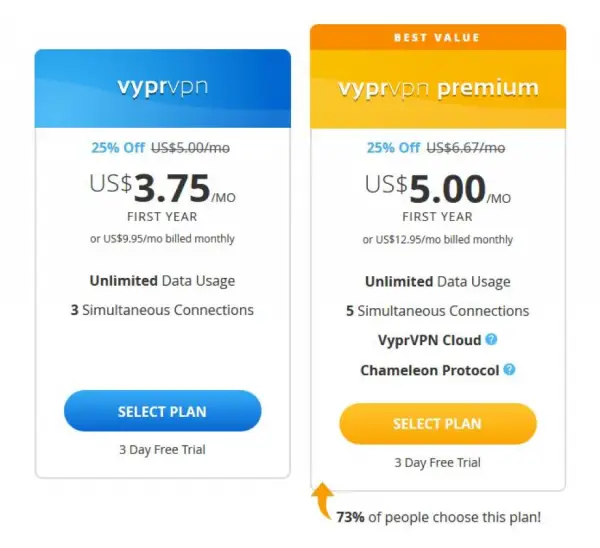 $9.95 per month.
$60.00 per year. Paying annually means pricing becomes $5.00 per month.
Main Features:
three simultaneous connections
PPTP, L2TP/IPSec, OpenVPN
Nat Firewall
VyprDNS
Kill Switch
Unlimited Data Usage
VyprVPN Premium
$12.95 per month.
$80.00 per year. Paying annually means pricing becomes $6.67 per month.
Main Features:
5 simultaneous connections
PPTP, L2TP/IPSec, OpenVPN, Chameleon.
VyprVPN Cloud access
Nat Firewall
VyprDNS
Kill Switch
Unlimited Data Usage.
Other points to cover.
Success in China
In spite of repeated attempts by the Chinese Government to block VPN services in the country, VyprVPN still works within the country and has great success thanks to its Chameleon protocol. VyprVPN has also been able to get back up and running very quickly following VPN-blocking events – ahead of other providers – which is another benefit of the company owning and managing their own network.
Gaming
By using their own network and hardware, VyprVPN can reroute user connections to a network that is built and optimized for speed. With server clusters located in close proximity to major gaming servers, VyprVPN can offer faster speeds, lower ping, and a better overall gaming experience. VyprVPN also prevents ISPs from throttling or rerouting connections to poorly optimized networks. It also allows gamers to play new titles early regardless of their location in the world.
UI & Navigation -

90%

Connection Speed -

95%

Kill Switch -

90%

Locations Availability -

95%

Platforms Availability -

95%