In recent times, AI tools have gained immense popularity. People use AI images in various ways, such as social media posts, content creation, etc. Plus, to help with the demand, many AI generator tools are now available online.
Wepik AI Generator tool is one of the known tools among such names. This tool allows you to generate images of templates, flyers, and many more with a few clicks using your words. So, how does this tool work against other popular AI image-generating tools? Well, let's find it out in this Wepik AI Image Generator review:
Wepik AI Image & Template Generator Review
Wepik is one of the most well-known free online editors on the market, offering an extensive collection of free editable and customizable templates. Wepik also offers a free AI image generator tool that can transform your text prompts into AI images.
Wepik is known for generating high-quality AI images you can download or edit online to suit your needs.
Plus, if we talk about Wepik, it is an excellent platform for creating stunning graphics online. The website offers you lots of ready-made templates that you can use for your business or personal graphics needs. And with its AI addition, you can take your visual game to the next level.
Top Features of Wepik AI Image Generator
Multiple Styles
With Wepik, you are getting multiple styles for generating AI images. It includes styles such as Anime, vintage, cyberpunk, Pixel-Art, 3D, painting, and more. Each of these styles generates an entirely different AI image. As a result, it offers you more creativity and allows you to generate AI images that you are looking for. Wepik can be used for heterogeneous activities like:
Instagram post, Instagram story maker template
Food menu maker
Flyer maker, Logo Maker
Business card maker
Youtube Banner Maker etc.
See Prompts
As Wepik is a prompt-based tool, coming up with great prompts can be hard for many. But worrying or searching the internet for valuable prompts is unnecessary. To help you with inspiration, you can find multiple AI images on the website and the prompt behind them. This will help you get inspiration and develop your prompts.
Edit your AI Images
It also allows you to edit your AI images before downloading them. You will access a full-fledged editing tool with a wide range of features such as color, aspect ratio, multiple styles, framing, etc. Once you are satisfied with your image, you can download your image.
Use your AI images in amazing templates.
As Wepik is a graphics designing website, it allows you to do more than generate AI images. You can use your AI-generated images to create different graphics. Simply select one of the ready-made templates from Wepik's library to start editing, and then include your AI images and start designing.
How to use Wepik AI Image Generator?
Generating AI images with Wepik is as easy as you can imagine. You must enter a prompt, choose a style, and generate your AI images. For a detailed guide, follow these steps:
First, go to the Wepik AI image generator.
Over here, you will find a text field labeled Describe what you want to see. Over here, enter a prompt like Cute Dog on a rainy day.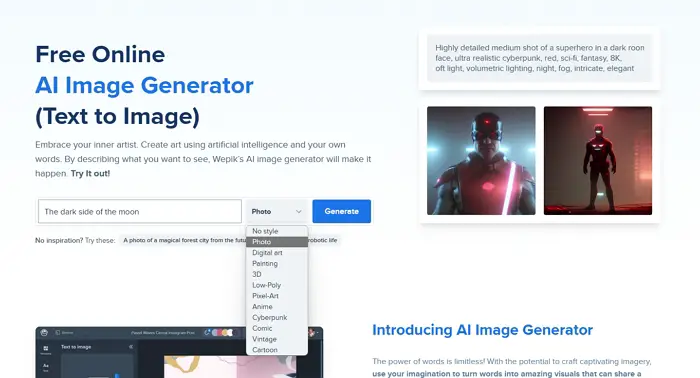 Next, choose a style for your AI image using the No Style dropdown menu.
After that, click on the Generate button.
Finally, you should get to see a couple of AI-generated images. You can click on the images to download them or start editing them.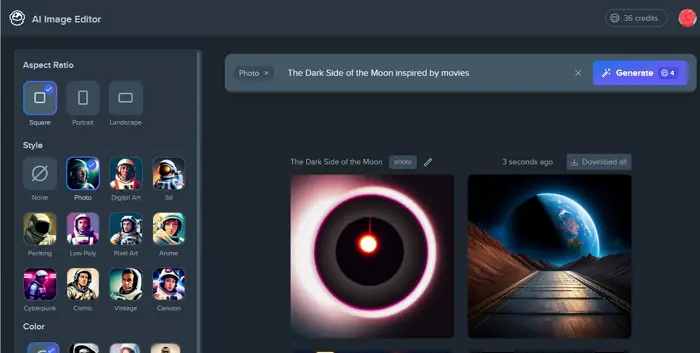 Why is Wepik AI Image Generator the best AI Image Generator?
Wepik is one of the best choices for generating AI images out there. The conclusion comes from multiple points.
First, it has excellent pricing, ditching the usual monthly subscription plan. Instead, you can pay as per your requirements. So, there is no need to commit to a monthly plan. You can use as many credits as required and pay according to that. Plus, your credits won't expire. Plus, you cannot forget the 40 credits that let you try and use the tool free of cost.
Moreover, it allows you to edit your AI images. This way, you can make all the changes on Wepik before downloading it. Also, if you want to use images for graphics design, you can easily do that.
Wepik AI Image Generator Pricing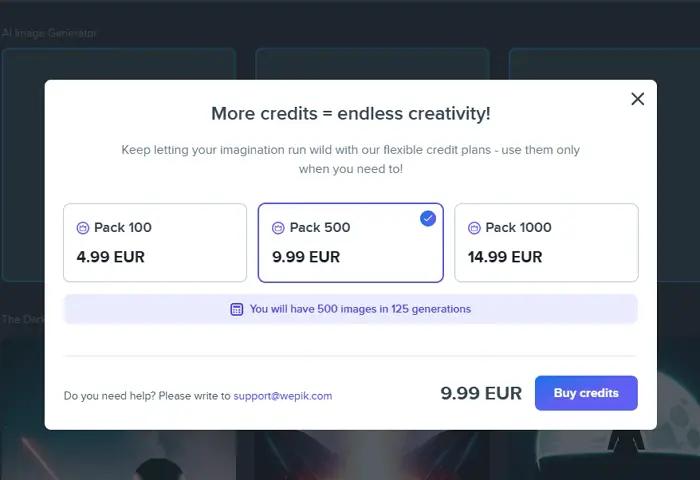 Wepik AI image generator is also available free of cost to an extent. You get up to 40 credits with a free account, and each AI run takes about 4 credits. This is good enough to generate a few images for your needs or test the tool. In case you need more, you can always buy more credits.
Talking about the paid plans it has three different credit plans. These include:
Pack 100: Offers 100 images in 25 generations for 4.99 EUR.
Pack 500: Offers 500 images in 125 generations for 9.99 EUR.
Pack 1000: Offers 1000 images in 250 generations for 14.99 EUR.
How can you use Wepik AI tools to create content without copyright issues?
AI art is like a drawing made by an intelligent computer. Because a bunch makes it of computer tricks, no one person drew it. So, regular rules about owning drawings don't work for AI art. It's like sharing a fabulous secret recipe many people know about, so no one can say it's theirs.
The same applies to Wepik AI Tools.
Wepik comes with lots of cool features that help you to create content with ease. Apart from its image library and capabilities of generating AI images, it also packs additional tools, such as an AI presentation maker, Background remover, Social media scheduler, and photo editor.
Technically, you are authoring the content using intelligent prompts and tools. You are not directly copying someone else's content. You will have to be creative so that the content doesn't look like someone else, and that's the key.
AI Tools also have the advantage that we don't have strict rules, and the world is still adapting. It may take a while for firm rules, but we strongly suggest being creative and keeping your images as unique as possible.
Wepik AI Tools
Functionality & UI

Inventory of Templates

AI Automation

Quality & Speed of Output