Smartphones have become part of our family lives. Everyone has it, including kids, especially when they reach an age where it comes to a necessity as well.  However, as a parent, it is always a matter of concern that they don't get out of touch for any reason. If they are in trouble, and you don't know where the kids are, then it becomes a panic situation. Apart from this, it is also essential to keep track of kids on what they are up to on their smartphones until a certain age, so everything on their stay secure.
Now we are not going to address the issue whether it is right or wrong to track the activities of your kids. Should you be looking for options, then this post offers you some.
Best GPS location tracking app for parents to monitor kids
That puts up a few questions. What is the best way to track kids, their physical location, and above all, what is the best GPS location tracking app for parents to monitor kids? There are a couple of ways to achieve this either by spending money on hardware gadgets or buying services.
Common Solutions to track the kid's location?
There are two significant ways to setup GPS location tracking—Hardware and Software. There are smartwatches such as Apple Watch, Fitbit trackers, Smartwatches powered by SIM or eSim, and so on, which offer tracking in their apps. Then there are software-based solutions such as Microsoft Family, Google Family Link, and Wondershare FamiSafe.
While hardware solutions work, they are not affordable by the mass user base. The software solution, on the other hand, is easy to manage and can be installed on existing smartphones.  They are usually easy to set up, and even with basic features, a parent will be able to get done the tracking part. In this post, we are reviewing the Wondershare FamiSafe service. It is a phone tracker app for parents and kids.
Location tracking with Wondershare FamiSafe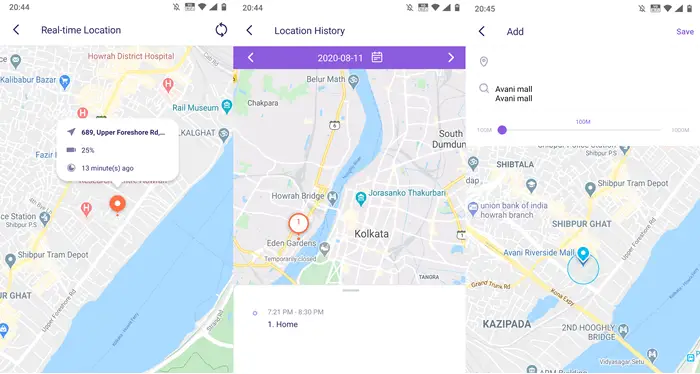 WonderShare FamiSafe
does one thing right-Location tracking—and all with a small setup done on parent and kids application. Not only that, but you also get access to location history, which gives you a clear idea of where your kid had been throughout his day.  Do remember many things depend on the internet, and there may be a bit of hiccup if the data is not available.
Step 1: Install the Wondershare Famisafe parental control app on the parent device. If you are using it for the first time, signup for a free account. Once done, choose parent mode.
Step 2: Install the application on kids' smartphone or tablet, and sign in using the same account. This time, choose Kid. You will be asked for some necessary information such as the name of the and age. Followed by this, you will have to enable a set of permission. Make sure to grant all permission so the app can work on the kid's device.
Step 3: Once you are through this, the kid's device should be visible on parents' phones.  Based on how many devices you add, the location of the device should be instantly available.  You can switch between the kid's account to see other locations.
Step 4: To check location history, tap on the features section, and then on the Location History icon. It will instantly display a list of locations the device was tracked,  and how long it had been there.
Now that we have talked about real-time location tracking, there is one more feature related to this. Geofences feature allows you to get notifications if the kid goes out or enters a region. It will keep track of the cell phone all the time.
Features of  Wondershare FamiSafe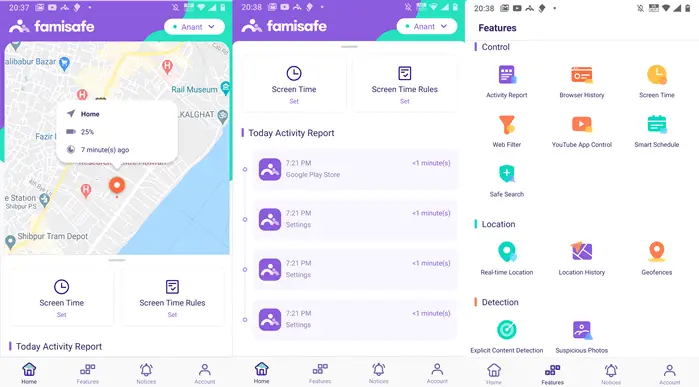 Here is the list of features that you can get along with location tracking
Activity Report: Tracks access to all the actions taken by the users, which include application usage, phone settings, and app installation.
Browser History: It's important to know if the kid visited a website which could have been malicious.  Or if the kid is on to something resulting in excessive usage.
Screen Time: Manage how long the device should be used, app usage time, and option to temporarily block the device when required.
Web Filter:  It works with Chrome, where you can block websites by categories.
YouTube App Control: Detect disturbing videos and monitor video history. You can also block videos or channels.
Smart Schedule: Choose how long one can use the device at different locations.
Safe Search, Explicit Content Detection, and Suspicious Photos will make sure the kids stay away from anything which could put their privacy at risk.
What I liked about Wondershare FamiSafe is that it offers better control compared to Google Family Control and Microsoft Family feature. The YouTube App control feature is absolutely fantastic. Most of the kids are addicted to the wrong content, and the option to block a channel absolutely helps.
Price, Plans, and Availability
The plan costs $ 9.99 /month for up to five devices per account, or if you have more, you can track for 4.99/month (Billed annually) at $59.99 for up to 30 devices per account. You can also use the free account, but it will have limited features
You can download the application depend on your platform from Google PlayStore, iTunes for iPhone and iPad, and Amazon.