When it comes to a prosumer or an IT expert who needs to move a lot of machines from an old version of OS to a new one, a simple configuration doesn't help! But software like Zinstall Migration Kit Pro, which is built for Enterprise and IT experts with settings that are designed for its environment, is sure to help you. Using this, you can perform Windows 7 to Windows 10 migration in multiple ways.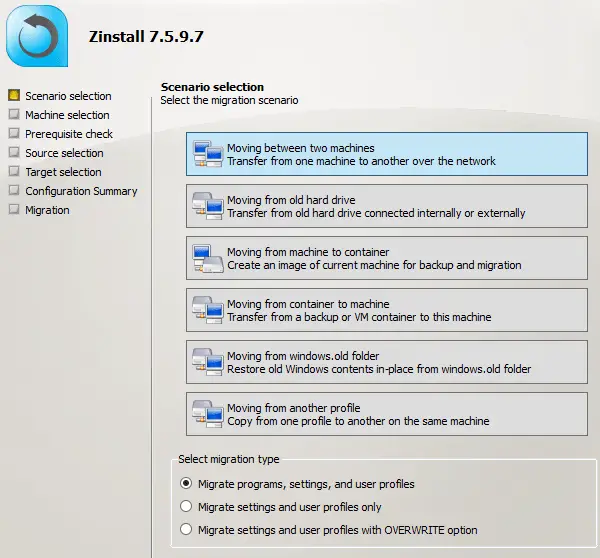 Windows 7 to Windows 10 Migration using Zinstall
Windows 7 end of support is on January 14th, 2020. There are a lot of businesses that are still using Windows 7 and will need to upgrade sooner or later. The most crucial part of migrating to a new OS is the safety of data, and this is where Zinstall Migration Kit Pro comes into play.
We recently saw how easy, and efficient was Zinstall WinWin for consumers to transfer file from one computer to a new computer.  You need Zinstall Migration Kit Pro if Zinstall WinWin is not enough. It is useful in the following scenarios:
Transferring from external hard drives
Transferring to SSD drives
In-place upgrade to Windows 10 on the same computer
Transfers without a network connection
Virtualized transfers
Selective transfers
Transfers to Apple Mac-based Windows environments (Bootcamp, Parallels).
The software is made for business. It can perform complete and efficient corporate-wide migration of end-user workstations to new hardware and OS.
Features of Zinstall Migration Kit Pro
Transfer files from dead computers with working storage drive to an SSD or Large HDD
A transfer without a network connection is possible. It can place everything on a USB drive, which can be used to restore.
It can perform an in-place upgrade.
Transfer from one domain to another, Local to Cloud (including migration to Microsoft Azure AD) and from local to domain profiles.
Using a cloud migration feature, you can offer employees the same environment as they were using on the physical computer.
Migrate from physical machines to virtual machines and vice versa.
Restore old Windows contents using the "Windows.old" folder.
Offers Command Line interface, which can be faster for IT admins.
Transfer profiles, files, and skip applications
It supports Post-migration adjustments. You can write rules to replace names, IP addresses in the configuration files if needed.
Zinstall Migration Kit Pro review
Since it depends on the type of transfer method, I will try my best to give a general idea about it. One thing is straightforward, though; you need to run this program on the source computer. It can be a physical machine or virtual machine. You can think of this program as a clone creator but with the option to configure everything.
The process has seven steps—
Scenario selection
Machine selection
Prerequisite check
Source selection
Target selection
Configuration, and
Migration.
1] Computer to Computer Migration

Here, I will select the first example where the transfer is between two machines.
Launch the application, and choose Computer to Computer option. Then select the computer to be the source computer.
Next, it will start the Prerequisite check, and you need to pass it. If there is anything that can cause a problem, it has to be resolved.
Once you reach the screen which says—Source Machine is ready, it means that the software has packed up everything, and is prepared to transfer.
Now you need to switch to the target computer and run the same application. Only this time, you need to choose it as a target computer.
When you do so, the software on the source computer will connect to the target computer via the network. In case you cannot find the source machine, use the IP address to pinpoint it.
Once the computers find each other, the transfer process will begin. You will get the option to check the configuration SSD or HDD options and so on.
Do not use the computers until you see a message on the Target computer confirming that the migration is complete.
2] Harddrive to Computer Migration
The process is no different, but instead of a computer, we select moving from the old hard drive. The software will detect the OS installed on the drive. It performs the same steps but with a different source. The option is useful when you want to apply the same set of images to multiple computers.
3] Transfer via Storage Media
It's another common scenario where the target computer is not on the same network or when you need to apply to multiple computers in a different location. The majority of the steps remain the same, except this time you can
Select the volumes you would like to capture into the container
You can choose to skip files which are not needed
Password protect it, so the data remains secure.
To restore the backup, you need to select—Moving from container to machine—on the target machine. Import the backup, provide the password, and then import it on the computer.
Additional Information before starting to transfer
1] Hybrid SSD-HDD configuration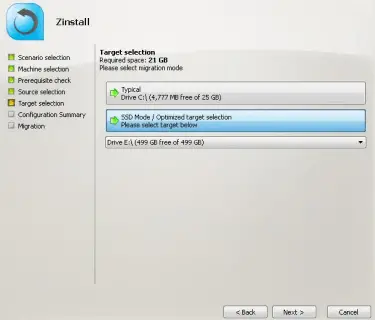 If the target computer has a hybrid SSD-HDD configuration where the SSD is used for OS, and HDD is used for the rest of the files, then we suggest you choose SD Mode/Optimized target selection during target selection.  The software will make sure to place the OS file into SSD, so you get the best performance.
2] Choose what you want to migrate
During the transfer, you can choose what you plan to transfer from these three options
Migrate Program, Settings, and User profile
Migrate Settings and User profiles only
Migrate Settings and User profiles only with OverWrite option
The last option will overwrite all the settings and existing user profiles. So make sure you want to do that.
3] Selective Migration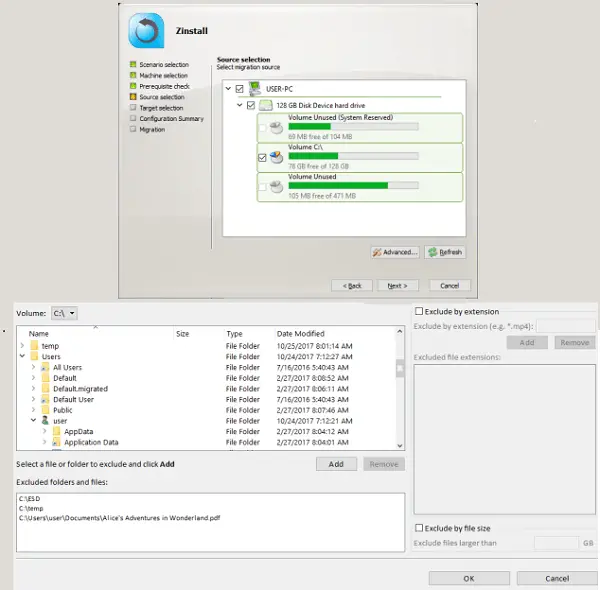 If you want to migrate only part of the OS and files, then just like Zinstall backup solution, you can choose data to skip, programs not be installed on the new computer, and so on. It is available under advanced options during source selection.
What do we think about Zinstall Migration Kit Pro?
We are impressed for two reasons. The software covers almost every scenario an IT department can face and offers a lot of configuration options to optimize the process. It offers options for selective migration, SSD-HDD hybrid support, option to skip program, and only export user profiles and more. It is probably the best tool around if you are looking for Windows 7 to Windows 10 Migration.
The cost of the software is $169, and you can purchase it from Zinstall.com. A worthy buy!