Passwords, passwords everywhere! And you cannot afford to forget some of them. Like the password to your computer. But there are some unfortunate scenarios where you may have forgotten the password to your Windows computer. It happens with people every day and forums are filled with such posts. Getting professional help is an expensive thing and trying it yourself can tamper with your computer. So what is the safest and easiest way out? Windows Password Key is a software designed to take you out of these situations, is the solution.
Windows Password Key Review
What happens if you forgot the Windows password and did not have a reset disk? Or maybe you changed the password recently and forgot it, or you gave your computer to someone, and they changed the password accidentally? In all these situations Windows Password Key can help you out.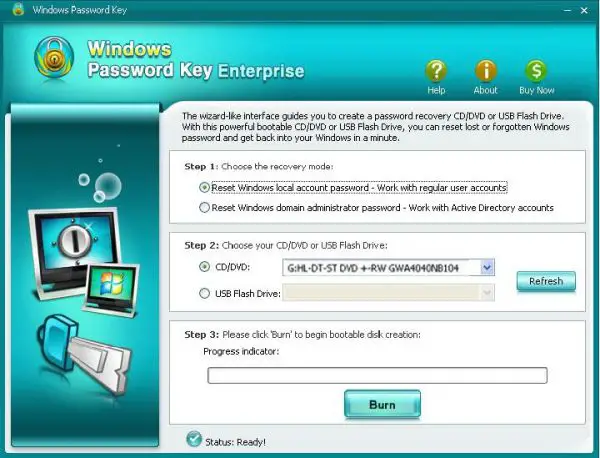 Windows Password Key is a small software that can help you reset your forgotten Windows password and restore the system. And that too without losing out on any important files and data.
How to reset Windows computer password
The process is very simple, and this is how you use Windows Password Key:
Download Windows Password Key on any other computer
Create a password recovery CD/DVD or USB drive.
Once the image has been written to an external media, plug the USB or insert the CD/DVD into your locked computer.
Boot from that USB or CD/DVD drive.
The software will start the process of resetting your computer's password, and you will be guided by on-screen instructions.
It will display all available users, and you can select the one to reset the password for. You can view these users even if you are using the tool during the demo period.
The tool is pretty simple to use, and all the instructions are provided to make it easier to create a recovery media and reset your Windows password.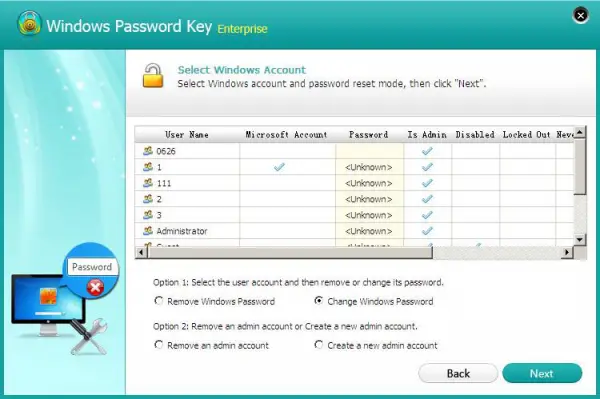 Windows Password Key supports recovery on most of the versions of Windows including Windows 10/8/8.1/7/Vista and even XP. Computers from most of the popular brands are supported as well.
Since Windows introduced different types of accounts, Local and Microsoft accounts. You will be quite amazed to know that this tool works even with Microsoft accounts. Yes, you can reset password any user account created with an online Microsoft Account. The ability to reset Microsoft Account's password is only available in higher end variants. All the available variants are covered in details as follows.
Variants of Windows Password Key
This software is available in quite a few variants; you need to select a one for yourself wisely, or you'll end up paying more even without using those features. All of the available variants with their price and features are covered in details as follows:
Standard – $19.95. The standard is the most basic variant that lets you recover lost passwords only for local admin and user accounts. The stand variant can only create CD/DVD recovery drives and does not support USB drives. Buy this variant if you want to recover passwords for a local account, and you are comfortable with CD/DVD drives.
Professional – $29.95, Professional variant is the next in series and comes with all the basic features plus the USB drive support. So if you want to recover lost passwords for a local account and want to use USB drive, you should buy this variant.
Enterprise – $39.95. All the professional features plus ability to reset passwords for domain administrators and Microsoft Accounts. The Enterprise variant can reset passwords for Microsoft Account using both CD/DVD Drive and USB drive. Buy this version if you have a requirement to recover passwords for a Microsoft Account.
Ultimate – $69.95. All the enterprise features plus some features that let you tweak your computer. The ultimate variant comes with features such as PC check-up. This variant can help you remove junk and temporary files in order to speed up your computer. Or if you are not able to reset the password you can permanently delete all files and data from the computer. Furthermore, you can defragment registry, disk and tune up the system. The Ultimate variant also supports monitoring computer system and hardware. Buy this variant if you want some extra features other than the ability to recover lost passwords.
Verdict
Windows Password Key is the perfect solution to locked Windows computers. Rather than wasting time in guessing your password or calling for expensive professional help, you can recover your computer back easily at home. The flexibility in the different versions lets you choose an appropriate version and pay accordingly. The program guarantees 100% recovery rate and a considerably faster speed, or you can get your money back within 30 days.
Windows Password Key is available to buy and download from lostwindowspassword.com.