Even though everything is available on the internet, there are people still using DVDs, Blu-Ray, and other media. If you are one of those users and looking for a software solution that can fast rip and backup DVD to ISO without any problem, you need to check out WinX DVD Ripper. While there are many solutions available, this one is known for its speed and quality and so comes highly recommended.
Before we proceed, we wish to inform you that the developers are giving away a free copy of WinX DVD Ripper Platinum. We want to invite you to take part in the giveaway campaign to get WinX DVD Ripper Platinum for free. Even if you do not need it now, you can still keep it, and use it when the actual needs come.
WinX DVD Ripper review
When it comes to the conversion of DVD or taking a backup, several steps matter to the end-users. Yes, they do look for speed, and quality of audio and video, but if it's too complicated, then it's annoying. That's where the WinX DVD Ripper wins. It offers a three-step solution to backup DVDs to ISO.  The software is also capable of to rip DVD to MP4 (H.264/HEVC) format.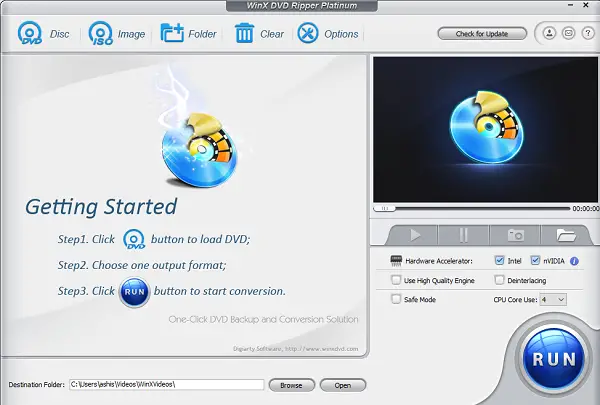 We will talk about it in a bit, but lets first look at the list of features:
Features of WinX DVD Ripper
ISOs are useful if you want to burn the same content over and over again. You can create an ISO image directly from this even for protected DVDs.
The backup of any DVD to ISO mustn't miss any data. The software assures you to create  1:1 backup entire DVD contents to ISO image which uses de-interlacing Engine & high-quality engine.
There is a compromise made in the quality of video and data.
Quality and Speed should go hand in hand. But that's always not the case. However, WinX DVD Ripper has been tested for it. It can rip a two-hour-long DVD in five minutes.
It also offers 32x real-time faster conversion speed and 500 Max FPS.
During the conversion of DVD movies, you can choose almost any format. As of now, the software supports MP4, AVI, MPEG, H.264, HEVC, MOV, TV, NAS, Plex, mobiles.
Those who like to go an extra step ahead can use the inbuilt video editor. You can change DVD language, subtitle, extract audio, and a snapshot from DVD movies.
All in all, it is one it is the only DVD ripper accelerated by Intel CPU, Nvidia GPU, AMD, Multi-core CPU, & Hyper-Threading. That's a long list. It can rip a full DVD to MP4 (H.264) in 5 mins at 300-500fps. The software also supports single or multiple tracks.
How to backup DVD to ISO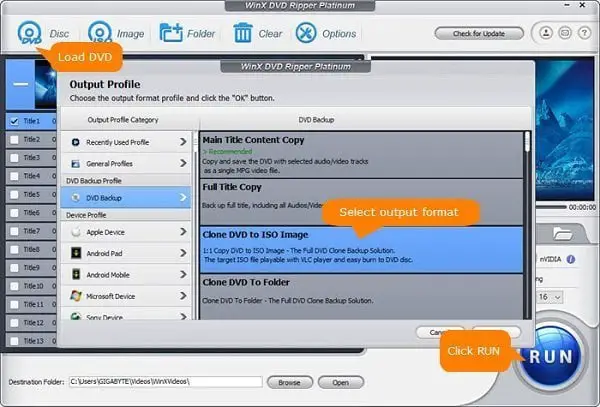 1] Insert the source DVD to DVD-ROM and launch WinX DVD Ripper Platinum, click the "DVD Disc" button. It will automatically detect the primary DVD drive and load disc information.  In case you have multiple DVD players, you can choose to change it using the dropdown.
Also, I will suggest you choose the checkboxes for hardware acceleration, high-quality engines, deinterlacing, and the number of cores you want to use.
2] The next step is to set up the output profile for the ISO. The Output Profile will automatically show up, which can do almost everything the software can do.  Since here we need to take backup and create ISO, Click on DVD Backup Profile -> DVD Backup -> Clone DVD to ISO Image.
Creating the ISO, you have three options for the backup.
Full Title Copy: When you want to create a 1:1 copy of the DVD. It will create a copy of the main title to a multi-track MPEG2 file containing all videos, audio tracks, and subtitles.
Main Title Content Copy only copies the DVD media into an MPEG2 file with selected video/subtitle/audio track.
If you want to create another DVD using that ISO, use this format. The conversion will make sure to keep the original structure of the VIDEO_TS folder.
One of the most significant advantages of converting a DVD file to ISO is that it can be easily played 5KPlayer, VLC, MPlayer, virtual drive software, and many other popular media players. Even if you do not have a physical DVD drive, you can still play from the ISO file.
3] Click on the Run button to start the conversion. There is a default location set, but make sure to change it and choose a location on the hard drive that has enough storage space. DVDs usually anywhere between 8 to 9 GB. Since the software can convert 2 hour long videos in 5 minutes, you won't have to wait for too long.
Overall, WinX DVD Ripper Platinum is an excellent DVD ripper for Windows that can fast rip and backup DVD to ISO. Along with this, it also offers video editing, conversion into various formats like DVD to MP4, and more.