DVDs are dying slowly with the advent of better internet connectivity and streaming services. But you may still be having some DVDs lying around. It is the right time to convert these DVDs into the latest and more generally supported formats. And to do this, we feel that there is none other than WonderFox DVD Ripper Pro software for your Windows PC! It is a great tool for ripping DVDs – and it is simple to use and blazingly fast as well.
WonderFox DVD Ripper Pro Review
There are quite a few DVD rippers available, but what makes WonderFox DVD Ripper Pro better is the easy to use interface. The 3-step mechanism is really easy to understand, and you can start ripping your old DVDs in no time. The three steps are discussed in detail as follows.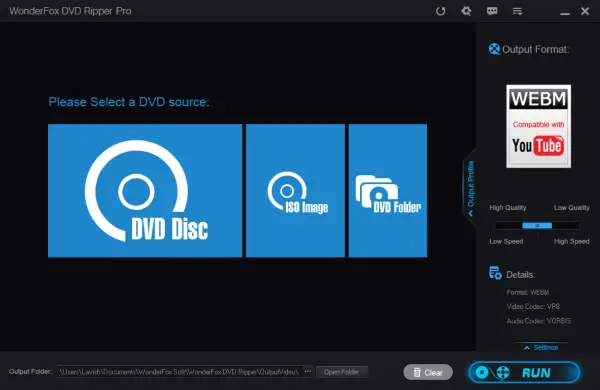 Load DVD
The first step of the process is loading your DVD or locating the source. You can choose between three options here. Either you can directly rip the DVD inserted into your computer. Or you can browse an ISO file. Additionally, you can also provide a DVD folder as an input to the program.
Once you have provided the input, it is time to adjust the output settings so that your videos are converted to the desired format.
Output Format
This is the most important step of the entire process. In this step, you need to define a set of output settings that the program should operate on. And fortunately WonderFox DVD Ripper Pro supports a wide variety of file formats, and you should not face any difficulties while converting your videos.
Inside the right column, default format (MPG) is displayed. You can click it to expand the Output Profile section and customize the settings. There are quite a lot of formats available including AVI, MP4, MKV, WMV, MPG, MOV, etc.
The output profiles can be broadly categorized into formats and devices. Under formats, you can find the following sub-categories:
Video: Common video formats for day-to-day use.
Web: Video formats that are commonly used on websites and are popular across the internet
HD/4K: High-quality video formats for the latest TVs and devices
Audio: Audio formats for DVD to audio conversion.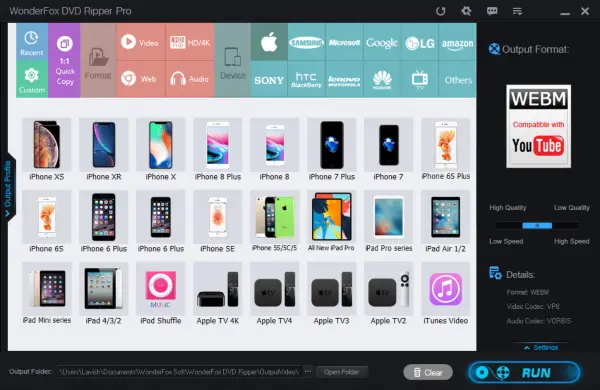 The sub-categories contain enough variety of formats and the tool for sure covers most of the popular ones. Under Devices, you can find profiles for a ton of devices from various manufacturers. Some of the popular devices supported are iPhone(s), iPad, PlayStation, Samsung Galaxy Series, Xbox, Surface Devices, Pixel, Chromecast, Amazon Fire Stick, etc.
Once you've selected the right format or device profile, you can move on to adjust a few more settings. A slider lets you adjust the quality of the output file. Remember that as you increase the quality, the tool will relatively take longer to complete ripping your DVD. The last thing you need to here is to select the output folder and verify your settings. There are a few advanced settings available too which are beyond the scope of this post.
Run
The last and most simple step of this process is to hit that Run button and wait for your DVD to get converted into the selected format.
Verdict
WonderFox DVD Ripper Pro is a very performant tool. It converts your DVDs into new modern formats in no time without losing out on quality. The tool supports hardware encoding (Inter QSV, NVIDIA NVENC) and is compatible with almost all of the DVD formats out there. If you are looking for a tool to convert your DVDs into latest formats, WonderFox DVD Ripper Pro is the tool you should go for.
Our users can buy this program at a very low price with official discounts. 🙂
Regular price: $39.95
WonderFox DVD Ripper Pro & HD Video Converter Factory Pro Pack
Regular price: $69.95
WonderFox DVD Ripper -
29.95$
File Format Supported -

88%

Batch processing -

90%

Quality of recovered Output -

90%

DVD RIP options -

95%

Processing Time -

95%