As the world has moved to distance working and off the office, online collaboration needs to get better. While the space is not new either, and many companies offer it, it takes a thoughtful approach to make it simple, offers a set of features that work for all use cases, and offers the right way to collaborate. One such service is Wondershare Document Cloud.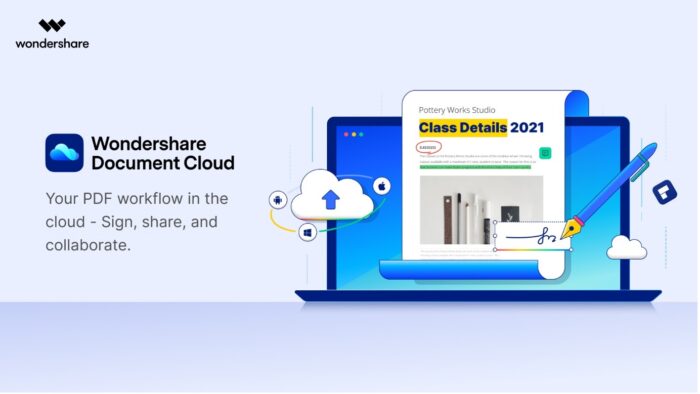 What is Digital Signature for PDF documents?
It's a way of getting a signature like how you get on the paper. It allows a way of providing proof of the authenticity of a digital file or document. Digital signatures provide validation of digital data integrity by verifying the identity of the owner of a file or the author of a document and ensuring that only the creator of the signature can modify the file or sign the document.
Wondershare Document Cloud Review
One of the popular elements of collaboration is streamlining the process of getting details in a PDF and signed. And with everyone working remotely, it needs to get on the cloud. That's where Wondershare Document Cloud comes into the picture. It offers a cloud-based platform combined with PDF tools such as electronic signature, PDF editing tools, and cloud storage. If you have many clients whose signature needs to take, and that on a secure platform, this is an excellent platform.
List of Features
Online Annotations and Comments makes it easy to review documents as a team
File Sharing allows you to share files while the document remains on the cloud securely.
Online Cloud storage makes documents available from anywhere.
Built-in Team Management features for data tracking and reporting. It helps you export, analyze, improve the workflow.
How does the service work?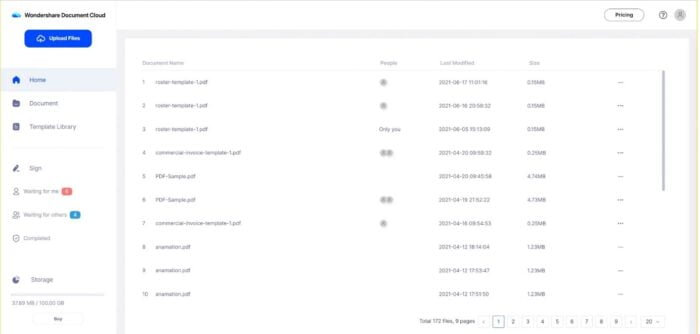 The service offers a dashboard that clearly marks sections such as Document, Template Library, Completed, Waiting for me, Waiting for others, and Sign section. While the looks may look like online storage, it is user-friendly and useful for teams.
Once a PDF is uploaded, you get access to many operations that include Send for Signature, Bulk Send, Add Comment, Share, Print, Download, and Delete.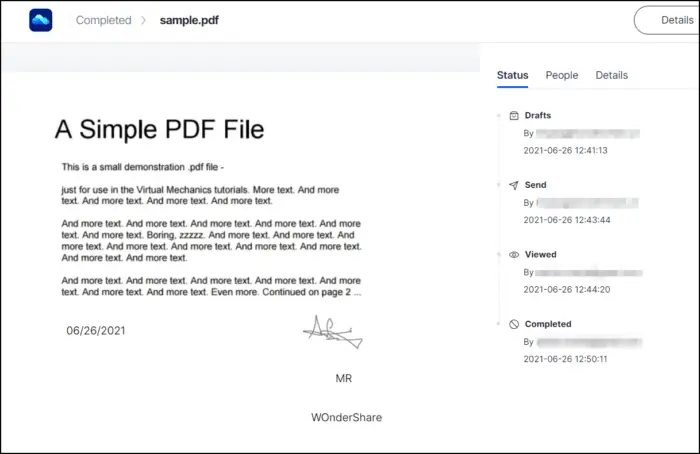 When it comes to the signature, you can set an email id, followed by setting up a signature field where the end consumer can sign using a digital pen or a touch device. A complete track is maintained where the sender can check the progress, including viewing of the document and if the signature was made.
On the side of the receiver, users get multiple ways to sign, and they do not have to make an account with the Wondershare Document Cloud. They will have to click on the Signature Box and either type or draw to add the details.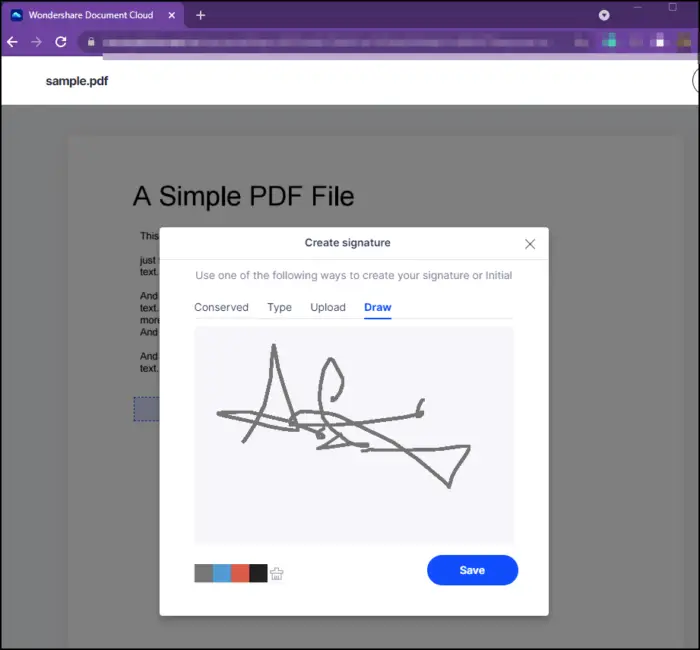 The cloud storage makes sure all digitally signed documents are tracked and stored in a secure environment. The process also ensures that it can be used as a legal document to be used in businesses. Wondershare Document Cloud makes sure every document is secure and private to the users.
The next step is the use of a Template. Instead of recreating the elements where the users need to sign and fill the document, a template can be used and applied to an existing document.
Integration with the PDFelement Pro DC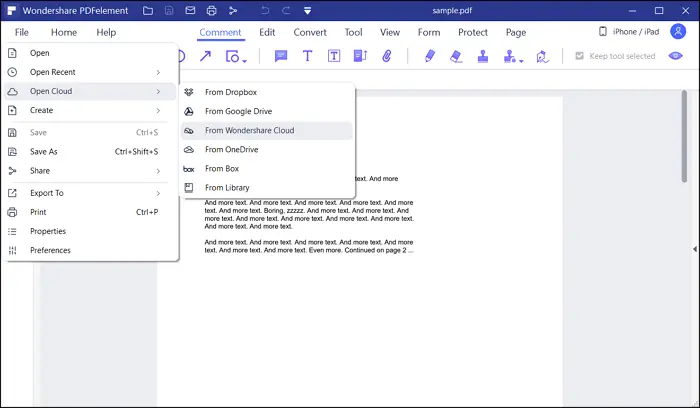 The final element is the PDFelement Pro DC which allows you to use a desktop tool to manage everything. Wondershare Document Cloud is integrated into the platform. Not only can you upload the document to the cloud but also directly send the document to sign from the PDFelement itself. It is sold separately, but it only makes sense to get it along with it if you need PDF editing and the Signature tracking and management feature.
PDFelement Pro DC is a powerful tool for editing, converting, and annotating PDFs. It was developed to help users edit the PDF documents often used for presentations, reports, and financial documents without any hassle. It has many features to help users edit, annotate, convert, and extract information from a PDF file.
Wondershare Document Cloud Pricing
Looking at the features, and that it is for a team, the services come at a price. The Document Cloud is offered at 29.99 USD/Year and  19.99 USD/Half-year. Another plan—PDFelement Pro Bundle—offers Desktop + Cloud version at 99.99 USD/Year and 65.99 USD/Half-year. There is a team plan as well, which offers Document Cloud at $39.99 per user annually, and combined with PDFelement Pro DC, it will cost USD 109.99 annually.
Wondershare Document Cloud is a digital signature collection solution used to sign documents and files on smartphones, tablets, and computers. It provides comprehensive digital signature functionality to save all your important files and let you never lose a single one. Overall it's an excellent tool if you need to rely on PDFs for all your business needs and have a team. In fact, it is cheaper than the other tools out there, such as Adobe, and a good alternative.
Wondershare Document Cloud -
29.99$/year
Functionality & UI -

95%

Speed and Performance -

92%

Collaboration Funcation -

95%

Security and Privacy -

95%