Most of us love to capture the moments we want to preserve. We also want to share those on social media or simply make an album of it. However, not all our photos are up to the mark, and we have to run to a professional photo editor to make them better. This is not always a good option, especially when the photos belong to our vacation, where we booked an economical hotel just to save some bucks. Then why waste additional money to edit those photos? Not anymore! Wondershare Fotophire is the perfect tool for you to edit all your pics and make them look professional.
Here is a glimpse of what this application can do to make you a photo editing expert.
Wondershare Fotophire review
It is interesting to know how Wondershare Fotophire is different than the other photo editing tools available to us; such as Adobe Photoshop and MS Paint. The first and foremost difference between Wondershare Fotophire and any other sophisticated photo editing tool is that Fotophire is user-friendly. The UI of the application is neat and easy to maneuver. There are three clear-cut usages of the application – Photo Editor, Photo Cutter and Photo Eraser.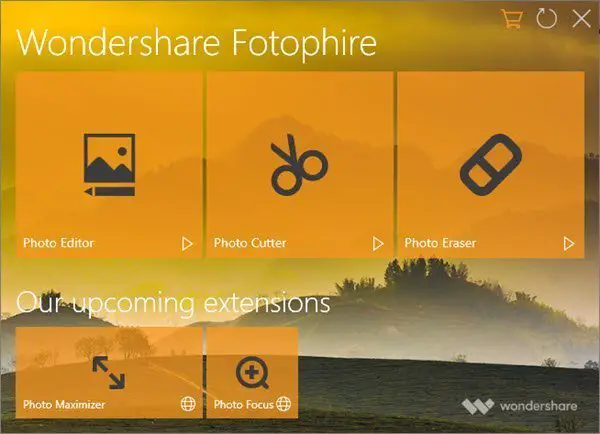 Besides these three main functions, the application is soon going to get two new extensions namely – Photo Maximizer and Photo Focus.
We call it user-friendly because no other application apart from Wondershare Fotophire has clearly defined the functions like this on the home page itself. In fact, these are the main features that any user looks for. Besides, every function of this photo editing tool opens in a new window. As a result, you can maneuver from one function to another independently.
Let us now take a look at some of the features of Wondershare Fotophire.
But before you begin, you might want to download the trial version and take a look at it.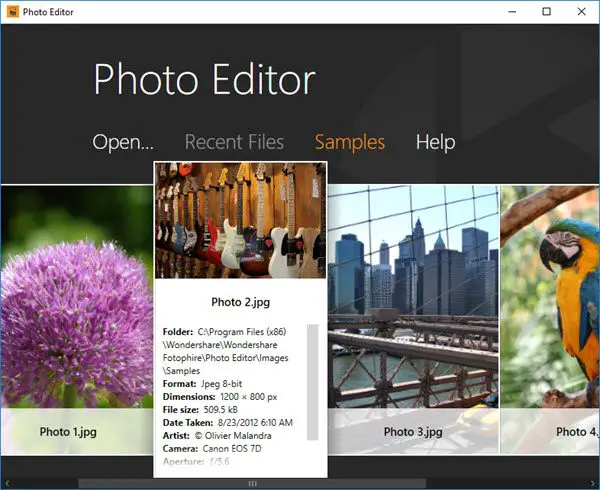 As the name suggests, you can retouch and improve your photos. The Photo Editor function of Wondershare Fotophire helps you produce professional quality photos. It offers a wide range of effects and textures.
You can see all your photos in this window. You can also see the Properties of the image by hovering over each photo. The Properties of the photo include the location where its stores, its format, dimensions, file size, when it was taken, who took it and many more.
How to use Wondershare Fotophire Photo Editor:
To edit the photo, click on the photo. A window with several editing tools opens up.
As you can see in the above image, the ribbon on the top of the application consists of several editing options. These include Effects, Crop, Adjustments, Frames, Textures, and Text. Click on each tab, and you will see numerous editing options under each of them. For example, under Effects, you can see various options such as Blue Summer, Happiness, Nashville and Angel. Simply click on each effect and see how your photo changes. Then choose the suitable effect. Here in above image, we have selected 'Happiness' effect. Similarly, you can crop the photo as per your requirement.
Under Adjustments tab, you can adjust the brightness, contrast, hue, clarity and many other properties of the image. With the help of 'Frames' tab, you can add a frame to your photo from many options available in Wondershare Fotophire.
There are several other features in Photo Editor section of Wondershare Fotophire.
This feature helps in cutting the unwanted part of your photo and keeping the best. You can also create collage and photomontage using the Photo Cutter feature. Just like Photo Editor in Wondershare Fotophire, Photo Cutter function opens in new window. Here too, you can check out the properties of your photos by hovering over them.
How to use Wondershare Fotophire Photo Cutter: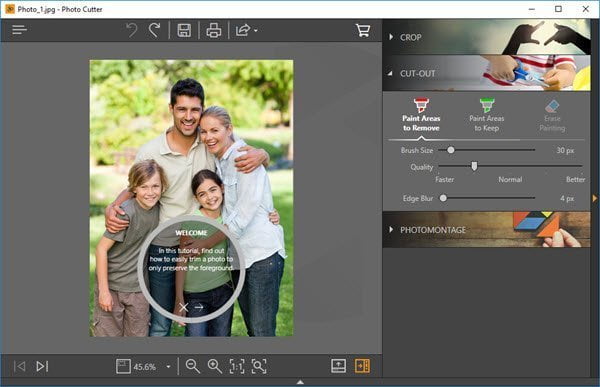 Click on the photo you want to edit, and you can see following photo cutting options in the window. There are three functions under Photo Cutter, namely, Crop, Cut-Out, and Photomontage. The application is easy to use in every bit of it. This is also reflected in Cut-Out function of Wondershare Fotophire. To remove the background in your photo, simply place a mark in the background. You don't need to mark the whole area like other photo editing tools. The program automatically recognizes the background and does the rest for you. When the background is removed, your photo will look like this.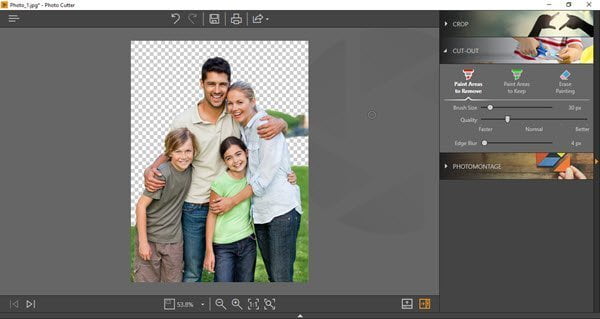 Now here comes the most interesting part, Photomontage. With Photomontage, you can add a new background to your photo. There are few pre-defined backgrounds in this option. However, you can add your own by clicking on '+' (plus) sign. After photomontage, your photo will look something like this:
The 'Crop' function in Photo Cutter is pretty similar to that in other photo editing tools. Wondershare Fotophire gives you pre-defined sizes to crop your image.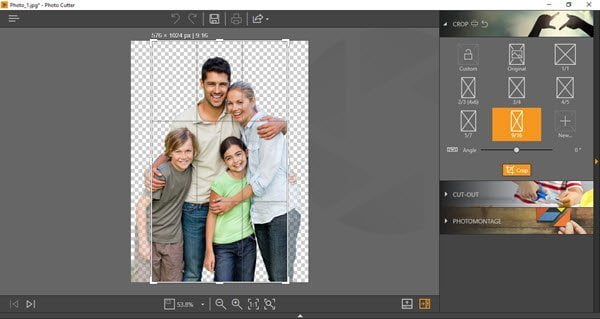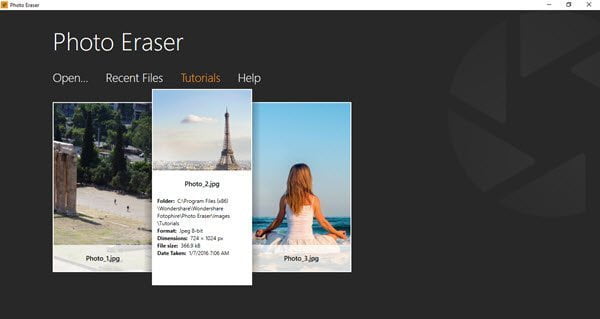 Don't want that garbage bin behind you in the photo? Simply erase it with Photo Eraser function in Wondershare Fotophire like magic. This function basically helps you erase the unwanted objects from your photos. Just like the other two functions of Wondershare Fotophire, click on this function and its separate window opens up for you. See the properties of your photo by hovering over it.
How to use Wondershare Fotophire Photo Eraser: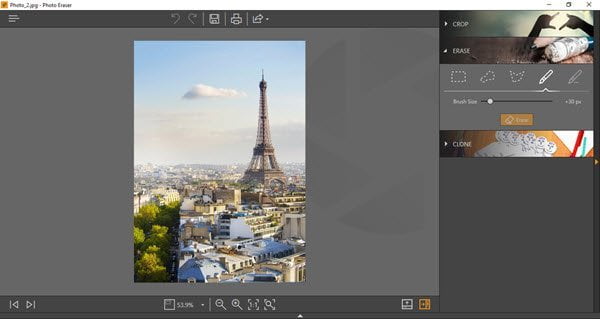 Click on the photo you want to edit, and you will see above options. You can Crop, Erase or Clone a particular part in your photo.
The Crop function is same as that in Wondershare Fotophire Photo Cutter or any other photo editing tool.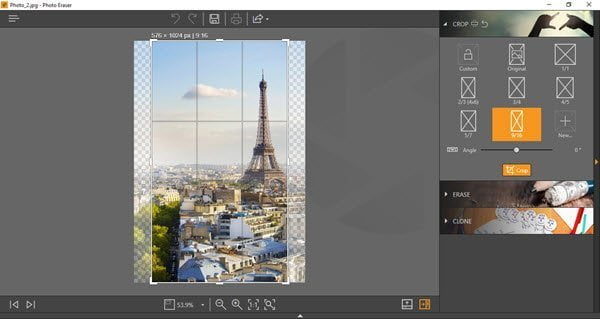 The real fun is with the 'Erase' function in this section. If you wish to erase some object in the photo, simply mark the object with Brush. You can also select the area to be erased with selection shapes, such as rectangle, lasso or polygon.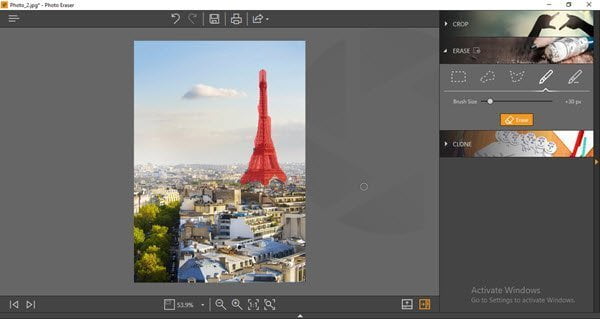 Now click on 'Erase' and poof! The object just vanishes from the photo. See it for yourself: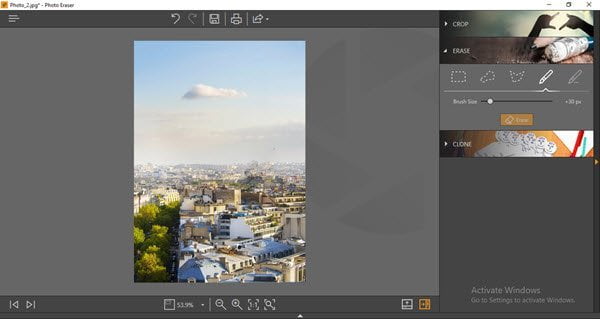 Another interesting function in Photo Eraser is 'Clone'. This tool is used to manually paint one part of an image over another part of the same image. To use it, first, click on the 'Source Point' and then click on the part of the image that you wish to clone. You can change the Brush Size and also the percentage of Edge Blur.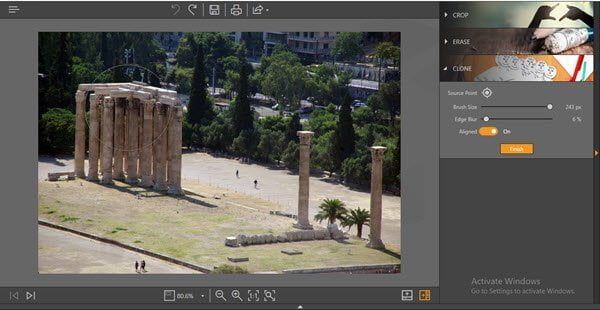 Then click on the image where you want to place the clone of the selected area. Click on Finish once you are done. The clone appears on the photo so flawlessly, as if it was always there.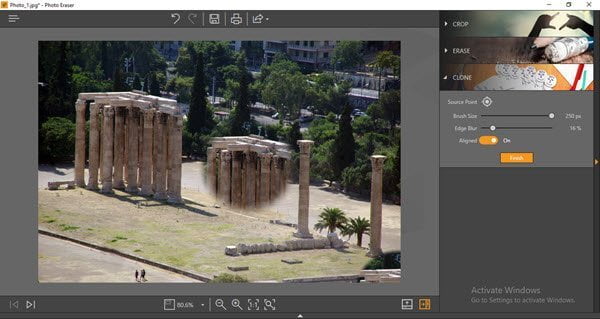 Our take on Wondershare Fotophire
This tool is extremely easy to use. Despite being user-friendly, the tool renders extremely high quality, professional looking photos. Once you have this tool, you won't need a professional photo editor ever.  You can buy this powerful software from wondershare.com. The license for this application for one year is $59.99.
Wondershare Fotophire -
59.99$
Application Installation -

90%

Functionality & UI -

88%

Photo Enhancing Quality -

90%

Image format supports -

88%