Switching from one smartphone to another is always a pain. There are a lot of data to be moved and not many applications that can do the job efficiently. However, thanks to Wondershare MobileTrans v4.0, transferring your smartphone data is now easier than ever. It is a great software that lets you transfer, back up, and restore data between phones. You can perform full data transfer with just a few clicks. So if you have been wondering what this software is all about and if you should use it. Then I welcome you to this Wondershare MobileTrans v4.0 review. It is the most professional and secure Phone to Phone Transfer Solution. MobileTrans is software that helps 500,000+ users to transfer, back up, and restore data between phones.
Wondershare MobileTrans v4.0 Review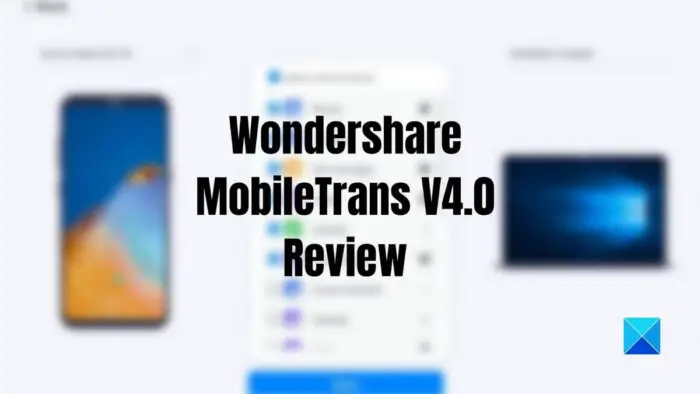 I will walk you through all the app's features and give you a detailed guide. So let's get into the topic right away.
What is Wondershare MobileTrans v4.0?
MobileTrans is a professional one-stop solution for your transfer, backup, and restores for phone-to-phone data transfer needs. You can use the software to transfer data from one device to another with a few clicks only.
It does not matter if you switch from iPhone to Android or vice versa. MobileTrans will help you to take a full backup of your smartphone, including images, videos, contacts, documents, and everything else, and move it to your new smartphone.
Also, you can choose the types of data you wish to move. Like, you can only choose to move audio, videos, and messages and not move data like contacts, photos, and more.
One cool feature of the MobileTrans app is that it allows you to move your old WhatsApp chats from Android to your iPhone, a feature that was missing in the WhatsApp iOS version for a long time.
Are you planning to switch to iPhone 14?
Apple is rumored to launch iPhone 14, and many of you are planning to move to the new iPhone. If you do, the WonderShare MobileTrans V4.0 can significantly help. It benefits WhatsApp users who are planning to move from Android to iPhone.
MobileTrans has launched a sales event for their MobileTrans app. So you can get the software at an affordable price and perform a quick phone-to-phone transfer. Moreover, the software is straightforward and requires no prior expertise.
Top Features Of Wondershare MobileTrans v4.0
1] Migrate WhatsApp from Another OS
WhatsApp data is one of the most critical data types out there. You don't want to lose your important messages. But when it comes to transferring data from one smartphone OS to another, it is a pain. But thanks to MobileTrans, you can easily transfer your WhatsApp data.
It allows you to move WhatsApp data from Android to iOS with a few clicks. You can also transfer your data from iOS to Android. It also supports Android to Android and iOS to iOS WhatsApp data migration without using iCloud.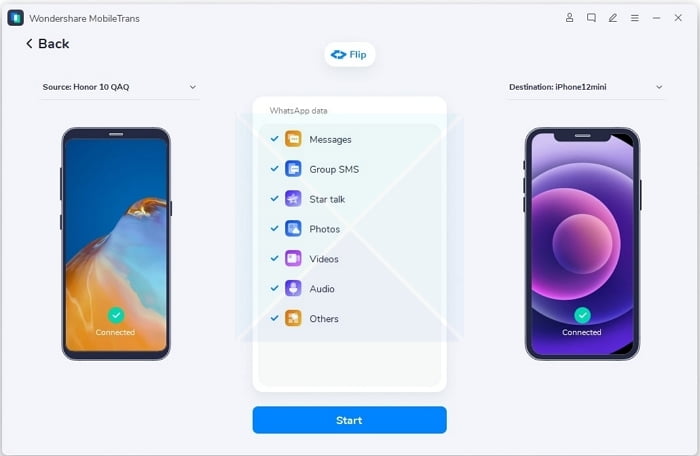 With MobileTrans, you can transfer any data across devices, be it WhatsApp chats, including personal and group chats, WhatsApp media files like photos, videos, and audio attached to WhatsApp chat history, documents, locations, emojis, contacts, and more.
2] Google Drive to WhatsApp
You can also use the MobileTrans V4.0 to transfer WhatsApp backups from Google Drive to any device. So, whether you are switching from Android to Android or the latest iPhone 14, this software will make your WhatsApp data migration super easy.
3] WhatsApp Backup Encryption
Another cool feature of the software is that it offers you the topmost security for your WhatsApp backups. As it allows you to generate your backup passwords. So it is only you who can restore WhatsApp backup to your devices using a password. Also, this made MobileTrans the first in the industry to provide an end-to-end encryption technology solution for WhatsApp transfer.
4] Phone Data Transfer
With this software, you will also enjoy a complete data-transferring experience. It does not matter if you switch from Android to iOS or vice versa. You can transfer data with only a few clicks and without any failed data transfer.
One of the common problems with most data transferring software is that when you transfer a large amount of data, it gets failed. However, that's not going to happen with Wondershare MobileTrans 4.0.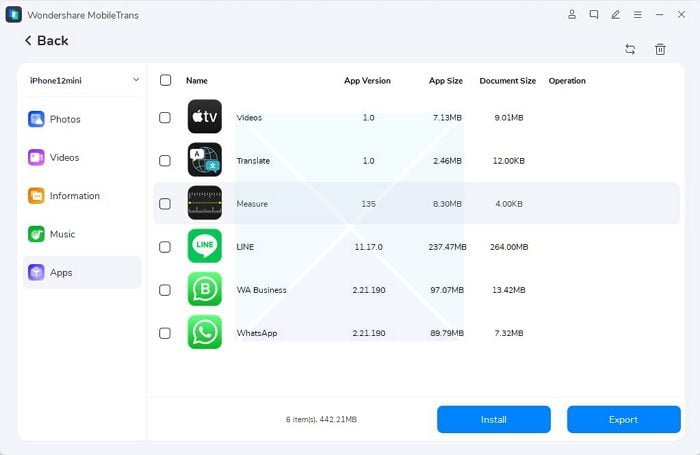 This app can transfer more than 18 file types, including messages, contacts, photos, videos, and more. Also, it supports more than 6000+ mobile devices running Android or iOS operating systems.
You can also transfer photos, videos, and other data from an Android or iOS device to your computer. Plus, it lets you directly transfer five data types from your computer to your smartphone.
5] Phone to Phone App Migration
Apart from transferring WhatsApp or smartphone data to your new devices, you can also perform a phone-to-phone app migration. You can easily transfer a wide range of applications to another device, from Android to iOS or Android to Android.
6] App to App Playlist Transfer
With Mobiletrans, you can also transfer music lists between different music applications. It is possible on multiple applications, including popular apps like Youtube, Youtube Music, Deezer, Spotify/Apple Music, and others.
7] Backup & Restore
Planning to factory reset your smartphone and worried about your smartphone data? The backup and restore feature of MobileTrans is there to help you out.
It allows you to take a complete backup of your smartphone to your computer. So after you have done a factory reset on your device, you can restore the data.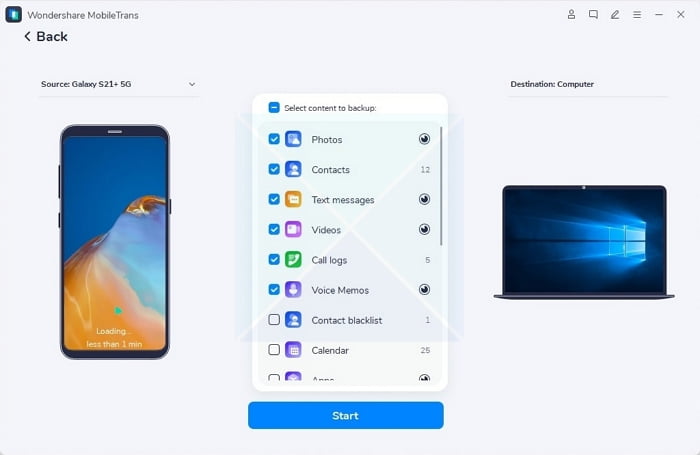 You can also back up important files to your computer to free up space on your smartphone. Plus, you can consider taking weekly or monthly backups of your smartphone. So in case, your phone stops working one day, you will have access to your data.
Apart from your smartphone data, it can also take a backup of WhatsApp and WhatsApp business data. So if your cloud storage does not have enough data to take a WhatsApp backup, you can backup your WhatsApp data to your Windows or Mac Computer. Apart from Windows, it can also take a backup of other apps like Viber, Wechat, and Kik.
8] Restore iTunes Backups
You can also use the WonderShare MobileTrans app to recover your music and other purchased content from iTunes to your device using its iTunes backup. So in case you have deleted your iTunes data, this feature is there to help you out.
9] Transfer iCloud Data to Android Phone
You can also transfer iCloud data to an Android phone. If you switch from iOS to Android, you can move your iCloud stored data to your new device. MobileTrans will allow you to sync your iCloud data before you switch to your new Android phone.
MobileTrans – Full Features Pricing
MobileTrans comes with a free version that offers you limited features. But you will get an idea of how the app works and whether it fits you well.
However, you will need a paid license to perform a full data transfer, backup, or restore. MobileTrans has the exact pricing for Windows and Mac if you go for the perpetual license. The software is priced at $39.99 and will have all the features you need, such as phone transfer, WhatsApp Transfer, and Backup & Restore.
The company offers a dedicated pricing page for Windows, Mac, Team & Business, and Education. If you are buying it for more than one user, you should look at the other pricing, which can save money in the long term. Moreover, each section has a certain number of supported devices, which can further help you evaluate the cost.
How to use Wondershare MobileTrans v4.0?
As mentioned earlier, MobileTrans is a pretty straightforward application to use. However, to help you onboard quickly, here is a quick tutorial:
First, download and install the MobileTrans app on your Windows/Mac computer.
Next, launch the application and choose what you wish to do, such as phone-to-phone transfer, WhatsApp transfer, or more.
After that, you must connect both devices to your computer using USB cables. And WonderShare will instantly recognize your devices.
Next, select the data you wish to migrate and click on the Start button to transfer data from one device to another.
It is the same process for all the data transfer processes, such as Phone to phone and WhatsApp data. Also, for Google Drive to WhatsApp, you must log in using your Google account and select the data you wish to transfer to your new device.
Pros of MobileTrans
Here are some of the top perks of using MobileTrans to transfer data:
The software is pretty straightforward to use.
Less Complicated compared to iTunes
Whatapp data transfer works flawlessly compared to the built-in solution by Apple, which is known to fail.
It also supports WhatsApp Business, GBWhatsApp, Line, Kik, and WeChat.
Backup WhatsApp Data on PCs
It offers you a fast transfer speed and recovery
Lightweight.
Supports 18+ file types
Best Privacy Protection
Cons of MobileTrans
While the software has no significant cons, it is known that the free version of the software only lets you transfer ten photos and videos. However, this helps users earn the trust that the transfer works if they invest in the paid version. Since the updates are rolled out from time to time, it's a one-time investment for the users.
MobileTrans v4.0 is one of the best smartphone data transfer and backup solutions for beginners and experts. So go ahead and try out the software and see how it works.
Is the MobileTrans app safe?
Yes, the MobileTrans app is a pretty secure software to use. It is backed by WonderShare, a known consumer software product brand. The app has never shown any sign of malware or Trojans. So yes, you can use MobileTrans worry-free.
Does MobileTrans WhatsApp transfer work?
Yes, MobileTrans WhatsApp transfer works effortlessly. You get different ways to complete WhatsApp transfers, such as Google Drive to WhatsApp, Android to Android, Android to iOS, iOS to Android, and more.
Can I use MobileTrans for free?
Yes, you can use MobileTrans free for a limited time. The free version lets you back up photos and videos within a limited range, which is only suitable for trying out the software. You will need a paid plan to enjoy a complete data transfer experience.
Wondershare MobileTrans v4.0
Functionality & UI of application -

97%

Whatsapp Migration Process -

98%

Data Safety & Encryption -

98%

Backup & restore process -

98%