In this digital world, PDF is a crucial file format used by most offices. We use PDF for sending documents, keeping data records, and so on. Also, creating PDF files and editing them is always necessary. And for this very purpose, Wondershare PDFelement software has been a great help.
To enhance your experience even better, Wondershare has launched its PDFelement 9 recently, which brings some exciting features such as document management in the cloud, faster document rendering, batch processing functions, and so on. It will help employees and small business owners keep up with the digital transformation. The latest version also offers a faster loading speed and advanced features, including document management in the Cloud.
Wondershare PDFelement 9 Review
PDFElement from Wondershare.com has always worked towards a fast, affordable, and easy way to edit, convert, sign PDFs, and more. On top of this, the platform is available across desktop, mobile, and web.
If you are looking for an affordable solution, not only does Wondershare PDFElelment offer cross-platform support but also affordable. Their tools are available for as low as 50% when compared to the leading PDF solution by Adobe.
What is Wondershare PDFelement 9?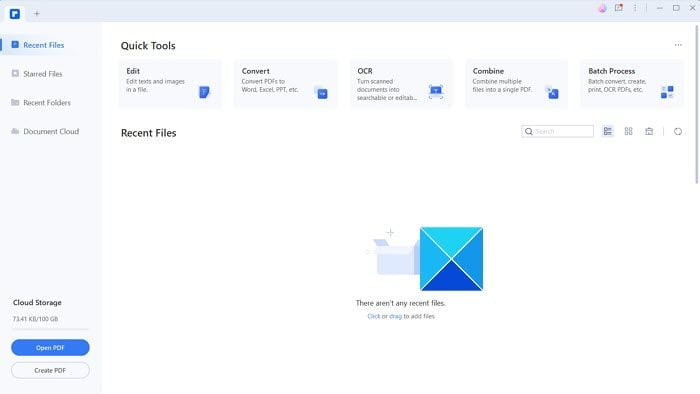 Wondershare PDFelement is one of the popular tools for creating, editing, converting, and signing PDF documents across desktop, mobile, and web. The software is straightforward to use and allows you to edit PDF like you are editing a word document.
Also, you are getting a bunch of tools for editing PDF files. You can add text, images, watermarks, link background, and more to your PDF files. Plus, convert your PDF files into word, excel, PPT, and other formats.
However, with PDFelement 9, Wondershare is focused on increasing productivity. As a result, it has included many tools you cannot find in other PDF editing tools.
For instance, you can now manage documents in the cloud in real-time. It will make it super easy to share PDF files with others. Also, it now supports 30% faster document rendering and has more batch processing functions. So you can edit and manage multiple PDF files at once.
What Makes Wondershare PDFelement 9 Attractive?
Wondershare did try to make the whole PDF editing process super easy. It has an easy-to-use interface, which is pretty much like editing a document. So you can practically manage PDF forms and documents.
Also, it comes with affordable pricing that will go easy on your pockets. Also, if you compare the features with its pricing, Wondershare offers you a great deal. Plus, it is 50% cheaper than its competitors like Adobe Acrobat DC.
Plus, there are no recurring charges if you get a lifetime license. So unlike most other PDF editing tools, you don't have to purchase a license yearly. Also, PDFelement is faster and better and gets frequent updates.
In short, it provides a fast, affordable, and easy solution for editing, converting, signing PDFs, and more across your desktop and mobile devices.
Why does PDFelement stand out from the crowd?
PDFelement is unlike other PDF editing tools because it has advanced yet modern features. Where its competitors have failed to innovate, Wondershare made its product even better. Some of the new key features that PDFelement 9 has are:
1. Document Management in Cloud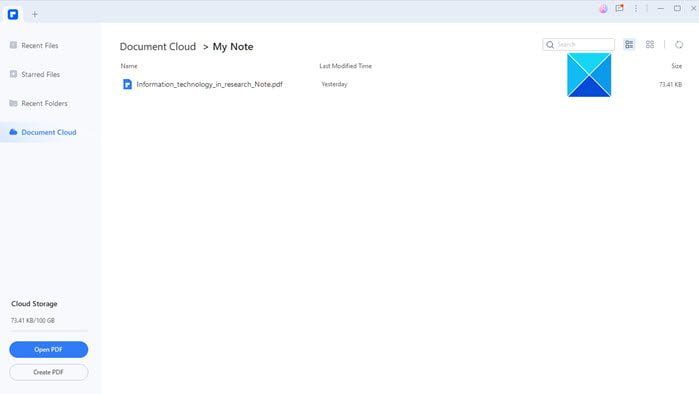 It now allows you to manage your documents in the cloud. It would help you to improve efficiency by editing documents in real-time. Plus, you can share your documents with others by creating valid links for 30 days to view and add comments online.
So the other users can make changes in the document over the cloud without needing to download the PDF file and then edit it with a PDF editor.
2. 30% faster document rendering
PDFelement 9 is also faster than before. It offers you 30% faster document rendering speed. So it can load documents and process them faster than before, helping you increase productivity.
3. More batch processing functions
It also comes with newer batch processing functions which could be helpful for anyone with multiple PDF files. You can drag and drop multiple PDF files into the software to manage the files' background, header, and footer. Also, you can easily print and compress the PDF files.
4. Table Recognition
It now comes with a new feature known as Table recognition. The feature is supported by Windows only as of now. However, this feature is an ideal tool for users working in the finance and accounting field. As it can recognize a fillable form in PDF and copy and paste to other files such as Word and Excel. So there is no need to enter data manually.
5. Document translation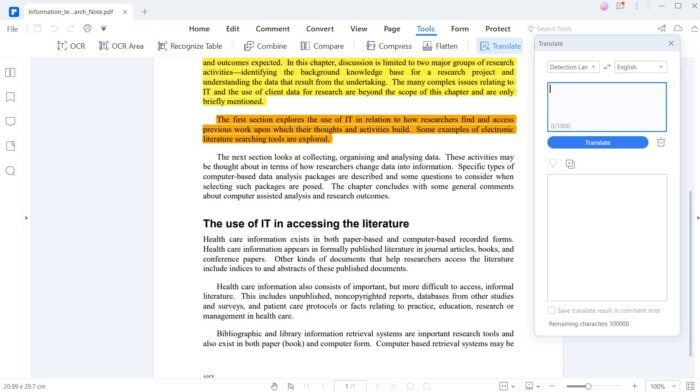 You can also now translate documents right on the PDF file. There is no need to use external tools like Google Translator. Select the text and translate it into a different language in just a click.
6. Image signature
If you are facing trouble taking users' signatures through a screen of a device, then you can upload an image of a handwritten signature and add it to the PDF form immediately.
7. Noted generated document
Students will find the noted generated document pretty helpful. It allows you to export pages with annotations, drawings, and markups easily.
8. Focus mode
Lastly, there is the focus mode which Windows support as of now. The feature allows you to hide the toolbar and read full-screen documents. Plus, you can draw on the document, annotate or perform other activities. So you can work on the document without getting distracted.
PDFElement Features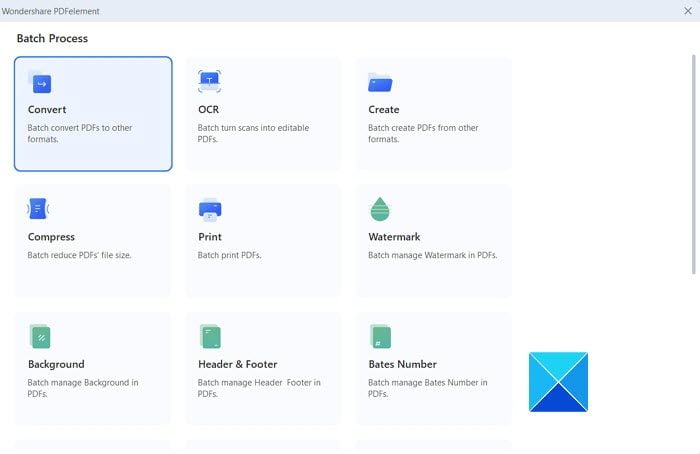 So those were some of the new features you are getting Wondershare PDFelement 9. Now let's have a look at the previous features that PDFelements is offering:
Read PDF: This is the essential feature that PDFelement has. It lets you read PDF files. Just add your PDF files, and you are good to go.
Annotate PDF: Want to add something to your PDF? Use the annotate feature after opening a PDF file. Select the text that you would like to annotate.
Create PDF: You can also create PDF files from docs, images, excel, or other supported file formats. Click on the create button to create a blank PDF file or convert your file into a PDF file.
Combine PDF: With PDFelement, you can also combine multiple PDF files. Use its combine feature and then select all your PDF files.
Convert PDF: You can convert PDF files into docx, XLS, PPT, or other formats. Or you can convert any of your files into a PDF file with a few clicks.
Edit PDF: Editing PDF files with PDFelement is super easy. Open the PDF file; at the top, you will find all the PDF editing tools.
Compress PDF: You can also compress the file size of a PDF. It comes in handy when you want to upload documents on a website that limits the upload file size. Also, you can batch compress multiple files at once.
Organize PDF: Wondershare also lets you organize your PDF files. You can organize your PDF files on your desktop or in the cloud.
PDF Form: You can also edit forms in PDF files. You can digitally fill out PDFs. So there is no need to convert a PDF file into a Doc and edit it.
Sign PDF: Want to take client signs on a PDF document? PDFelement can help you with that as well. It can send a PDF link to your client to get their signature.
Protect PDF: This feature would help when you want to share sensitive information with your clients or co-workers. Add a password to protect your PDF files. So no one can access it.
Batch PDF: It supports batch PDF file converting. You can edit, convert and manage a bunch of PDF files at once with a few clicks only.
PDF OCR: It supports PDF OCR. So you can turn scanned documents into searchable and editable PDFs. So organizing your files will be super easy.
Extract PDF Data: Want to get data from PDF files? Use its extract PDF data feature to extra data from PDF files. Also, it supports batch PDF data extraction.
Wondershare PDFelement 9 Pricing
Now that you know about the PDFelement's features and how useful it can be to you. The next question is, how much does it cost?
Well, it comes with two pricing models. The first one is a lifetime license which is priced at $129.99. The second plan is a yearly subscription which costs you $79.99/Year.
To save up money, my recommendation would be to go with the lifetime plan. As you can get years of updates without yearly recurring charges.
Also, if you want to try out the PDF editor at first, you can download the tool free of cost and use its features for a limited time.
How to use Wondershare PDFelement?
Getting started with PDFelement is super easy as it comes with an easy-to-use user interface that requires no prior experience. However, to help you out below, I have shared a few tutorials. But before you get into them, download and install PDFelement on your device.
Edit PDF Files Using PDFelement
Launch PDFelement from your computer.
Click on Open PDF from the sidebar.
Go to the Edit tab from the top.
Over here, you will find options to add text, images, links, watermarks, background, and more.
Please select your preferred editing type and follow its on-screen steps.
Create PDF Files Using PDFelement
Click on Create PDF from the sidebar.
Next, select between From file, scanned document, blank, and PDF file. For instance, the From File option will convert your local files into PDF files.
But you can also create a new blank PDF file and edit it using text, images, etc.
Convert  PDF Files
From the PDFelement dashboard, click on Convert.
Next, select the PDF file you want to convert.
Finally, choose your output format and save the file.
So that was all about the Wondershare PDFelement 9. It is one of the best PDF editing tools out there, which is not only rich in features. But it also comes with affordable pricing that will go easy on your pocket.
When it comes to Wondershare, you can trust the company to keep improving the product. They have received the following awards lately:
G2 Crowd Report 2022 Summer Leader in Leader of Document Generation,
Leader of PDF Editor: Best Software Awards 2022 – Top 50 Office Products, and the
2022 Capterra Shortlist: Top Performer in PDF Software.
So go ahead and download its free version, try the PDF Editor, see how it works, and buy it! Pricing starts at $29.99.