Effective communication and impeccable writing are one of the sought-after skills in this digital age. It will lead to both personal and professional success. Writing an email or a business proposal, or an academic assignment, you need to express yourself with great clarity and coherence to be impactful. If your words and writing falter, everything goes downwards. Many AI tools can help you make your writing better and make your ideas sound better. Wordtune is one such writing assistant and editor we can use to write better. Let's review Wordtune and see how it can help you. And also see how you can install the Wordtune add-in into Microsoft Word.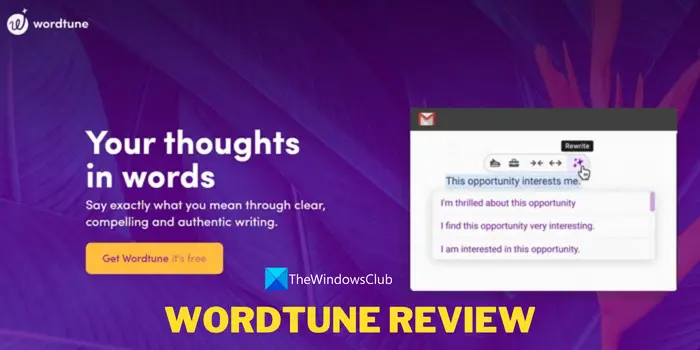 What is Wordtune?
Wordtune is a writing assistant tool developed by AI21 Labs. It is useful to enhance your writing by using suggestions for rephrasing sentences, word choices, and other improvements in writing in real-time using artificial intelligence. It helps you convey your ideas and thoughts clearly in writing without losing anything in translation.
Features of Wordtune
The following are some of the important features of Wordtune that can help you in improving your writing and convey everything you have in mind with clarity to the readers.
Rewrite Paragraphs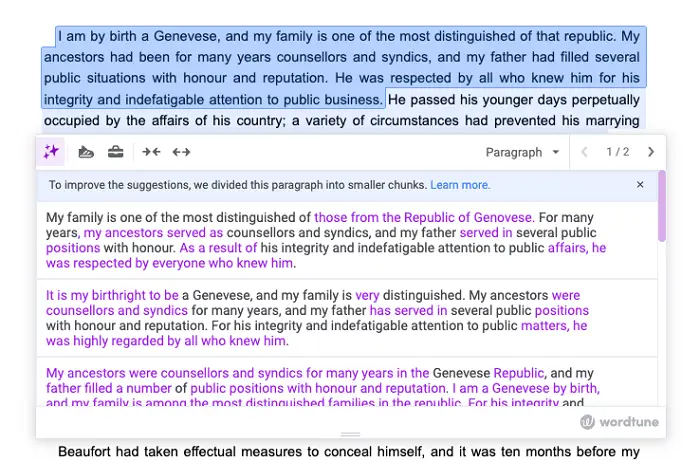 Wordtune can rewrite the paragraphs you have written. You will get to choose if you want Wordtune to rewrite the entire paragraph or rewrite sentence by sentence. If you have longer paragraphs, Wordtune breaks them down into smaller chunks and provides suggestions for each chunk individually. It can even rewrite each paragraph if you have a longer text.
Translate and Rewrite simultaneously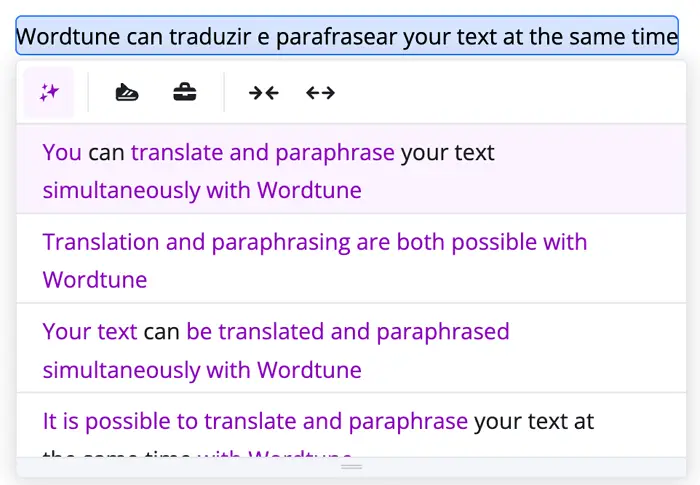 Wordtune not only rewrites sentences or paragraphs in English. You can even translate the content from foreign languages to English and rewrite them using the Wordtune editor. The following languages are available for translation and rewriting on Wordtune,
Mandarin Chinese
Arabic
Hebrew
Korean
Hindi
Russian
Spanish
German
French
Portuguese
Remember that you need to be a Premium subscriber to use this feature on Wordtune.
Smart Synonyms for Words and Phrases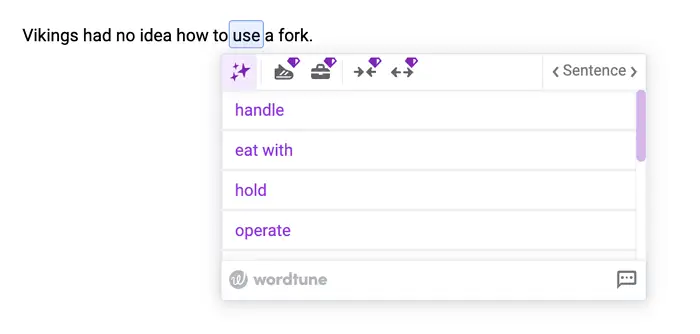 Writing becomes repetitive over time and we get fixed to a limited set of words or vocabulary. You can break the monotony with Wordtune by using the suggestions it provides for the words and phrases you use. You can make your writing sound much better and engaging with the right words and phrases.
Tone Correction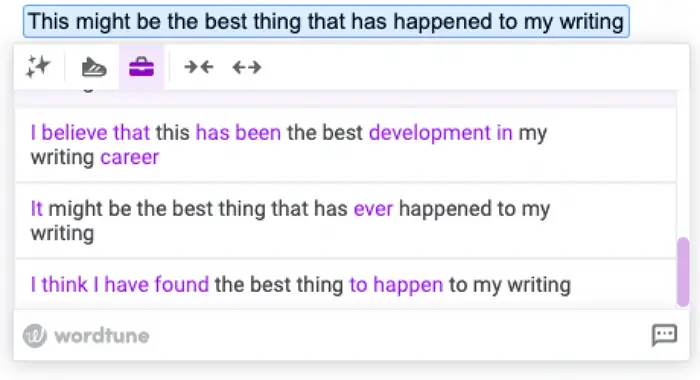 Each type of text we write needs a tone. It might be formal, casual, etc. Whatever tone you want to write or rewrite your text, Wordtune provides suggestions based on the tone you need and helps you make the text better. You can even shorten or expand the sentences to sound right.
Corrects Grammar and Spellings
Grammatical and spelling errors happen all the time. Though we consciously avoid them, they happen. Wordtune corrects your grammar and spelling in real-time in addition to providing suggestions to rewrite the sentences and paragraphs.
Wordtune Spices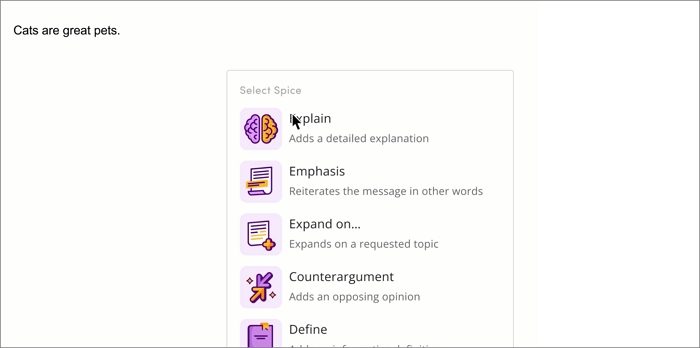 Wordtune Spices is the new feature that suggests new sentences based on your writing to enhance your writing, as well as provide suggestions to improve the clarity, conciseness, and tone of your writing. It is a powerful feature that can help you write better and faster.
Wordtune Read
If you have long-form content you need to read and summarize, Wordtune Read can do it for you. The AI reader can summarize long documents and help you understand the text more faster.
Wordtune Pricing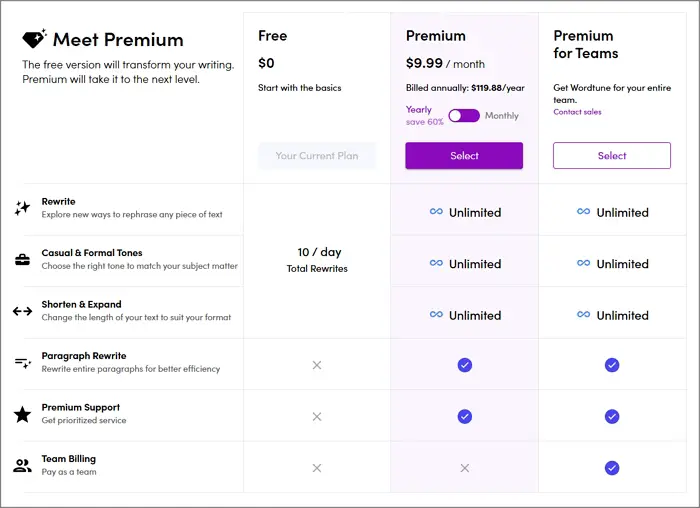 Wordtune has three plans for users. One is a free plan with the features to rewrite, tone-correction between formal and casual, and shorten or expand the text. You can get 10 rewrites per day in the free plan.
The premium plan costs $119.8 per annum or $24.99 per month and comes with the feature to rewrite entire paragraphs, unlimited rewrites, tone corrections, and premium support along with the features on the free plan.
The third plan of Wordtune is for teams which come with all the features available on the premium plan but with billing of teams. You can contact the Wordtune sales team for the pricing of this plan based on your team and usage.
Wordtune Availability
Wordtune is available to use on almost every platform. It is available as an extension for Google Chrome, as an add-in for Microsoft Word, and as an app for iOS. To begin with, you can just have a glimpse of its working at Wordtune.com.
How To Install Wordtune Add-in Into Microsoft Word
Installing Wordtune add-in on Microsoft Word is a no-brainer. To get started, open Microsoft Word and click on the Add-ins button on the ribbon menu. Select More Add-ins to install Wordtune add-in.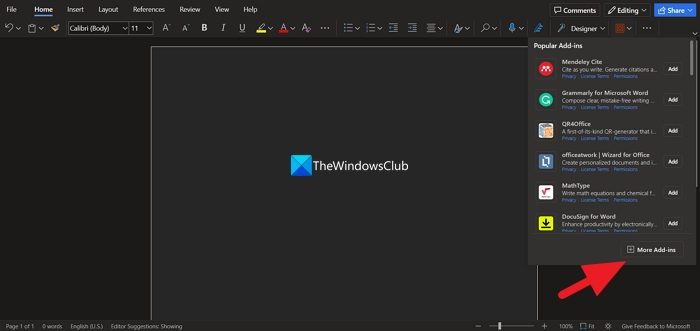 It will open an Office Add-ins overlay window. Search for Wordtune in the search box and press Enter. It will show the Wordtune add-in in the results. Click on Add beside it to add the add-in.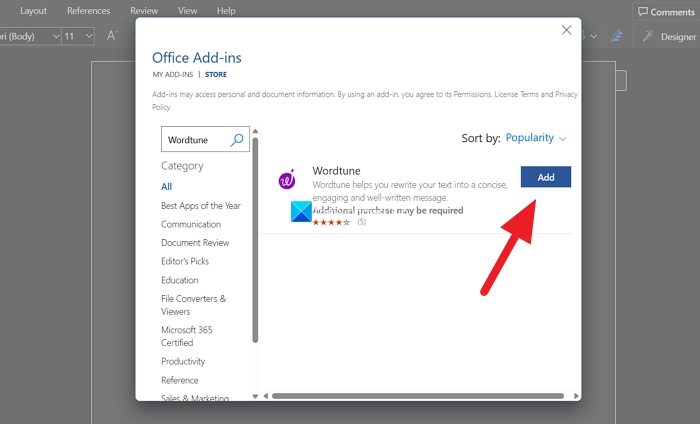 Agree to the terms and conditions and click Continue on the following screen. Then, it will automatically install the Wordtune add-in in Microsoft Word. You can find it by clicking on the Add-ins button on the ribbon menu and start using it.
Conclusion
Wordtune is a great writing assistant that you can use to edit and better your writing. You can use it to rewrite the text, generate content, write assignments for your study, etc. You can even try its ability to help you enhance your writing using the free plan and can upgrade to the premium based on how helpful you find it.