In today's time, downloading content from different sites has become a regular thing. You want to download YouTube Videos, convert YouTube to mp3 or mp4, and so on. For this, you have plenty of tools available both as a desktop and online client. However, I loved using the YT Saver and will discuss it briefly in this YT Saver review.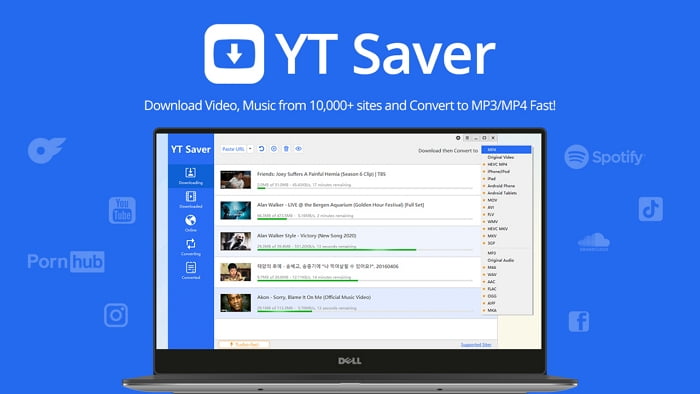 YT Saver Review – Online Video Downloader
For a quick introduction, It is a one-stop solution for Windows and Mac users to download Youtube videos and media content from social media sites like Facebook, Instagram, Soundcloud, Spotify, and many more.
But is it the best tool out there? Let's find it out in this review:
What is YT Saver?
YT saver is an excellent tool that lets you download YouTube videos and convert them into your desired format. Using this tool, you can download YouTube videos at different resolutions like 480p, 360p, 720p, 1080p even 8k.
It supports more than 20+ output formats. This allows you to download and convert YouTube videos that can be played across all your devices.
Even not just YouTube, you can also download Instagram videos and Facebook videos. In short, YT saver supports more than 1000 sites like Dailymotion, Niconico, Bilibili, TikTok, and many more.
Also, it is super easy to download videos. You can download videos using a URL or YT saver's built-in browser.
Apart from downloading, it also has a converting feature that allows you to convert your desktop files into your desired format. You can easily convert your videos and audio files to mp4, mp3, WEBM, OGG, FLAC, and other popular formats with just a few clicks.
Overall, YT saver is available for Windows and Mac computers. So no matter what operating system you use, this tool would be handy for all your media downloads.
Top Features Of YT Saver
1] 10,000+ popular sites supported
With this single tool, you can download media files from more than 10,000 websites. It cannot only download videos from sites like YouTube, Instagram, Dailymotion, TikTok, and Facebook. But you can also download audio files from Spotify and SoundCloud.
Apart from these popular websites, you can also download videos from numerous online video streaming sites. So no matter where you are trying to download a song or video, this tool would come in handy.
2] 20+output format supported
YT saver not only helps you with downloading videos. But you can download videos in your preferred format. So it can play across your devices. You can easily convert videos to Mp4, 3gp, MOV, AAC, WAV, HEVC MKV, or supported media formats for iPhone/iPod, iPad, Android Phone, and Android Tablets. Also, if you love saving music from YouTube, this is the best youtube to mp3 converter you can try out.
3] Pause or Resume the Downloading Files
You can also pause and resume your downloading files. Simply click on the pause button, and you are good to go. This is handy when you want to stop downloading videos for a while. So there is no need to cancel the whole download. Instead, you can stop all downloading files and resume them later on.
4] Download mp3 music up to 320kbps
You can also download music from many online sites such as Spotify, YouTube, SoundCloud, and many more. You can download audio files at the highest quality possible, which is 320kbps. So you can enjoy your music without any quality issues.
5] Download High-Definition Videos
It also allows you to download high-definition videos. You can download videos from the lowest quality 360p to 8K without any issues across websites. However, just ensure that the source has the video quality you are trying to download. For instance, if the source video is in 4k, you cannot download it at 8k.
6] Download Playlists, Channels & Albums from YouTube & Spotify
Want to download a whole album, playlist, or channel videos at once? Simply copy and paste the URL of the channel or playlist link to YT saver, and it will save it for you. There is no need to download each video one by one manually. Instead, it can download and convert videos in a bunch into your preferred format.
7] 10X faster download speed
Another cool part of YT saver is that it comes with an excellent video downloading speed. It can download videos 10x faster than any other YouTube video downloader. It does not slow down your downloads like most other YT downloading tools do.
8] Cut YouTube video to mp4, mp3
You can also cut and save a specific part of a video and save it in Mp4 or mp3 format. This comes in handy when you want to save only a specific video part.
9] Download YouTube subtitles and lyrics in various languages
YT saver has this unique feature that is hard to find in any other YouTube video downloader. It allows you to download YouTube videos with subtitles and lyrics. As a result, you can import the subtitle into your favorite media player and follow along with it.
10] Built-in Browser
It also comes with a built-in browser. Using the browser, you can search and download videos within the YT saver app only. There is no need to use third-party web browsers to find and download videos. Also, the in-built makes it super quick to download youtube videos and audio files.
Plus, it comes with a login feature that saves your login details. So you can straight away download videos from different social media sites.
11] Private Mode
With YT saver, you also get this super handy private mode feature. This allows you to hide the videos you downloaded. All the downloaded videos will be stored in a password-protected folder. So you will only have access to it. To get started with this, use the YouTube to MP4 converter, choose the Private Mode, and set up a password.
12] Ease of Use and Interface
One thing that I like about YT saver is that the software is pretty straightforward to use. To use it, you don't need to have any prior experience. So you won't have any trouble using the software and downloading videos. It is all about copying and pasting the URLs of the video you would like to download.
How to Download and convert YouTube video to MP3 or MP4
Follow these steps to download any YouTube video into MP3 or MP4 formats easily. You can then play it as audio or video using your favorite media application.
Step 1: Download and Install YT Saver on your Windows or Mac
First, download the YT Saver youtube video downloader tool from its official website. It is free to download and available for both Windows and macOS. Once downloaded, double-click on the installer and install it by following all the screen instructions.
Step 2: Copy YouTube video URL from the address bar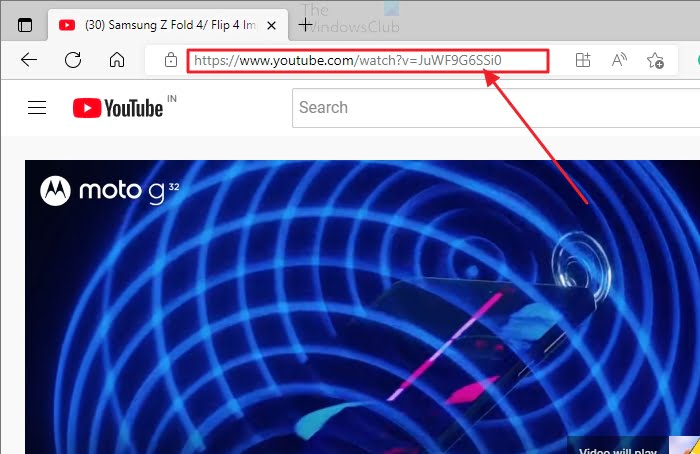 After installing YT saver, go to YouTube or any other website from where you wish to download a video or audio file. For this tutorial, you can go to YouTube and search for the video you wish to download. Then copy the URL from your web browser's address bar. Or you can click on Share and copy the URL.
Step 3: Set the output format mp3 or mp4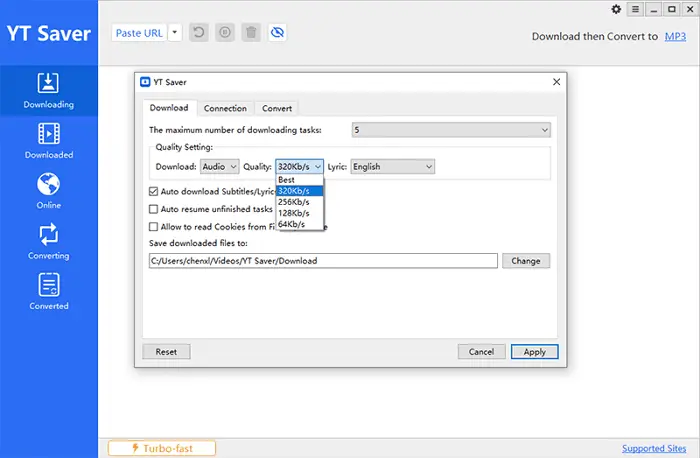 Once you are done copying the URL, come back to YT saver and click on Download, then convert to Mp4. This will open up a drop-down list of all the supported formats. Simply select the format for the YouTube video to continue.
Step 4: Paste YouTube video URL to the software
Next, click on Paste URL from the top, which will paste the copied YouTube video URL and start downloading immediately.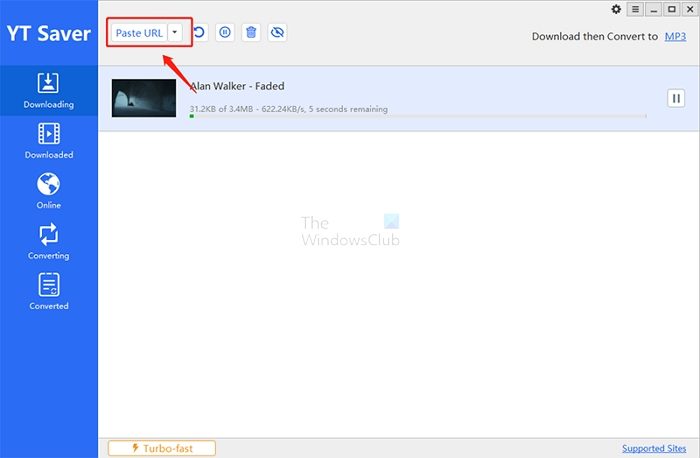 Once downloaded, the video will be available under the Downloaded tab. You can open up the output folder and move the video to your other devices or simply play it.
Similarly, if you want to use the Spotify Downloader, you have to copy the share link of the music or playlist and paste it into the YT Saver using the above steps, and you are good to go.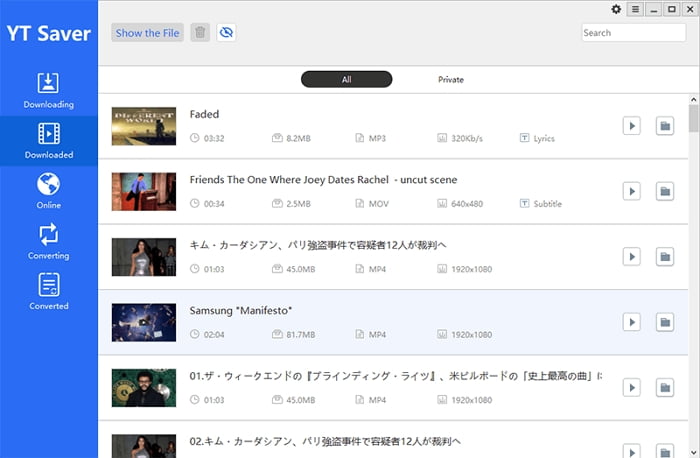 How to Convert Videos Using YT Saver?
Apart from downloading, converting your downloads is the second major feature of the YT saver tool. And here is how you can use it:
Launch the YT saver app from your computer.
Click on the Converting tab from the sidebar.
Over here, click on the Plus icon from the top and choose the file you want to convert.
Next, choose an output format for converting.
Finally, click on the convert all button from the top to convert the video.
Once the video is converted, click on the Converted tab from the sidebar, and from there, you will find your converted videos.
How to Crop Video from YouTube Online?
You can also crop and download a specific YouTube video part using YT Saver. To do so, you can follow the below steps:
Launch the YT Saver software from your computer.
Click on the Online tab from the sidebar and select YouTube.
This will launch YouTube using its built-in browser.
Now search for the video you wish to download.
Next, select the time duration for the video and click on the cut button.
That's it. Now the video will start getting downloaded, and once the download completes, you can find the video in the Download section.
YT Saver Pricing
When it comes to pricing, YT Saver is available both as a free and a paid service. The free version is good enough to try out the tool before you purchase a license. As it only allows certain free downloads. But if you want to download videos without interruptions, then YT Saver premium is what you will need.
YT saver comes with four different plans for both Windows and Mac. These plans include a 1-Month plan, 1-year plan, Lifetime Plan, and Family Plan, and these plans are priced at $9.95, $19.95, $29.95, and $39.95 respectively.
20% OFF Coupon Code :YTSAVERRE20
Among all the plans, Lifetime and Family plans will help you save money. As there is no yearly renewal. Also, for Mac, the price is slightly higher compared to the Windows version of YT Saver.
What do I like About YT Saver YouTube Downloader?
One thing I like about YT saver is its simple use. On top of that, it comes with fast downloading and converting videos. You can convert most videos within a few seconds and large videos within minutes. It offers 10x faster-downloading speed compared to its competitors. It uses multi-threading technology which helps the software achieve a faster downloading speed.
What Don't I Like About YT Saver YouTube Video Downloader?
Overall, there is nothing wrong with the YT saver. It is a great tool for downloading videos from YouTube and other sites. Also, it comes with tools like Spotify Downloader and TikTok Downloader.
But if you ask me what I did not like about YT saver, it can only download up to 10 videos simultaneously. If you add more videos for downloading, the video will get added to the timeline, and it will only start downloading once one of the 10 videos is downloaded.
This can be a time-consuming job if you have too many videos to download. But again, YT saver offers a 10x faster downloading speed. So it will not be a problem in most cases.Still its best in industry.
Conclusion:
So that was all for the YT saver video. Overall, it is a pretty good youtube downloader for Windows 10, Windows 11, and macOS. It has many cool features that take care of all your downloading and converting needs.  Also, with the free version, you get up to 3 free downloads. So go ahead and try the software out yourself, and if you find it good enough, consider buying a license.
If you have any more questions regarding YT saver, feel free to comment below.
YT Saver
Functionality and UI -

95%

Downloadig Speed -

95%

File Format Support -

96%

Conversation Speed -

97%