Getting a new computer is exciting, but moving all your data, files, programs, documents, music, pictures, favorites, emails, accounts, settings from your old computer to the new one is painful. I remember Windows 7 used to have an Easy Transfer program for such migrations, but there is no such tool from Microsoft anymore. Keeping this in mind, we are going to review Zinstall WinWin. It can transfer all your data to a new Windows 10 computer.
Zinstall WinWin review
Zinstall WinWinworks with Windows 10, Windows 8.1/8, Windows 7, Windows Vista and Windows XP. Microsoft has announced that Windows 7 End of Support is in January 2020. So if you plan to move to Windows 10, then this software will work like a charm for you.
Transfer Files & Programs to new Windows 10 computer
Zinstall WinWin is a powerful application for those who are not much tech-savvy. If you need a software that can transfer files and programs with a click of a few buttons, then this one is just for you. The software can transfer data over connected as well as WiFi networks. You have to make sure that both the source and the destination computers are connected to the same network. You do not have to join the computers with any exclusive wire.
Features of Zinstall WinWin
Works between versions of Windows including Windows 10 to Windows 10, Windows 7, XP, 8.1 to Windows 10
It supports transfer between 32- and 64-bit computers.
Transfers Files, User Profile, Application, Programs, and Registry settings.
Lets you configure what you want to transfer by using Include and Exclude rules.
Use Zinstall WinWin to transfer files & programs to a new computer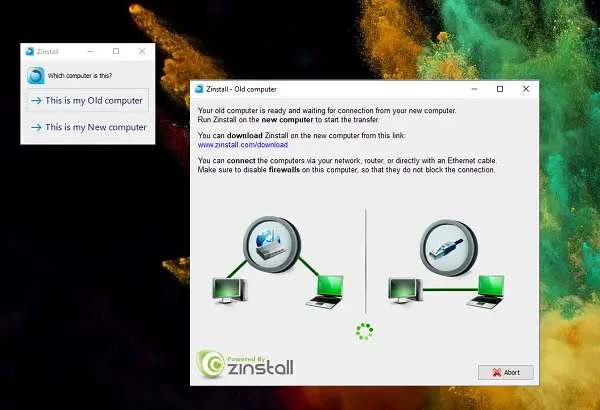 Reinstalling everything on a new computer is not easy. Not only does it take a lot of time, but it's also easy to miss a program or some files on the old computer. Apart from that, you also need to activate the software, set up the browser, etc., all from scratch. That's where Zinstall WinWin excels.
When you launch Zinstall WinWin it offers you two options — This is my Old Computer, and This is my new Computer. These options clear one thing, you need to have Windows installed on the computer with basic setup complete. You also need to make sure that you run the program on both computers. That's the only way for applications to detect the source and the destination computer.
On the old computer: When you click on this is an old computer, it will launch the program, and wait for the connection to happen.
On the new computer: Once you run it, it will open a search window where you can see both old and new computers.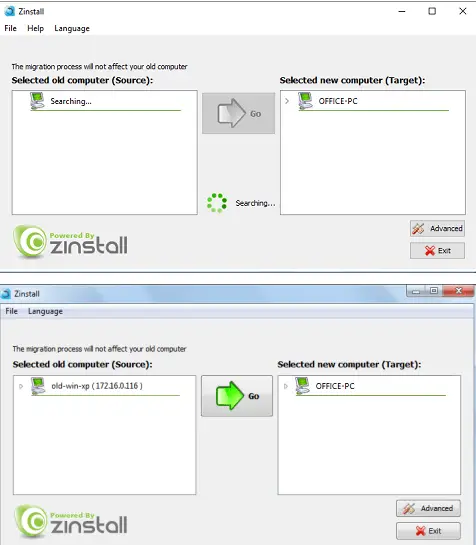 Once the connection is established, you should see both the source and the new computer listed. This is how it showed up when I used it to migrate my old Windows XP computer to Windows 10.
The Advanced Option  to Transfer Files
The next step is to configure what you want to backup and move to the new computer. It is essential as it will impact the time it takes to move. If you do not want to move a few files and programs, you can use the advanced configuration. Click on the advanced button, and then select the source computer. It is essential if you are doing multiple transfers. Then click on Selective Migration, > Activate Advanced Settings Mode button.
Here, you will be able to see all the details of the old computer. Do not worry as it will not remove anything from the old computer. This screen lets you choose what needs to be moved and what you want to skip. It is a powerful configuration screen, so make sure to use it wisely. If you do not want to filter out anything, go back and click on the Go button. It will move everything.
Files and Directories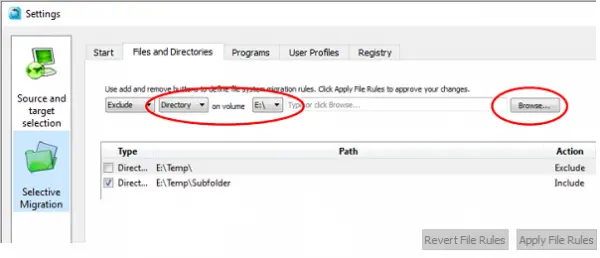 You can browse and select what you plan to transfer and uncheck, which should be excluded.
If there are too many to select, then use the exclude and include rules.
In the end, you will get to see a list of files that are excluded so that you can be sure about it.
Installed Programs
Similarly, you can choose which of the programs should be moved to the new computer. If there are programs that you are sure will not work on Windows 10, it is better to skip them. If these programs have a new version that is compatible with the new OS, install it. Some upgrade programs can also migrate data from old software to the new version. It will come handy.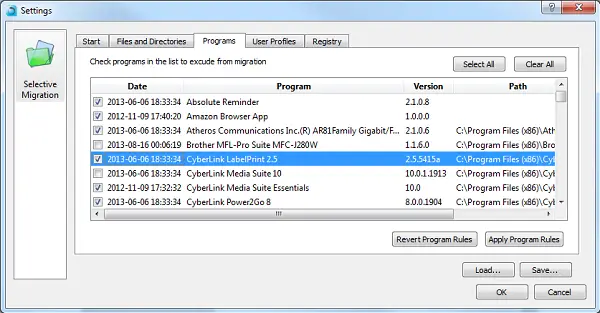 User Profiles & Registry Settings
The same applies to User-profiles and Registry settings. If you have multiple users on your computer, and you want to have the same set of users on the new computer, select all of them. However, if you are sure some of the old profiles are not required, you can skip them.
When it comes to the Registry, I would highly recommend you to take everything. The registry settings include the activation status of the software, user configuration, computer configuration, and more. It is only wise to include everything during transfer.
Once you are sure of everything, click on the Ok button to go back to the source-destination screen. Click on the Go button to initiate the transfer. Based on the selection, data will be transferred to the new Windows computer.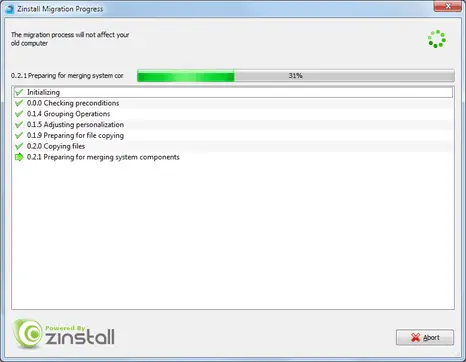 During the process, I would suggest not to use the computer and let the transfer process get everything done. You may have to update a few software and install new drivers if required.
What do we think about Zinstall WinWin?
If you are looking for a hassle-free software that can transfer all your files overnight, and give you almost the same setup as your old computer, Zinstall WinWin wins hands-down! There is no complicated setup involved. If you are interested in transferring everything, just hit the Go button and wait for the software to complete the task. Those who still want to configure what you can choose get the option of simple include-exclude options for files, users, programs, and so on.
The cost of the software is $119, and you can purchase it from zinstall.com. This one time cost can save you a lot of time migrating your data and setting up your new computer!
TIP: Zinstall WinWin is good for end-users. Zinstall Migration Kit Pro is made for business. It can perform complete and efficient corporate-wide migration of end-user workstations to new hardware and OS.