Avast is a universally trusted antivirus program. Not only is its Avast Free version very popular, its paid Avast Pro Antivirus now offers even more advanced features, and it offers more customization for protecting your PC from malware and phishing programs.
Avast Pro Antivirus review
Avast Pro Antivirus is not only light on the pocket, but also on your PC resources. The setup file of the trial version we downloaded was only of 6.6 MB and downloads quickly. To run the file, double-click on the setup file. When prompted, install the program on your PC. Installation takes some time (about 5- 10 minutes).
Once installed, press 'Continue' to go ahead. Avast Pro Antivirus prompts a Privacy Policy after this stage. It asks the users to determine whether they want to opt for data sharing with Avast and third parties. Users can opt out of data sharing at any time by unchecking 'participate in data-sharing' box in the setting. On clicking on 'Continue', Avast Pro Antivirus prompts you to download a free antivirus version for Android phones as well.
Interface and usage of Avast Pro Antivirus program
Once the Avast Pro Antivirus program is installed, you can start using the program immediately. The interface of Avast Pro Antivirus program is extremely simple and clutter-free. The gray background is easy on eyes and tabs are easy to find.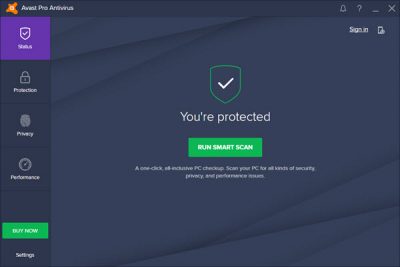 As you can see in the above image, the antivirus program has 4 tabs on the left-hand side, namely, Status, Protection, Privacy, and Performance. Since it is a trial version that we downloaded, you will also see 'Buy Now' tab so as to buy a yearly plan of the program. To get the best protection, we recommend that you buy Avast as it offers sturdy protection against all kinds of malware, including ransomware.
Starting the scan:
You can start scanning your PC using the 'Run Smart Scan' tab at the center of the program interface. The program offers one-click scanning for all kinds of security, privacy and performance issues on your PC. During the scan, you can easily understand the scanning progress of the Avast Pro Antivirus program. It checks the compatibility, virus scan, vulnerable software, browser add-ons, network threats, performance issues and even weak passwords.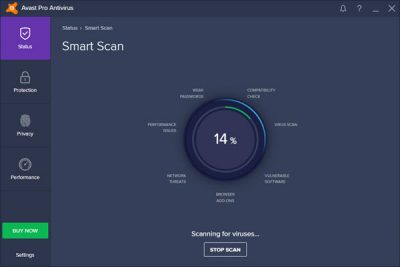 Status Tab:
Once the scan is completed, the program displays the report with issues found, if any. This comes under 'Status' tab. If you mistakenly close the program, then also you can see the latest report by clicking on 'Status'. When you click on 'Resolve All', it starts resolving the issues one-by-one, found in your system.
One of the important features of Avast Pro Antivirus is Performance scanning it does. Due to this feature, you don't need any other application to analyze the performance of your PC. As you can see in the further image, it had listed down the performance issues found on my PC. The arrow on the right side of each issue expands the list of issues of that category.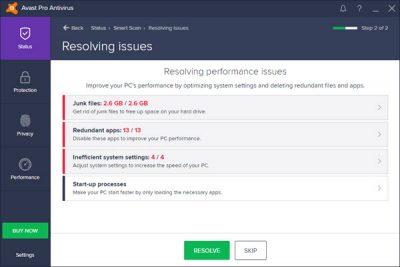 Protection tab:
Under Protection, you can see various features the Avast Pro Antivirus program offers.
Antivirus: Run a scan to find out malware on your PC
Rescue Disk: Transfer the Avast Pro Antivirus program on a portable device (CD or USB)
Firewall: Activate the firewall for protecting against hacking activities. However, it is a paid feature that does not come with Avast Pro Antivirus program. You have to buy it separately.
Wi-Fi Inspector: Do a network scan and find out any network issues
Real site: The antivirus program activates the protection against the fake website, such as banking and shopping website. Hence, you can use your sensitive data on such websites without any worry.
Software Updater: The program finds out old and outdated software on your PC and prompts you to upgrade it.
Sandbox: This is a useful feature offered by Avast Pro Antivirus. You can test suspicious files in Sandbox. This feature lets you run apps, download files and visit websites in a safe, isolated space, so they don't infect the rest of your PC.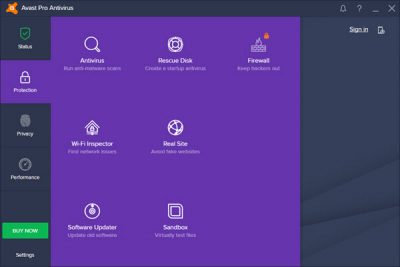 Privacy Tab:
The Avast Pro Antivirus has lots of features under various tabs. The Privacy tab has three more features namely, Passwords, SecureLine VPN and Data Shredder.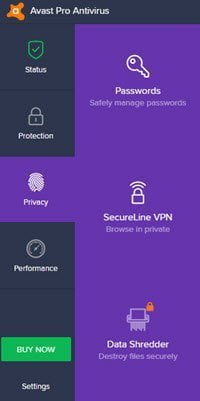 Settings:
In the left-hand side corner, there is 'Settings' tab that lets you change the settings of the program.
Our take on Avast Pro Antivirus
The program does many other things along with being an antivirus program. The performance and network scanning is a useful feature. The Sandbox feature lets users run and test the malicious programs.
Other Avast products
There are two more Avast products that help you secure your data.
Avast Internet Security: As the name suggests, Avast Internet Security program offers advanced privacy protection when online. It is an intelligent threat-detection that keeps your identity safe when you are surfing online. Just like Avast Pro Antivirus program, the Internet Security program too offers protection against fake websites. Besides, it can spot scam emails and even firewall your data. Its one-year subscription for one PC starts at $59.99.
Avast Premier: This is an ultimate antivirus protection for your PC. The Premier program offers cloud-based protection against zero-second threats to your PC, home network, and passwords. It also offers automatic software updates for all your apps and permanent data shredding. The plan for the Avast Premier starts from $79.99 for 1 year.
Avast Pro Antivirus is made available at affordable rates, so as to be light on users' pocket. Its plans start from $49.99 for one year for one PC. Avast is also offering a 30-day Money-back guarantee on all these plans. If you are looking for a good security software for your Windows PC, we strongly suggest that you buy Avast from the official avast.com website.