Looking for an excellent video editor software for your computer? Today we are reviewing Filmora9 from Wonderhshare which is a video editor that anybody can use. We will also discuss the features of Filmora Pro which is an advanced video editor.
Filmora9 Video Editor Review
Filmora 9 comes with tons of new features, and optimization – and a lot seems to have changed compared to its previous version. Apart from improved editing, and performance, here is a list of new features:
Faster Import and Export make sure you spend less time waiting to start the video.
You can view high-resolution previews including 4K and take snapshots
Chroma key or the green screen effect along with video stabilization has improved a lot.
When editing videos in 4K, you can choose to lower resolution for a video preview. This will make sure you can edit faster, and later you can export in 4K.
The software offers more visible audio waveforms with the option to edit in enhanced mode. This is very useful when you want to remove audio issues which are very close to the actual audio piece you want to keep. You also have access to 3 track sizes: small, normal, and big. This comes in handy when you want to edit the audio or when you have a lot of items in hand.
You can make multiple adjustments to the volume of an audio clip using keyframing in the same timeline.
Preview mode supports to adjust, flip, rotate, scale and move clips.
Editing video with Filmora9
Open Filmora9, and you will have two options. First is to create a new project, while second is to open an existing project. Select New project, and you will have the editing interface up and running.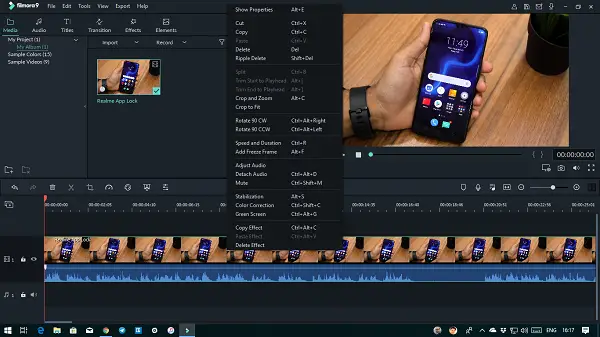 Editing is straightforward with Flimora9. What you will like is how well everything is organized. You have a media section where you can drop all your audio, and video files. Then you have sections for Audio, Titles, Transition effects, elements and so on.
The tool supports keyboard shortcuts which are in line with popular editing tools, so if you are switching, you won't have to learn that part at least.
If you want to add effects like music, text, transitions, filters, overlays, or more, select where you want to add, and right click on it. Select what you want to add, and then later change, i.e., increase, or decrease the duration of the effect.
The app also supports importing media from Facebook, Instagram, lets you record videos instantly using a webcam or PC screen and even do a voice over. Once done, you can click on the export button to, and you have a plethora of options. Right from CD/DVD to iPhone to uploading directly to YouTube and Vimeo.
Favorite Filmora9 Features
I have two favorite features. First is how easy it is to apply a transition, and the second is adding effects to videos. It makes it an excellent fit for making home videos. If you are a professional who is into making marriage videos, all family occasions, it fits in perfectly.
Filmora9 has an exceptionally well-done collection of Video effects. If you buy the ultimate version, you can have access to 1000+ video effects in effects store, and new effects every month. The PC/Mac cross-compatibility is an excellent feature. A lot of video editors work on both the platform, and this helps.
Features of Filmora Pro advanced video editing software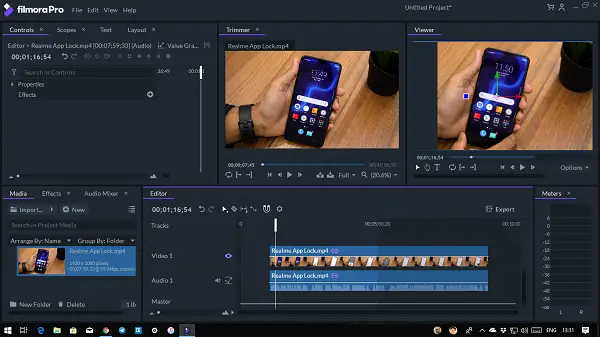 FilmoraPro video editing software is for professionals who need Final Cut Pro grade editor. Let's take a look at the list of features FilmoraPro offers.
Video:
The auto-correction mode can set the right color tones for your video.
Manually control shadow, mid-tone, and highlight control.
Colorwheels make things even better.
If you want changes to be consistent throughout the video, you can also use Scopes.
Audio:
Automatic Audio Sync allows you to use different shorts from the same scene, and sync the audio from them

Equalize the highs and lows of your audio to normalize the volume of your clips. This is useful when your volume rises all of a sudden when a scene changes.
Reduce unwanted background sounds. Useful when you have outside noise.
Crossfades or overlap audio to smooth the sound between clips.
Customizable Animation:
Animations are important in videos, and when you are using text in videos, tracking it is important. The software allows you to set keyframes to control the effects. It also supports you to change the speed and duration of animation to make it feel fluid during the change of scene. The software also includes highly customizable motion graphics and text effects.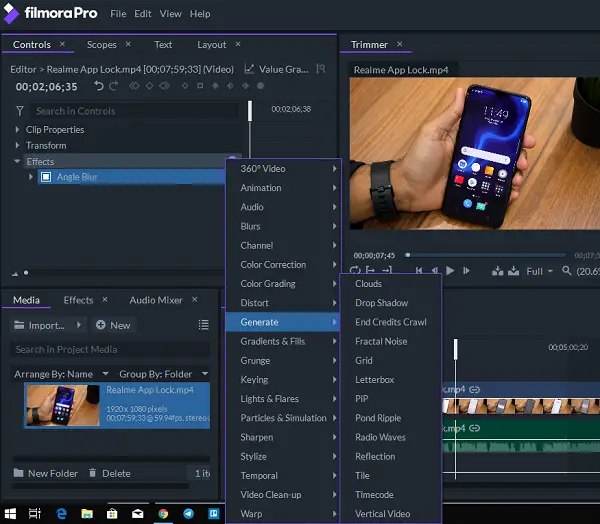 I tried editing a couple of videos with it, and it's impressive. It offers tons of control you can apply to video. You have a final view section, trimmer, timeline for videos, audiometer, and so on. This video editing software also supports GPU rendering if your computer has a dedicated graphics card.
There are indeed some free video editing software available for Windows and Mac, so should you buy video editing software from Filmora? I would say yes. Anybody who wants to start with a good video editor, Filmora9 can be the choice. For those who already have some video editing knowledge, if you cannot afford costly software like Adobe Premiere Pro, then you can try FilmoraPro which is powerful, simple and probably one of the best Adobe Premiere Pro alternatives for video editing.
You will have to spend like an hour or so totally understanding the software, and then you can learn as you keep editing the videos.  I am sure this software will not disappoint you, and since I have used Final Cut Pro, I can understand that the software is done well.  Do note however that if you are looking for effects, then you will need to get a yearly subscription.
File Format Supported -

88%

Batch Processing -

90%

Quality of Output -

90%

Video Editing & Speed -

95%

Video stabilization options -

95%