You usually use SD cards to save your precious photos. In fact, DSLRs, camcorders, digicams, mobile phones, drones, and other devices, all have SD cards as their storage media. But this widely used and convenient portable media is not immune to file losses. Incidents of accidental deletion, formatting, corruption, and virus infection, finally result in the loss of photos.
There can also  be situations when you may not be able to access photos saved in your SD card, such as:
SD card asks to format before opening it
SD card is not detected by the computer
SD card is inaccessible due to some error message.
So, how do you recover the lost or deleted photos from the SD card on your Windows computer? A recovery software is the best way to restore lost photos, but there are various other ways that you should try before moving to an SD card photos recovery software.
Retrieve deleted or lost photos from SD card on Windows PC
An efficient photo recovery software from a trusted source assures safe recovery from the SD card. However, there are also some Windows-specific manual approaches to restore photos from an SD card. But these manual methods work in certain situations, unlike recovery software, which works in almost all photo loss scenarios.
How to recover deleted photos from SD card
Use Stellar Photo Recovery for Windows
Perform Chkdsk command
Reinstall the drivers
Assign a new drive letter
SD card checks before troubleshooting photo loss from SD card:
Is your SD card write protected? If you can see the image files in the SD card but can't view or save them, your card is write-protected. Disable the write-protection by sliding up the switch present on the left side of your card. You can now view, edit, or save the stored image files.
Is your card reader/ SD card slot working? If the card reader or the SD card slot on your laptop is faulty, your Windows PC will not detect the media. Try with another card reader or connect to a different SD card slot.
Now let us take a look at the methods to recover deleted photos from SD card on PC.
1] Recover deleted photos using Stellar Photo Recovery Software
Stellar Photo Recovery Standard restores accidentally deleted photos from all brands, Class, and capacity of memory cards. It supports image recovery from microSD card, miniSD card, SDHC, SDXC, memory stick, flash drive, etc. You can also retrieve lost pictures from formatted or corrupt SD cards as well with the help of Stellar Photo Recovery.
Available for both Windows and Mac computers, the software is easy to use and fast to recover JPEG, PNG, TIFF, DNG, DJVU, PGM, TGA, Adobe EPS, and RAW camera image file-formats including that of Canon, Nikon, Samsung, Sony, Fuji, Olympus, and many others. It ensures the safe recovery of your photos while maintaining their original quality. The pictures are restored with their original name, date, and timestamp.
In addition, the DIY software restores videos and audio files.
Download, install, and run the Stellar Photo Recovery Windows software on your computer.
Connect the SD card via card reader to the computer.
On the home screen of the software, select Photos, and click Next.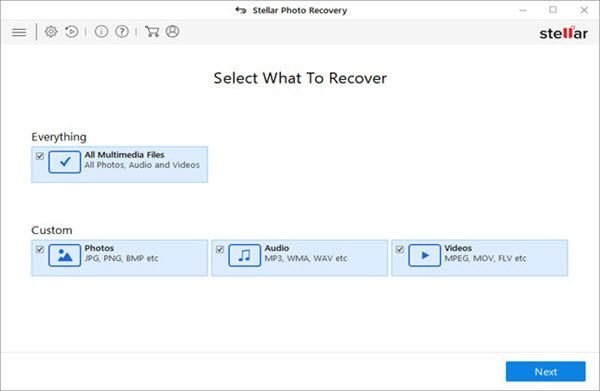 Select the drive letter assigned to your SD card in the 'Select Location' window.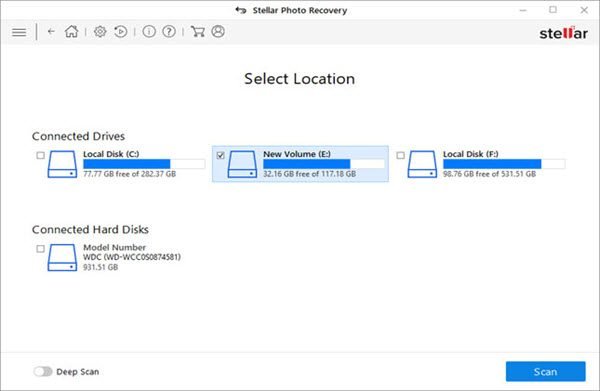 Note: For quick photo recovery, click on Advanced Settings icon on top. Advanced Settings box appears. Select the photo file types you want to recover. Click on Close button.
Click Scan.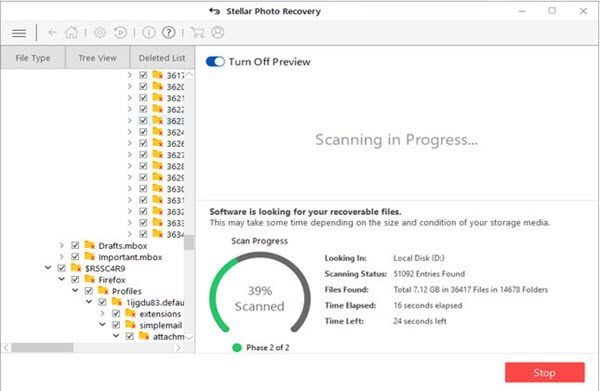 Once the scanning completes, all the photos, both the existing and deleted ones are listed. Preview them, select, and click Stop.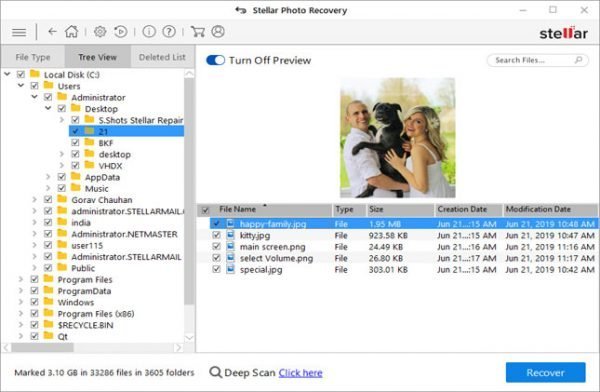 Select the location to save the recovered photos. Click on Recover.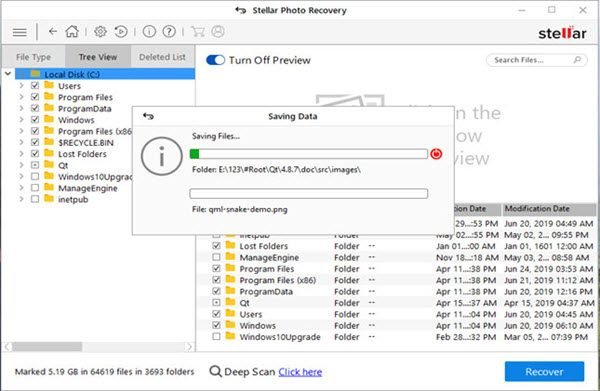 Perform Chkdsk command
If the SD card asks to format to open it, perform the chkdsk command process. The chkdsk process scans and checks the logical errors on your SD card and fixes them.
Steps to perform Chkdsk:
Press Windows+ R keys to open the Run dialog box
Type cmd and pressEnter
Right-click cmd and select Run as Administrator
Type command line chkdsk > SD card drive letter>:/r/f  (e.g., <chkdsk E: /r/f>, where E is the SD card drive letter). This repairs the file system errors and scans for bad sectors as well.
Press Enter
Once process finishes, restart your computer.
Reinstall the driver
When your Windows PC fails to detect your SD card, but the card is accessible on other computers and devices, reinstall the driver. If the Windows throws an error, 'Please insert the disk into drive E:' on connecting the SD card, then too try this method.
Steps to reinstall the driver:
Right click on My Computer/ This PC
Follow Manage > Device Manager
Double-click Disk Drives
Right click on the removable drive. Click Uninstall
Click OK
Disconnect your SD card from PC
Restart your PC
Now reconnect the SD card, your Windows computer should detect it now.
Assign a new drive letter
If the storage card letter doesn't appear in the list of drives on your computer, assign a new drive letter.
Steps to assign a drive letter:
Connect the SD card to PC
Open the Run dialogue box using Windows+R key
Typemsc and press Enter
In the left pane, under Storage select Disk Management
Right-click the drive you want to assign a letter and choose Change Drive Letter and Paths
In the dialog box click on Change
Check in Assign following drive letter
Choose the letter you want to give from the drop-box and click OK
Now disconnect and reconnect the SD card. The drive letter to the card will show up in the list of external drives.
Download Stellar Photo Recovery

Although a photo recovery software is the best way to restore photos, the Windows manual methods for inaccessible SD cards should not be ignored.
Stellar Photo Recovery is advanced enough to work in critical photo loss situations like permanent deletion, formatting, SD card errors, and corrupt storage media. You can easily retrieve the deleted or lost photos from SD card, memory card, SDHC, SDXC, USB flash drive, hard drive, etc., with the help of Stellar Photo Recovery.
Wide camera file formats support, ease of use, and success rate makes Stellar Photo Recovery Standard a popular choice among Windows users. You may try the free trial version to evaluate the features and recovery capabilities of the software and then buy it from its official website.
Related read: How to Recover Lost or Deleted Data from Windows PC.