Data loss can be tragic; at the same time, it can cause chaos leading to financial losses. One may lose their data due to software or hardware failure, accidental deletion, formatting, and drive corruption or physical and mechanical damage to the drive.
If you can't find accidentally deleted files in the Recycle Bin folder or lost data due to drive formatting or corruption, then follow this comprehensive data recovery guide for Windows.
In this guide, you will learn all possible ways to recover lost, deleted, or formatted data from any Windows PC or supported storage media, including corrupt volumes, such as hard drive, USB thumb drives, SD cards, SSD drives, etc.
How to Recover Lost Data for Windows PC
Caution: Stop using Windows PC or affected storage media from where data is lost or deleted. Continued usage of the device after data loss can cause overwriting, which leads to permanent data loss beyond recovery.
Methods to recover deleted data from PC
Restore from Backup
Restore Files from Previous Versions
Restore Lost Files from Corrupt (RAW) Storage Media Volume
Recover using Stellar Data Recovery Software.
1. Restore from Backup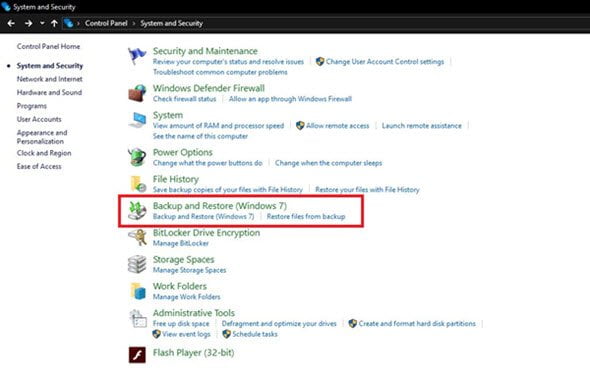 To restore from backup, connect the backup drive to your Windows PC and then follow these steps:
Open 'Control Panel' and go to 'System Security.'
Under 'Backup and Restore (Windows 7)', click 'Restore files from backup' and follow the wizard to restore files
2. Restore Files from Previous Versions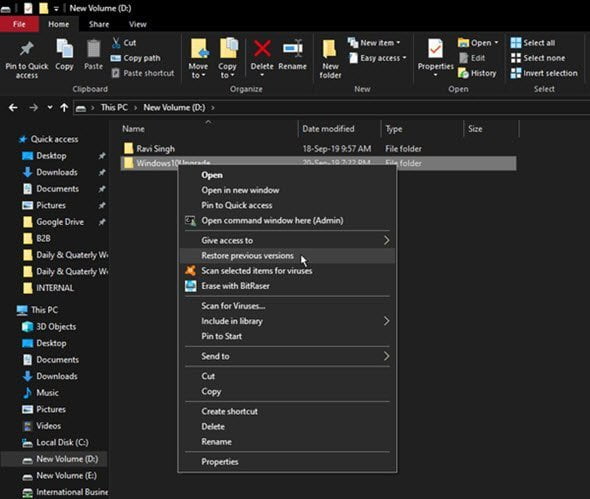 This option works if you or system admin enabled the 'File History' option on your Windows PC before the file(s) was lost or deleted. To restore lost or deleted files and folders using 'File History,' follow these steps:
Go to the drive or folder location from where data was lost or deleted
Right-click on the folder or drive volume that is missing files and click 'Restore previous versions'
Choose a previous version of the folder or drive volume dated when the file existed in the folder or drive
Click 'Restore' or drag and drop the version to any location on your system
Pro Tip: To avoid overwriting, drag the previous version of a file or folder from the list and drop it on an external or different volume.
3. Restore Lost Files from Corrupt (RAW) Storage Media Volume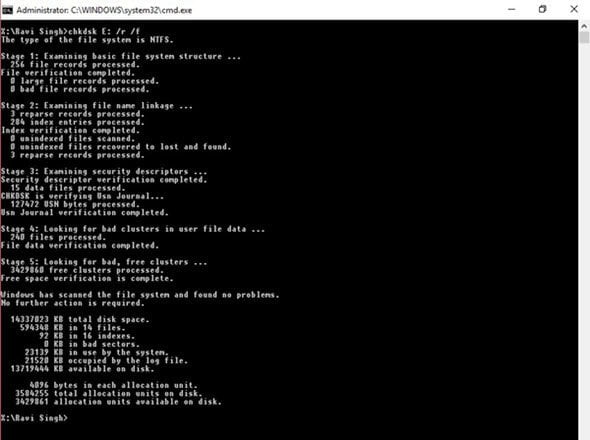 In case a Windows drive volume or external media is inaccessible or RAW, follow these steps to fix the corruption and get back your lost files,
Open Command Prompt as administrator
Type chkdsk /r /f X:
Here X is the drive volume letter that is corrupt or inaccessible
Press 'Enter'
Post chkdsk scan, restart PC an check if the drive is now accessible
4. Recover using Stellar Data Recovery software
When a backup isn't available or obsolete and restore previous versions doesn't work, use a DIY data recovery solution such as Stellar Data Recovery Professional, which you can download here, to recover lost and deleted files from a Windows PC or supported drives.
This software can also help you get back lost files from a formatted drive, corrupt or RAW volume, and missing drive partitions.
Follow these steps to recover lost and deleted files from a Windows PC:
Download, install and launch Stellar Data Recovery Professional software
Click 'Recover Data'
Choose 'All Data' or select specific file types and click ''
Tip: To recover an uncommon or custom file format, go to Settings and use the 'Add Header' option to add an unsupported file format. You can add unlimited file types – no restrictions.
Click 'Choose Location' and browse the folder or drive location from where files are missing
In case of corrupt drive volume, select it under 'Connected Drives' list and turn ON the 'Deep Scan' toggle switch at the bottom-left
Tip: If the corrupt volume isn't visible under 'Connected Drives', open Disk Management, and assign a drive letter to the RAW volume and restart the software.
Click 'Scan'
Post scan, you can click on recovered files to see their preview, click on 'File Type' in the left pane to sort the scan results, and search desired files by using the search bar.
Once located, select the files you wish to recover and click 'Recover.'
Click 'Browse' and choose a save location. Do not select the same drive that you just scanned
Click 'Start Saving'
And that's it! The software will quickly save all the selected files from the scan results at your desired location.
Pro Tip: In case the number of files that need to be saved is significant, save the scan info. Click 'Restore' icon at the top and choose 'Save scan.'
Later, you can click on the same icon and choose 'Resume Scan.' This will allow you to select the saved scan information, which helps you resume recovery later.
Quick Tips to Prevent Data Loss in Windows 10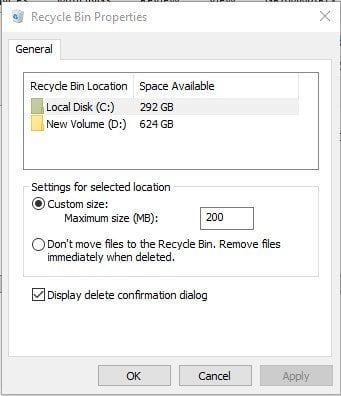 Maintain at least two regular backup copies of all your important files
Edit Recycle Bin properties
Never use 'Shift+Delete,' unless you are confident, to delete files in Windows
System cleaner apps, such as CCleaner, wipe data from the Recycle Bin. Always check the Recycle Bin folder and restore accidentally deleted files that you may need
Keep a reliable data recovery software installed on your Windows PC to cope with data loss situations.
To prevent data loss, keep a regular backup of all your important files and documents. Ensure at least two backup copies of your data on two different media and locations. For instance, you can use a local hard drive and upload the same files to cloud storage. You may also enable the auto-backup feature via cloud backup utilities.
Get Stellar Data Recovery software
For situations when a backup isn't available or obsolete, always keep an 'instant backup' solution such as Stellar Data Recovery Professional, which you can get from its official page. The tool will help you get back every bit of data from any Windows storage media, including hard drive, SSD, pen drive, SD card, etc. You can recover virtually any file type from a Windows PC or corrupt, formatted, and missing drive partition in just a few clicks.
Related read: How to recover deleted photos from SD cards on Windows PC.