If you are an active internet user, then you are under a potential risk of malware reaching your computer. Recently there's been a rise in harmful malware that could have severely affected your computers. So, we need to have a real-time protection on your Windows computer against this harmful software. As the number of malware grow, difficult it becomes to ensure proper protection. But with security software like SafeBytes Anti-Malware, you can definitely sit back and relax.
SafeBytes Anti-Malware Review
SafeBytes Anti-Malware is a beautifully designed tool to protect you against all kinds of malware, viruses, and trojans. It has been engineered by security experts and ensures proper security and privacy of your computer. The program is linked with the largest and timely updated virus database so that you always stay protected, even from the latest malware out there. The best virus-engine, real-time protection, and the simplest UI make this tool a success.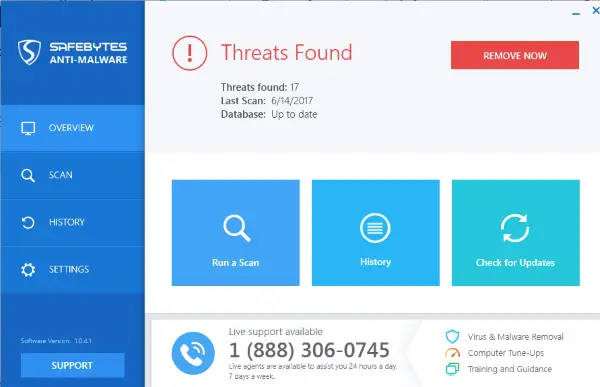 The tool is very simple and easy to use. It has been designed in such a way that anyone without any IT expertise can it at home or at an enterprise level. Once downloaded and installed, all you need to do is scan your computer. After the scan has completed, you need to simply hit the 'Remove Now' button to eliminate all the threats. This is how simple it is.
If you are curious about these threats, you can simply expand any one of them to view more details. Some simple details like origin, the file path is displayed. The program also maintains a scan history where you can access all the scan logs and relevant details about previous scans. Also, there are some other startup related settings. While you can choose to start Anti-Malware with Windows startup, there is also an option available to scan your computer at every Windows startup.
If you are scanning your computer for the very first time, the program may take a bit longer. It is recommended not to use any other applications while a scan is in progress to avoid compatibility issues. Also, it is recommended to make a system restore point beforehand. SafeBytes Anti-Malware does not create one automatically or create other backups. So, create a system restore point manually.
The program comes with a built-in real-time protection shield. Which means you are protected against all kinds of risk all the time. Anti-Malware runs silently in the background and constantly scans for any incoming malware, trojans or viruses.
On purchase of this tool, you get free 24/7 support on telephone. The awesome support can help you with all your security and computer related issues. The support can also help you with other general issues like tweaking your computer and etc.
SafeBytes Anti-Malware is a great tool to have installed on your PC. It offers a great real-time protection against all kinds of viruses. So, don't risk your privacy and security and keep yourself protected with this great tool. And the best part it, you don't need to have any expertise to stay protected, the tool does it all.
Download & Pricing
Download SafeBytes Anti-Malware by clicking here. It costs 49.99$ for semi-annual subscription and subscription gets renewed automatically.