I've been pretty confused about burning CDs/DVDs all the time. I mean there are a lot of devices out there and a lot of formats so how do we know how to burn a disc properly. But to help us out we have some amazing tools like Ashampoo Burning Studio. The latest version is better than the best and can handle most of your day to day burning tasks. Since the program is said to be a complete suite, it comes with all the advanced features you will ever need while managing your discs.
Ashampoo Burning Studio 2017 Review
Ashampoo Burning Studio v 18 comes with numerous features. I've listed all of them in the order they are listed in the software itself.
Burn Data
This is the simplest and most preferred way to burn discs. Data discs are used to transfer any kind of data, usually documents and other files. Data discs can run on any other computer and the data can be retrieved easily. There are a few modes under this category as well. 'New Disc' mode lets you create a simple new disc by adding your choice of files to the disc.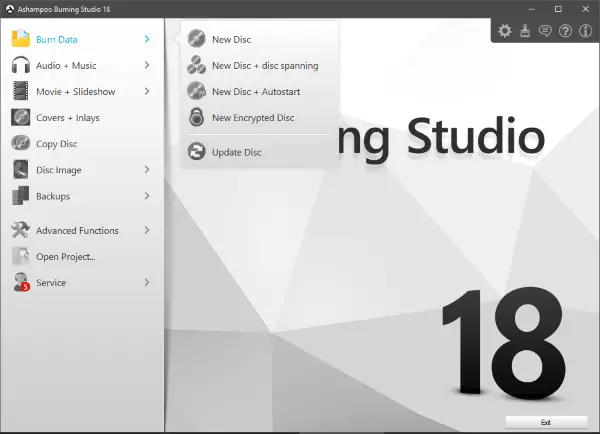 'New Disc + Spanning' lets you burn data that is extended over to more than one disc. 'New Disc + Autostart' lets you create discs with an inbuilt auto-start, you might have seen some professional CD/DVDs that just start with an application as soon as you insert them into your computer. This mode works the same way. The last and the most astonishing feature is 'Encrypted Data Disc'. Yes, you can directly encrypt and burn your data to a disc. And it will be only accessible on other computers after you enter your chosen password. Lastly, the program lets you update existing writable or re-writable CD/DVDs.
Audio + Music
Burning music to a disc and making it run on all kinds of music players has been quite a job. And you might be knowing that directly burning MP3 music to a disk as data will not be of any help. So, under this category, you can create audio discs that can be run on music players. Or you can create MP3 or WMA discs for particular players. And if you use music CDs in your car, then this might be the most useful feature for you. 'Create audio media for car hifi' is an awesome feature. All you need to do is select your car stereo manufacturer and then choose its model. The inbuilt database feeds in all other settings and you are ready to burn a disc that is specifically designed for your car's stereo. To check your car's stereo model, go through the manual or check on manufacturer's website.
Another great feature and this time it is not for discs is called 'Create MP3 Stick'. If you have some MP3 player with USB support, you can plug into your computer. Select its model and manufacturer from the list, and then choose the music you would like to write to it. I had a Philips GoGear Mix lying around, so I plugged it in and it worked flawlessly well with it. The last feature under this category is 'Rip an audio disc'. Ripping is nothing but a technique to extract music from an audio disc.
Movies + Slideshow
This category has all the features you will ever need to burn a video disc. These discs can run on DVD or BluRay players connected to TVs or any other device that supports video playback from a disc. You can create a Movie/Slideshow DVD or BluRay from scratch. Choose BluRay if you want to run the disc on a BluRay player. The older version of video discs, VCDs are also supported and you can easily create a VCD or SVCD easily.
Covers + Inlays
This thing is what makes this suite a complete burning studio. So, you can essentially design a printable cover for your disc and give it that final personal touch. The program comes preloaded will all of the settings and you need to only focus on the design of your cover. There are a few different types of cases available and you can select whatever you want. Now as per your chosen case, you can select the cover design and enter all other details. The program makes this task a breeze.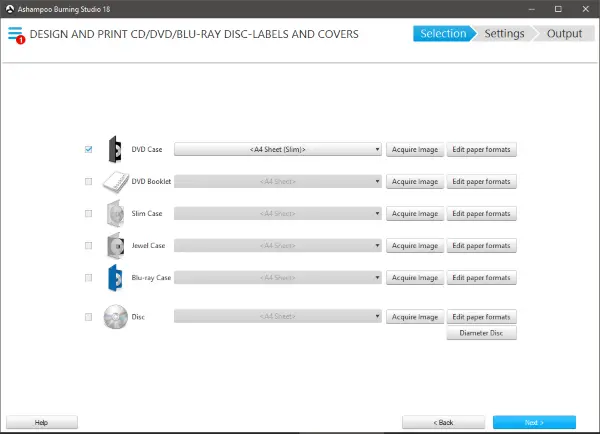 Copy Disc
This is a pretty basic mode that lets you entirely copy a disc into another disc with no questions asked. The disc can be in whatever format and Ashampoo will do its task.
Disc Image
We all are quite familiar with Disc Images. This mode lets you create and burn disc image files. You can save an entire disc as an 'iso' file or in other formats as well. These files can be further reused to create exact copies of a disc.
Backups
You can take backups of external devices using this module. You can back up all the files or selectively backup music, images or video files.
Advanced Functions
Now here come the options and features that you are going to use if you are an expert. Under this mode, you can create a modified copy of an existing disc and this works with bootable discs as well. Or you can write data to a disc with all the advanced options unlocked. The advanced options let you customize each and every aspect of your data disc. Moreover, under this mode, you can erase re-writable discs or finalize them.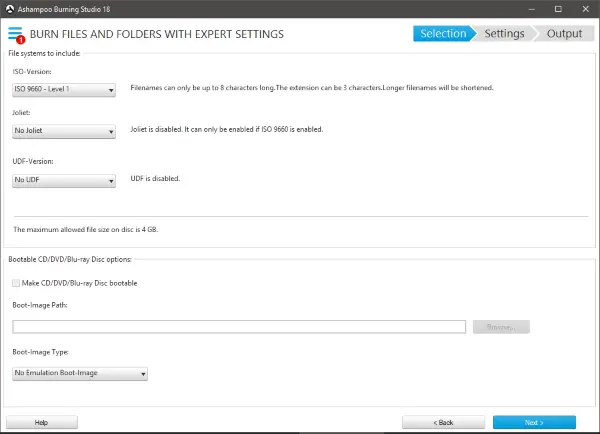 So, these were mostly all of the features. There are a few more that are not related to burning CD/DVDs but to customizing the program itself. You will get familiar with them once you start using the tool. Overall, the tool is pretty simple to use and everything is organized into steps and it works great.
Buy Ashampoo Burning Studio key
Ashampoo Burning Studio key may cost you around $59.99 to buy but we have arranged a 60% discount at the Ashampoo Store exclusively for TheWindowsClub readers.