When you install a program on Windows, it copies a lot of files on your computer. Along with it, it creates registry entries, installs additional programs, and as you keep using it, the size only increases. While this is OK, the problem appears when you uninstall the program, and it fails to delete everything. Many software leave behind files it had been gathering since the installation.
Today, we are talking about Ashampoo UnInstaller which does an excellent job when it comes to cleaning up the mess left behind by the already uninstalled program – or you can use this to uninstall any problem available on your Windows 10 computer. Let's take a look at Ashampoo UnInstaller 8 features.
Ashampoo UnInstaller 8 Review
The developers behind Ashampoo UnInstaller have years of experience to make sure any program you wish to delete from your computer is cleaned properly. The eighth version now uses four different techniques to delete any installed software, Windows apps and browser add-ons.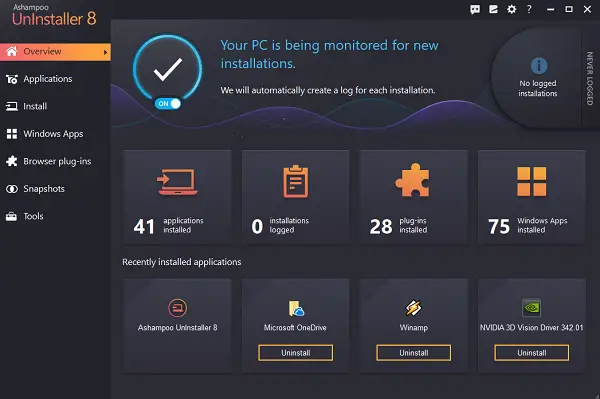 Intelligent Dashboard:
The program offers a 10 day trial period if you want to evaluate before making a purchase. What I liked about is the dashboard. Its smart and gives an overview of how many applications are available, installation logs, plug-ins installed on the browsers, list of Windows applications, and so on.
You also get to see recently installed applications with one click option to uninstall it if you are not using it anymore.
Snapshots:
You can create snapshots before and after installing software. Then you can compare different system states and find out exactly what modifications were made during installation, but also during program use.
Deep Cleaning technology
When you uninstall a program through the software, it uses its own algorithm to remove all traces of the software. They call it Deep Cleaning technology which removes applications and related files, removes registry entries and so on. This is specifically used when the programs are not installed through Ashampoo UnInstaller.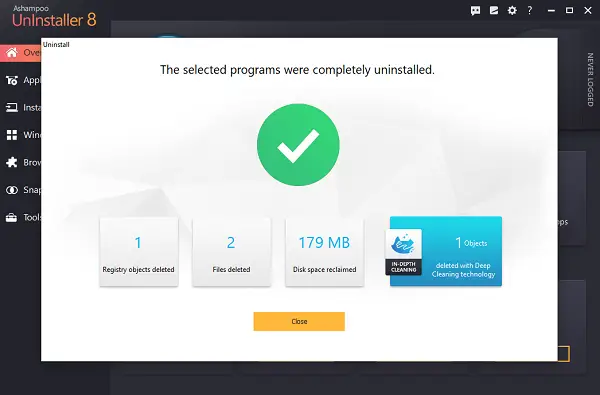 Ashampoo Uninstaller can install programs as well. This makes sure that it keeps track of what was installed during the installation process. Even if you haven't, others users might have done it. So when uninstalling a program from your computer, it can use the database to find out related files and entries.
Find Negatively Rated Windows Applications
While it lists all apps installed from the Microsoft Store, sort them based on the size and time of installation, I really liked the fact about negatively rated Windows applications. This helps if you are just trying the app – but it has been negatively commented in the Windows Store.  The same is available for the usual Windows desktop software.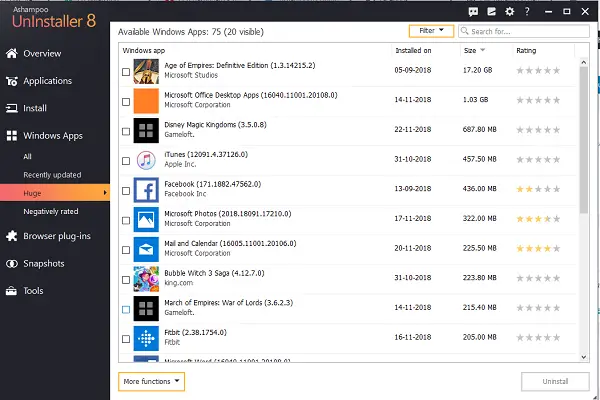 Uninstall Logs
When the application uninstalls any program, it maintains a record of what was removed. You can view it under Applications > Uninstalled.  You can see the number of files deleted, registry changes, and the name of the app with the version number.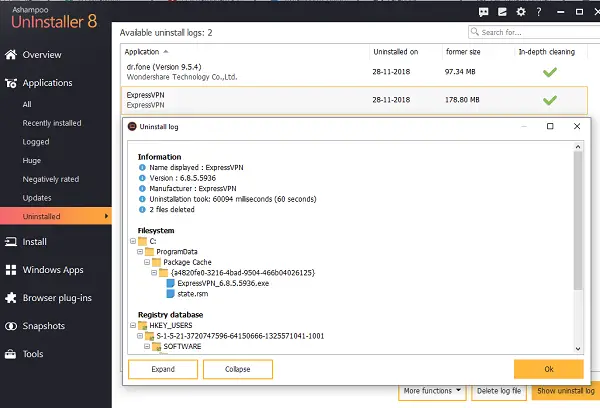 Maintains Privacy
Any Plugin or Software that has kept personal information about you on the computer, it can wipe that as well. Some software asks for Name, email id and so on during installation. Based on the experience and database, it can remove nested setups, hidden browser add-ons or any other unsolicited programs.
Install and Uninstall through Ashampoo Uninstaller:
To make sure uninstallation works best, you can use the same program to install and remove programs from your computer. Since it tracks every file, you can rely on its removal as well.
You can uninstall or install a program by either dropping a shortcut or dropping the installation file on the software, keep track of will trigger the next obvious process. The program now also features a history view of all recently uninstalled applications.
If a software installation performs nested setups, and install several other programs in parallel, this uninstaller makes sure most complex of installations can be undone in a flash and step by step. Since it makes a log of all the steps during installation, the location of related files is known.
During uninstallation of such programs, you have the option to keep part of it and remove what is extra. I am sure many of us have seen software installing third-party software by taking a consent in a most unnatural way.
Secure and permanent file deletion:
When a program is removed from the system, Ashampoo UnInstaller 8 makes sure it's not recoverable by any means. It uses its own file wiping technology to overwrite the space where the files were available. This makes sure that any data recovery program cannot locate the files.
System Maintenance & Cleaning Tools:
In addition to uninstallation,  Ashampoo UnInstaller 8 features multiple system maintenance and cleaning tools. Below is the list:
Drive Cleaner | Registry Optimizer | Internet Cleaner
Startup Tunes | Service Manager | Undeleter
File associator | Backup Management | File Wiper
Ashampoo UnInstaller 8 can remove even the most complex and convoluted setups and can find the leftover. What I really liked about is that it keep a track of uninstalled apps. This helps in case you have accidentally deleted files, and you forgot the name of the application. The latest version also supports Opera.
Overall it's an excellent software which is worth buying to make sure any unnecessary files don't get installed or stay back when removed.
Download & Buy Ashampoo UnInstaller
Ashampoo UnInstaller 8 is power-packed with useful features. It includes snapshots, deep cleaning, app rating, installation logs, and clean wiping personal data and more! You can download Ashampoo UnInstaller from shop.ashampoo.com. It currently costs just USD 20.