Any operating system can go slow with time, and while Windows is known for this, macOS is not an exception. So if you are running a MacBook or any Windows PC or Laptop, maintaining it is essential. Right from unused applications running in the background to applications you don't use much, all add to the slowing performance.
Deleting Cache and Temporary files on Windows and Mac
While both Windows and MacBook offer a built-in system to clean junk files, they are not enough. For example, Windows doesn't provide any deep clean software that can remove any extra files left behind by the software. The same applies to macOS, where the options are not enough.
That's where the need for professional software becomes essential. This post talks about CCleaner for Windows and MacKeeper for Mac. These are professional software that offers tools and features to help you keep your PC and Mac performing at their best.
CCleaner for Windows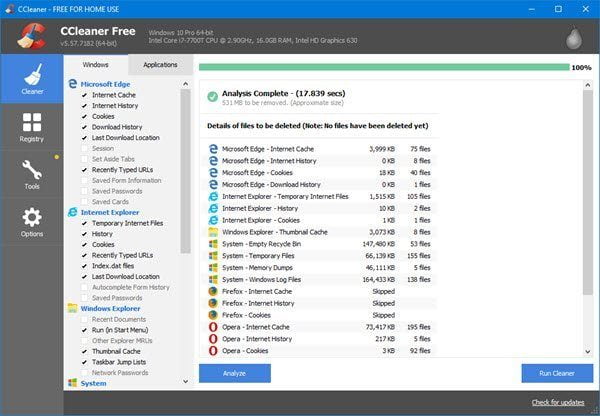 While there are many popular PC cleaner software, CCleaner is a known name that offers heavily customized software that can remove all junk files in Windows. The software module includes Uninstall, Software Updater. Startup. Browser Plugins. Disk Analyzer. Duplicate Finder. System Restore and Drive Wiper. All these modules mean that it's not just a cleaner software, but you can use it to maintain your PC regularly.
Features:
Google Chrome plugin management and startup item detection
System restore detection routine
Duplicate File Finder
Optimized and improved Registry Cleaning.
Real-time junk monitoring, automatic history cleaning, and automatic updating options.
File Recovery & Hardware Analysis functions
Includes cleaning and recovery toolkit is Recuva, Defraggler, and Speccy.
You can download if free from their official website.
MacKeeper for Mac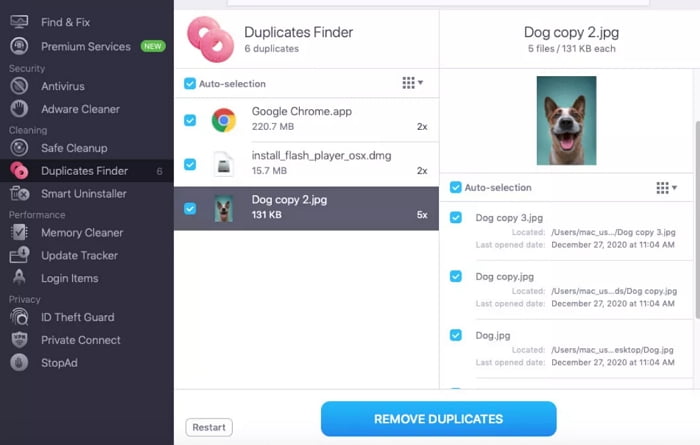 MacKeeper is a complete cleaner tool for Mac and not just software for cleaning up junk files and programs. It makes it a security and optimization suite. Talking about the cleaner function, it can free up disk space in a few seconds, helping those using MacBooks with low storage SSDs. You can also claim back RAM by closing the running programs in the background, which you may not be using right away.
Features:
One-click storage cleanup deletes junk files, temporary data, duplicates, similar images, and useless screenshots.
Delete System Apps which are otherwise impossible.
App management to install software updates, uninstall apps and addons without leaving files behind.
Automatic memory clean can free up RAm and quit resource-consuming processes for faster performance.
Getting Started with MacKeeper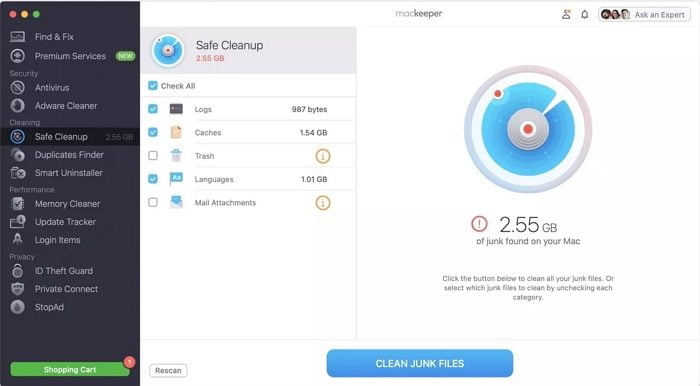 Keeping the cleaning feature in mind, let's get to know the dedicated sections you can use to make your MacBook faster.
Safe Cleanup: It is the first thing you can use to remove junk files cluttering your laptop. It can delete log files, caches, mail attachments, and so on. It also helps to remove data that could be sensitive such as files you downloaded to check but forgot to delete.
Duplicate Finder: Many of us end up making duplicate copies of the same photo. We even end up uploading them to iCloud. If you keep practicing this, your small SSD will eventually run out of space, and everything will be slow. It's essential to have enough free space so the apps can use them when they need it. Duplicate Finder is wise to figure out these images and give you all the details so you can find out which one to delete and one to keep.
Smart Uninstaller: One of the most significant drawbacks of OS-based uninstallation depends on the software uninstaller script. Suppose a software chooses to leave some files behind (user configuration). These files take up space in a few months, depending on how many apps you install. The MacKeeper Smart Uninstaller ensures all files and registry-like entries are removed, and nothing is left behind. It results in more space than usual.
Memory Cleaner: The last one on the list can help you get back unused RAM. Most of us don't even close apps, and we rarely restart the Mac. It means there will be a lot of memory blocked. You can find all the apps in the background and close them using the memory cleaner. It is also handy if there is an application you cannot close. They will be forced to quit freeing up enough memory.
Find Large Files: One of the things which I have learned when editing videos is they keep taking the most space. FCPX, for example, maintains a backup of all edits, and the library keeps growing. On top of that, they are not easy to find. MacKeeper can easily find these large-size files, which can be movies or mail attachments.
Conclusion
The post makes it clear that it is possible to speed up any OS, Windows or macOS, using tools such as CCleaner and MacKeeper. The latter is one of the few tools that work as expected on the OS, which is otherwise restricted and offers limited options to clean up storage and junk files. The best part is that you can use MacKeeper for free, which offers all the features but with limitations. Once you are through, it will help you that this is the tool you need.