HDR photography is certainly divisive amongst photographers, but it's hard to ignore its significance ever since it came into being. The over-saturation and sharpened look of HDR photographs are highly appealing to some and not so appealing to others. By combining multiple photographs, one can really bring a whole new dimension to a picture. When done correctly, the finished product can take your breath away. Like anything else, HDR photography is a technique that allows a creative individual to express themselves uniquely.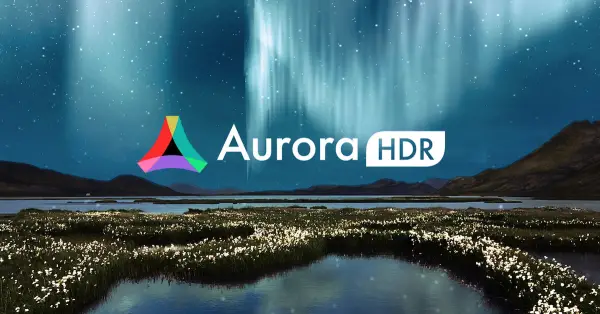 Apart from the unique visuals, you can get out of HDR photography; it's actually difficult to get it just right. The issue with it is more technical in nature. You have to make sure that you capture a brightness range that is wide in a single image or a number of sequential images. On top of that you also need to turn your base photograph into a more vibrant and visually stunning shot. It's quite easy to go overboard and ruin images if you don't know what you are doing. A software like Aurora HDR helps to rectify these issues.
Aurora HDR for Windows review
Aurora HDR initially came into being as a brainchild of the US company MacPhun and Trey Ratcliff, one of the world's most iconic photographers.Since then the Aurora HDR software has become a raging success. While the 2017 version was only available for Mac users, this software is now available for Windows OS. This is definitely something that a lot of Windows users have been waiting for. The software is available for both a standard version and a Pro version.
The Pro version comes with a tutorial video featuring none other than Trey himself and also allows you to use Aurora HDR as a plug-in for Adobe Lightroom, Photoshop and Aperture. You get several other benefits as well such as multiple licenses, raw support, unlimited layers and number of brackets, HDR presets, etc. The Aurora HDR claims to be one of the best when it comes to editing and creating HDR photographs. We will be reviewing it to see if that is indeed the case.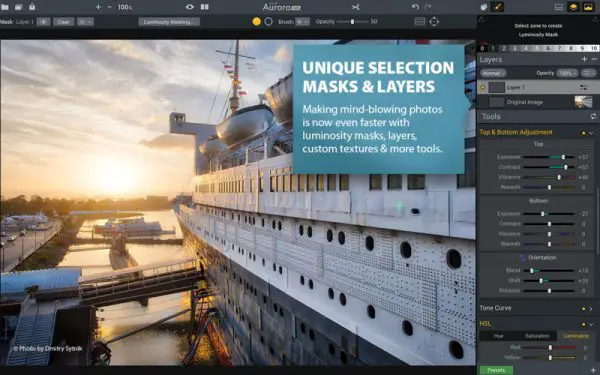 Interface And use
The interface is complex in design but highly intuitive. The layout is incredibly user-friendly, and while there are plenty of options to choose from, you never feel overwhelmed because everything is placed exactly where it should be. The software can either be used as a standalone application or in a plug-in format.
Once you open up the software, you have the option to either select a single image or a bracket of images. Once it is loaded, you can start with the editing. At the top, you can see various options like info, crop tool, display options, etc. On the right side of the interface, however, are your main tools. They are what will transform your image into a visually stunning HDR piece.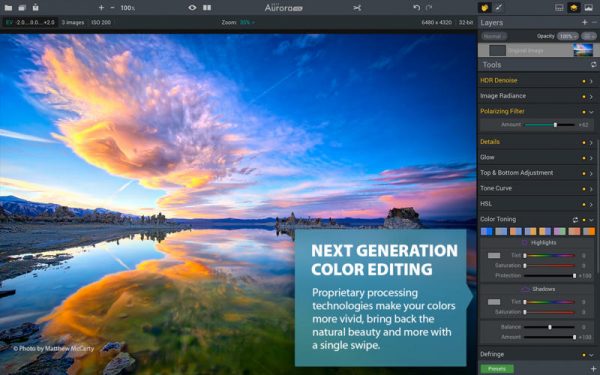 One of the most important tools you will need is the "Histogram" which is located on the top right side of the interface. Right below it, you will find various adjustment sliders like Exposure, Contrast, Vibrance, Warmth, etc. What is really cool about this software is that you can choose to edit only the upper or bottom part of the image via these adjustment sliders.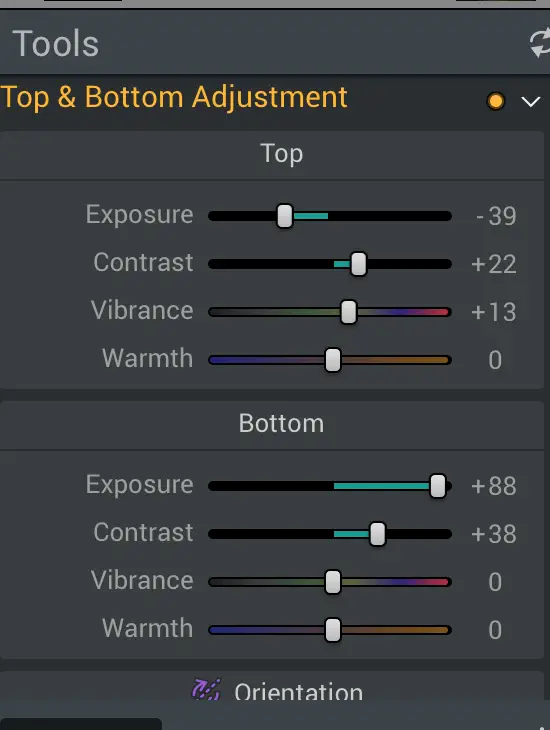 Adjustment Options
You even get presets where various pre-build effects can be loaded onto your image. These presets will be displayed at the bottom of the screen.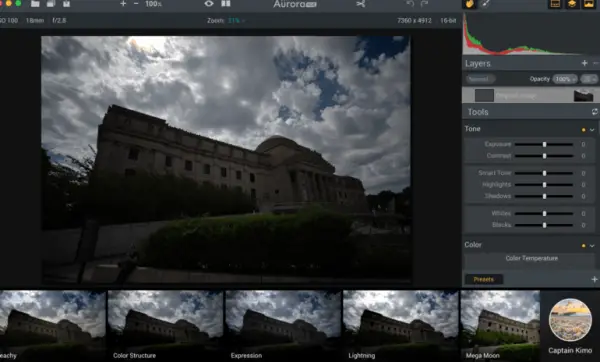 The software has up to 9 various categories for its presets such as basic, landscape, peachy, etc. Each of these categories houses up to 9 different preset options. You can even save your favorite ones or create new ones. As you can see, there are plenty of options for you to get started.
Preset Options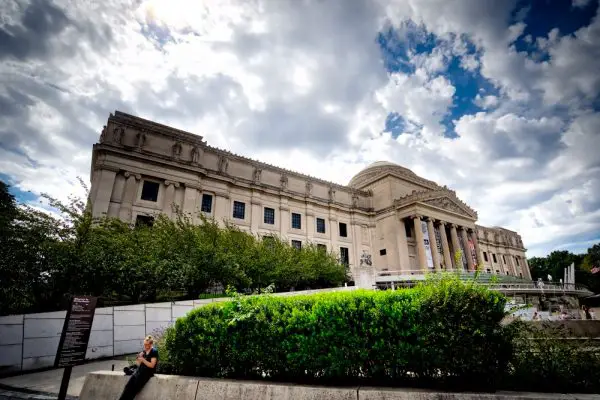 Features
Aurora HDR has some very cool features. Here are some of the available tools you can use in this software.
1) Polarizing Filter – This tool is the digital equivalent to physically screwing the same filter onto your camera lens. While it's a great option to have, you need to be careful while using it. Certain parts of the image such as the sky may appear to be too posterized, especially when working on bracketed images.
2) HDR Tone Mapping – This allows you to manipulate the tonal values of a photograph to bring out a more visually appealing look and feel. You can adjust the "HDR Look" slider to get the desired effect you're looking for.
3) Top and Bottom Adjustment Effects – You can utilize gradient and radial gradient masks to select the parts you want to edit the image. By using the Top and Bottom Adjustment options, you can change the exposure, contrast, vibrance, and warmth of the image in the selected areas.
4) Layers – This is one of the best editing options you can have. It allows you to have separate layers of effects and textures. So if you later realize you don't need a particular effect, you can just delete that one and keep everything else intact. You can even apply individual masks specific to certain layers thereby giving you multiple options to edit the file.
5) Luminosity Masking – This lets you make 11 different zones of brightness in a single photograph. Once you have made a zone for masking purposes, then you can simply edit parts specific to that zone.
6) Lens Correction Tool – This feature allows you to fix any lens distortion issues such as pincushion, chromatic aberration, etc. found on the image.
7) Faster Editing Speed – With a 4x increase in RAW image processing, it will allow you to merge images by at least 200 percent faster.
8) Cross-Compatibility – While the 2017 version was available only for Apple users, the 2018 version can be used on Windows as well.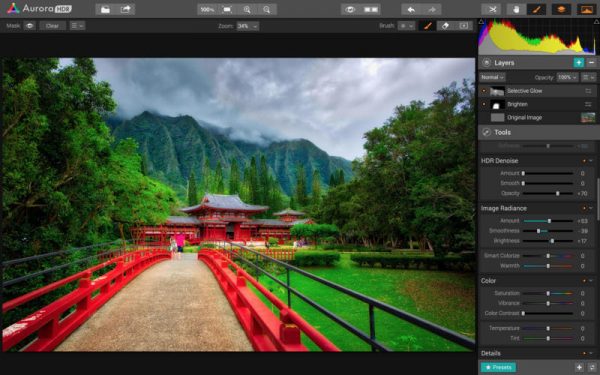 Conclusion
Aurora HDR for Windows does exactly what it was intended to do and that it allows you to create vibrant and stunning HDR photographs. From a more natural look and feel to a more over the top atmosphere, you get to control it the way you want. Comparing the standard and Pro version, getting the latter is far more wiser in the long run as you get several amazing benefits. Considering all the options you get, this is definitely one of the best value for money software out there for creating HDR photographs. You can check out AURORA HDR on its home page.
Aurora HDR Windows
Imaging Options -

86%

Speed and Performance -

88%

Picture Adjustments -

88%

Functionality & UI -

88%

HDR quality -

89%