FlipHTML5 flipbook tool facilitates its user to convert documents in flip page content with a beautiful and professional outlook and lets user select themes, backgrounds, and templates to add to their reading easiness.
FlipHTML5 HTML5 digital publishing platform
With the passage of time, digital magazines are reaching a broader audience & cost much less when it comes to publication as compare to some customary print magazines. For Publishing, a question arises that how to select the flawless publishing software. Currently, numbers of options are available for digital magazine publishers, ranging from unlimited free software to worthwhile alternatives each offering its own features, pros & cons.
HTML technology holds greater significance in today's digital world; however, its usage in content marketing for better outcomes is important to understand.  The answer for online publishing is right here, the FlipHTML5 software can do it easily. In other words, FlipHTML5 is HTML based software, which is compatible with all mobile devices.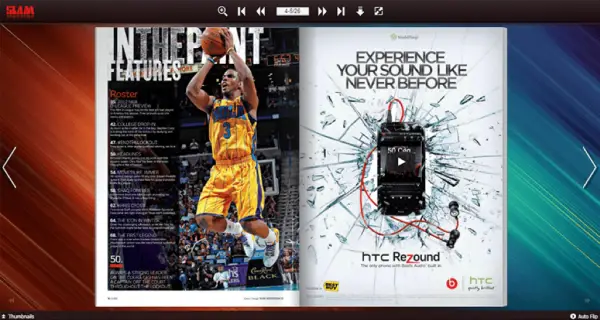 When it comes to publishing digital flipbooks from PDF documents, FlipHTML5 is the ideal solution for users. It does not need you to be a professional designer. Easy to use design helps in creating interesting flipping books and it does not require starting from scratch. You can import the original documents i.e. PDFs in FlipHTML5, simply choose a template and scene and publish. To be very honest, it is very easy and simple for everyone to make digital conversions.
FlipHTML5 has totally transformed the world of e-publication; renowned brands such as Twitter, World Bank, Pearson, PCWorld, and Facebook always reviewed FlipHTML5 software as the famous & reliable publishing platform.
FlipHTML5 is extremely beneficial for trainers, entrepreneurs, E-marketers, advertisers and designers for easy distribution via social networks, emails, mobile devices, and websites.  All the features such as animator editor, annotations & notes, free hosting cloud platform & many others all trying to give a remarkable digital publishing solution.
Competitive benefits:
A user-friendly and intuitive UI of this software permits the beginners to start a first-page flipbook project effortlessly & build the digital flipbook within few minutes. Import a PDF document from a computer or upload it to a FlipHTML5 cloud, users are able to create a responsive page flip eBooks with a couple of clicks.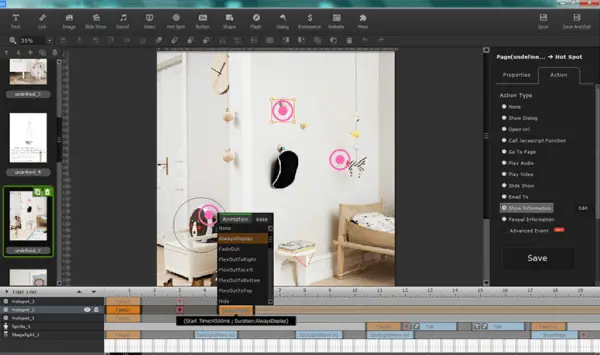 This feature does not only allow users to add amusing media to the flipbook but also assists them to present the media quickly by using a timeline.  Moreover, all the inserted objects such as video and text programmatically to display at different time and effect.
It provides users with a remarkable animator editor to allow them to add several multimedia to enrich their flipbook, for-instance, link, text, slideshow, dialogue, shape, button, and Hotspot.
With FlipHTML5, users can convert any of PDF files to interactive and amazing online publications in few minutes. Flipbooks can be easily created by following some easy steps. With FlipHTML5, if users have a PDF, it is extremely easy for them to create online publications and flipbooks.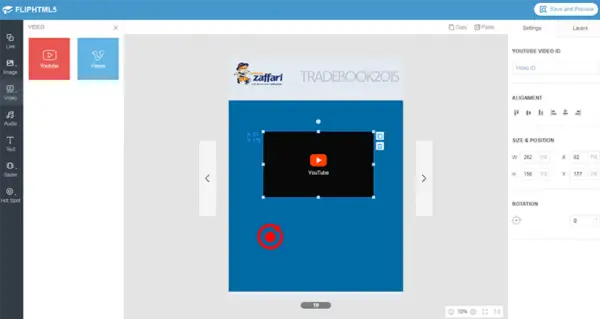 This cool feature offers different benefits to its users. It allows them to bring pleasing reading experience for business development. An awesome feature namely 'Online Editor has released for users to add texts, video, and images, audio & links, online without even downloading a desktop client.
Follow these steps to use this feature:
Firstly, users have to sign in their account on the website.
Afterwards, go to an online book folder.
Select the desired book for editing purpose.
To edit your book, click on 'Page Editor' Icon.
If someone wants to distribute his/her, content to a huge range of viewers on the web then, FlipHTML5 is the best tool to create digital magazines, brochures, catalogs and eBooks that are accessible on desktop, tablet, mobile phone, website, and email.
What makes FlipHTML5 preferable
This software uses an HTML5, an ideal platform to create flip magazines while permitting the users to use the material easily without any other software while letting the magazine to load rapidly & makes it well-matched with different mobile devices. It also allows users to create their flip magazines, compatible for viewing in iOS and Android. Users have complete access to statistics, cloud publishing & incorporating with Google AdSense.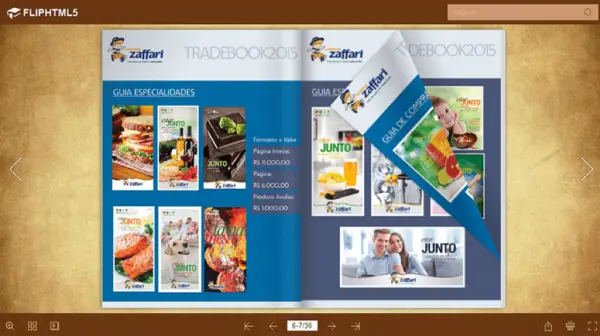 FlipHTML5 is a great solution for creating, publishing, sharing & even selling a flipbook online. With this incredible online publishing platform, users are capable of publishing exact responsive CSS3, HTML5 flipbook, and jQuery form PDF instantly.
Pros:
Allow users enrich publication with YouTube/Vimeo video, animation, audio, images and more.
It compiles all the publications while displaying them in the bookcase, which users can embed on their webpage.
Ease to use. Hundreds of pre-designed templates for publishers in different industries.
It collects statistics on viewers so, users can learn a lot about their target audience.
Cons:
You need to buy premium version for most functionality.
Limited templates for free version users.
Final Thoughts
In today's, where everything is going digital, e-publications significance has enhanced. Whether it's magazine, brochure, posters or catalogs, these all are our daily life ingredients that is unavoidable. Much effort and time are required created a final output and only a reliable tool can help in the process of digital publication. No matter if, you are a Graphic designer, web developer or a Video-maker, such projects are always a challenge.
Just imagine the creation of responsive and realistic flipbooks from your document within minutes. Nevertheless, it could be a blessing for all those, who spent days in making a simple publication. FlipHTML5 is such a great tool, which can easily convert Images, documents, and PDFs into a lively e-book and e-publications containing animations layouts.
FlipHTML5 does not need the expertise of an advanced level. Termed as future of web development technology, you can create your project in minutes. FlipHTML5 offers the wonderful capabilities as compared to its predecessors. Various advertising experts and content marketers consider FlipHTML5 as the best software to make light and interactive flipbooks. There are several competitors in this field but the responsive customer care & support and competitive pricing have facilitated FlipHTML5 to keep its top place.
Giveaway for thewindowsclub.com readers

Now, FlipHTML5 is running a promotion campaign for The Windows Club readers.  All people who join this promotion can get a 3-month Platinum Plan gift card code and use the advanced functions include Animation Editor.The gift card code will expire on February 20, and everyone can get a code here.
FlipHTML5 -
3 Month FREE-Limited offer
PDF Conversion -

88%

Functionality & UI -

88%

Data & privacy -

88%

Output Quality -

88%

Performance -

88%