While a lot of companies block websites because of restrictions put on content, many a time even genuine users get stuck. For example – if you are Netflix user based in the US, when you travel outside the country, some of the content is not available. A VPN is always the best way to unblock IP limited content, but there are multiple ways to navigate around blocked websites.
Navigate around & access blocked websites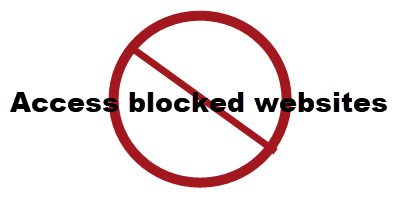 As I was saying, using a VPN, especially a paid one is the best way. However, there are a few more ways to navigate around inaccessible websites. Let's have a look at them.
1] Change Your Computer's DNS Settings
Many a time the restriction is only by the ISP or the Internet Service Provider. Usually, this happens when the government sends out a notice to block websites that have been cited troublesome.  ISP's block on their DNS level and all need to do is change the DNS that Google offers.
Primary IP: 8.8.8.8
Secondary IP: 8.8.4.4
It will resolve your issue, and let you navigate around blocked websites on your computer.
2] Use a Web Proxy
There are a lot of extensions for Firefox and Chrome which offer web proxy service. While they might not be secure, but they let you access blocked websites. They are right to access torrent websites.  Browsers also offer the option to configure proxy within their settings. If you have received such parameters, you can add them in the browsers as well.
When using a Web proxy, especially a free one, I would suggest you be careful. I would never use it to access my primary accounts. Most of the free web proxies are not secure, and they might be tracing. They are useful to access websites from where you need to download or stream content.
3] Portable Firefox
If your company or IT admin as blocked browsers, you can try Portable Firefox with web proxy plugin to access a blocked site. You will have to carry on a USB drive and install the extension from a computer where nothing is stuck.
3] Use the Tor Network
It's free software and an open network. It helps you defend against traffic analysis, let you keep your privacy with yourself. You can install it on your computer, and completely stay anonymous. It also comes with a browser as well if you installing software is an overkill for you.
4] Use Cloudflare DNS
Just like Google DNS, Cloudflare offers  1.1.1.1 as their DNS. You can use this on your computer or if you want to access it from your phone, install the app. One toggle and your DNS will change on the phone.
5] Use Wayback Machine
While not full proof, but Wayback Machine is great to find contents that are not available anymore. Sometimes websites delete content, but if Wayback Machine has accessed that content even once, it will have a copy.
6] Use Google Cache
When using Chrome, search for anything. When you have the search result, click on the down arrow which is available right next to the URL.  It will reveal the Cache option for you. Do note that if Google hasn't updated the cache, you will be able to access old content.
7] Use IP rather than the URL
ISP usually blocks Domain name, but they don't block the IP address. A website can also be accessed using its IP address. To find out the IP address of a site, type "ping websitename.com" and it will reveal the IP address. Type in that IP address in the browser, and you should be able to access the website.
That said, there are other foolproof ways to navigate around unblocking websites. In the end, it will depend on you and which method you choose to access the content.