NordVPN is an absolute beast of a VPN. Boasting 5,200+ servers in 60 countries, indestructible encryption, and Threat Protection – at a price even students can afford. It's hard not to love NordVPN.
When we first reviewed NordVPN, we knew that we'd find the standard VPN features that most VPNs have. On deeper inspection, we not only discovered that Troy Hunt has a seat on its security advisory board, but that it had hidden features and technology that were truly mind-blowing.

Let's start with the basics, and then we'll delve into what makes this VPN so special:
NordVPN speed
It really is the fastest VPN on the planet (and there's proof).
Encrypting data slows down your speed, but NordVPN seems to have found a way around that. Running on its very own feather-light NordLynx protocol, NordVPN secures your device with AES 256-bit encryption and gives you upload and download speeds that dwarf those of other VPNs. And there are tests to prove it.
Servers that never overload and slow you down.
All VPNs boast about their server count, but numbers aren't the only thing that matters. For exceptional performance, you need a high number of servers spread evenly across countries and cities. That way, users aren't crammed onto the same servers, which causes them to overload and slow down.
NordVPN has 5,200+ servers spread across 60 countries. For even faster speed (as if you'd need it) you can also connect to specific cities because the closer you are to a server, the better your speeds. And if that's too much to think about, you can always hit Quick connect in the app, and it'll connect you to the fastest server in your selected country.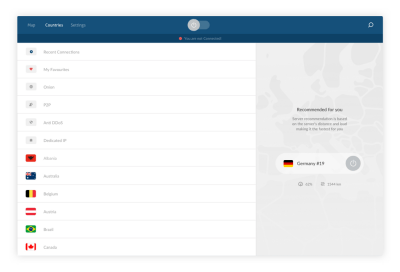 NordVPN has servers in popular locations like the UK, US, Germany, Japan, and more. Users can connect to cities in the US, Canada, France, and Germany.
NordVPN privacy
Security that even its employees can't get around.
As well as a Kill Switch, which takes your devices offline if your internet connection ever drops – NordVPN is a twice-audited, no-logs service. And if you thought that was all marketing spin, you're wrong. NordVPN allows macro and micro privacy inspections of its entire infrastructure, even including interviews with employees. Here are details on its most recent inspection.
Privacy by law, not just by choice
If you didn't know, NordVPN purposefully operates under the jurisdiction of Panama, where companies aren't required by law to collect their customers' data. NordVPN also use diskless RAM servers, which store no data or configurations on-site.
Initially, we thought that it might risk transparency by becoming too insular, but they've always used open-source code (source-code that is publicly accessible). NordVPN has also launched a bug bounty program – where anyone from the cybersecurity community can inspect their code for potential risks and a reward of $50,000, no less. (Now that's some serious confidence.)
NordVPN servers
P2P, obfuscated, Double VPN, and Onion Over VPN servers
This is a VPN that considers its users by letting them connect to four different kinds of servers. Double VPN servers encrypt your traffic twice, and obfuscated servers "hide" the fact that you're using a VPN at all. Onion Over VPN servers route your traffic again through the encrypted Onion network, and P2P (peer-to-peer) servers are optimized for fast and secure file sharing.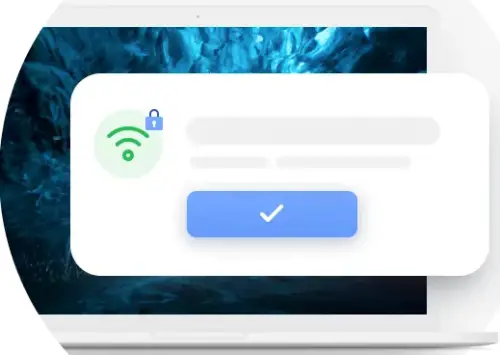 Connecting to Onion Over VPN servers also means that you can access the Tor network without having to download a separate Tor browser. And if you're always dealing with big downloads and file transfers on your PC or laptop, P2P servers will make life a lot easier.
Choose from three different VPN protocols
You can also change the default NordLynx protocol to OpenVPN, or IKEv2/IPsec. Changing the protocol can help if you have connectivity issues and want to ensure stability over speed, for instance. It's also worth mentioning that certain specialty servers can only be accessed via specific protocols, so bear that in mind when switching protocols.
NordVPN bonus features
Threat Protection: Block ads, trackers, and malware
As the first VPN to ever include malware protection, NordVPN's Threat Protection feature is a serious wake-up call for other VPNs. NordVPN will block intrusive ads, third-party trackers, and all known malicious websites, by turning on Threat Protection in the app menu.
What's even more impressive about a feature that took years to develop is its intelligence. Threat Protection continuously scans new downloads for malware – deleting dangerous ones before they cause damage. If you ask us, this feature alone is reason enough to use NordVPN.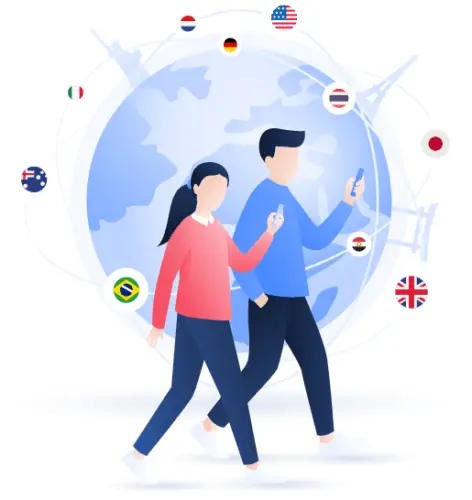 Threat Protection runs deep scans on all executable files up to 20MB in size. (A deep scan is only performed if an initial scan shows signs of malware.) To protect your privacy, it won't deep scan files that may contain personal information, like PDFs or DOCXs. For Windows users, files stored on flash drives may be scanned if they've been downloaded from the internet.
Dark Web Monitor: Protect your passwords
NordVPN's Dark Web Monitor will scan the dark web for any credentials that match your email address. So you know if your data has been leaked, stolen, or sold by criminals on the dark web. Leaving no stone unturned, NordVPN also uses multi-factor authentication to secure your Nord Account. You can also use your Google account to sign in to your Nord Account.
SmartPlay and Split Tunneling
Giving its users options is the aim of this VPN. SmartPlay is already enabled when you use NordVPN, letting you securely stream content when you're away from home. The Split Tunneling feature can be used if you only want to use NordVPN with certain apps like Netflix or BBC iPlayer. These two features are essential for unblocking content or lifting restrictions when you're in heavily censored countries. For us, this is a big win for NordVPN.
Perfect for desktop users
NordVPN for Windows, Linux, macOS, Edge, Chrome, and Firefox
We thought NordVPN would be centered around mobile apps, but it offers desktop apps for Windows, macOS, and Linux. (For all you developers and programmers out there.) And if you just want to use NordVPN while browsing, you can get the NordVPN browser extension for Microsoft Edge, Chrome, or Firefox. It's a win-win situation for Windows users.
NordVPN price
Three subscription plans starting from $3.29 a month
Price is important, so we won't leave it until last. NordVPN has a monthly plan, a one-year plan, and a two-year plan, at different prices. The one-year plan comes with a 39% discount, and the two-year plan gives you a massive 60% off.
Here's how each subscription plan works:
The NordVPN monthly subscription is $11.99 per month.
The NordVPN one-year subscription is $59.88, which works out to $4.99 per month (39% discount applied.)
The NordVPN two-year subscription is $78.96, which works out to $3.29 per month (60% discount applied.)
A free 30-day trial with a money-back guarantee
If you want to take a look around and try the features for yourself, get yourself a risk-free trial here. When you sign up, you'll be charged the monthly rate, which is refunded on request. The risk-free trial lasts for 30 days which you must cancel within the 30 days, else you will continue to be charged at the monthly rate of $11.99.
Amazingly, the risk-free trial lets you explore every single feature, including the much anticipated Threat Protection feature which shines on Windows and macOS.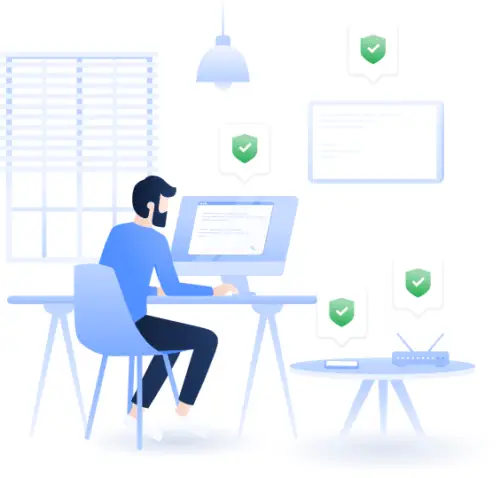 One login for six devices
We're big fans of synchronized security, so we were excited to hear that you can use the same NordVPN login on six devices at the same time. That means you can stay logged in on your PC, laptop, tablet, and phone for complete peace of mind.
NordVPN customer support
With users based all over the world in different time zones, NordVPN offers customer support 24/7. We were also surprised to learn that NordVPN likes to keep most things in-house, rarely outsourcing operations. Members of the NordVPN CyberCare team are bonafide experts in VPNs, so you can guarantee that they know the answer to just about anything related to your VPN issue.
Should you get NordVPN?
Quite honestly, there's no VPN better suited to Windows users. Split tunneling is exclusive to Windows and Android users, and Windows users can enjoy the full capabilities of Threat Protection. In short, you won't find deep security like that from any other VPN.
Privacy is ingrained into every single aspect of this company, whether it's no-logs servers or refusing to let Threat Protection scan your confidential files for malware. NordVPN is serious about protecting users' privacy. To purchase NordVPN more anonymously, you can pay for NordVPN with cryptocurrency, a prepaid card, or a gift card. You can also buy NordVPN from a store and pay with cash. Now that's what we call honoring a consumer's right to privacy.
UI & Navigation -

90%

Connection Speed -

90%

Kill Switch -

85%

Locations Availability -

95%

Platforms Availability -

95%
NordVPN
Nord VPN offers high-speed unlimited bandwidth, access to over 1000 servers, follows a no-logs policy & allows upto 6 devices. Read NordVPN review and download it.
Pros
No-logs policy for better Privacy
Dark Web Monitor
Dedicated IP Available
SmartPlay and Split Tunneling
Allows upto 6 devices