When it comes to browsing,  a lot of people wants to use a secure VPN service. This makes sure that "The Internet" doesn't track them. This brings in need of a VPN service which cannot only work on PC but also work across devices. Today we are reviewing Surfshark VPN which comes with a special, and less common feature – MultiHop.
Surfshark VPN Review
What I liked about this VPN is its straight simple. Just install, enter the credentials, and you are all set to go. No configuration walkthrough or anything.  Apart from Windows, this service offers a solution for Android and iOS as well which makes. Since there is no restriction on the number of devices, you can use it on your Phone, and any number of a person in your family can use it. It works on Android, iOS, Windows, Firefox, Chrome, macOS and Linux.
Surfshark VPN MultiHop & other special features
Apart from being simple, it offers a unique feature – MultiHop. You can choose to two different locations for your VPN to double down on the security. So let's assume you are in India, but you want to hop through UK server, and then to an actual location which could be France.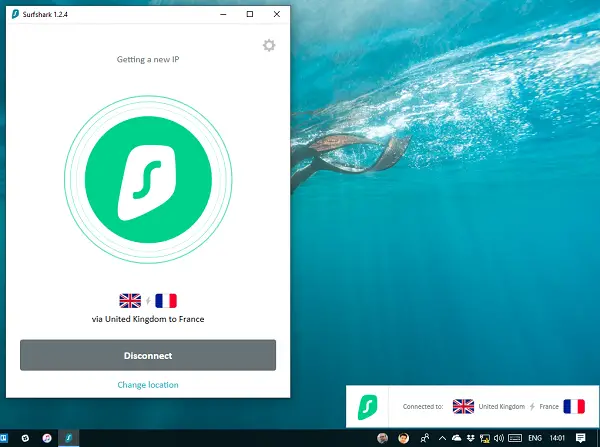 This makes sure that internet traffic is encrypted through two VPN servers. This is pretty cool and sounds like a sci-fi movie where you multi-hop to stay from being detected. You can click on Change Location and then select MultiHop.
Just in case, VPN servers drop a beat, i.e., connection drops, a built-in Kill switch comes into play. This feature makes sure that the actual internet connection is disabled when either VPN connection drops or when you disable the VPN App. This is available under Settings > Security.
It is possible that you keep connecting to a Public WiFi on the go, Surfshark VPN has a solution for that as well. Available under Settings > Connectivity. You can choose between Ask, Always Protect, and Never protect. I would rather end up choosing Always Protect as most of the WiFi Networks are open.
That covers most of the important features of the VPN, and using this you will be able to access TV shows and movies, stream music from services, watch major sporting events, play games which are restricted in your region.  It offers over 500+ online servers in 50 countries. While doing so, it can also restrict trackers and malware as well.
Surfshark VPN other features
No logs policy on a strict basis. This service makes sure that no traffic data, DNS queries or anything else is tracked to identify users. The company is based in the British Virgin Islands where Privacy is a big concern, and the government is strict about the confidentiality and privacy of any person.
The company uses Private DNS on every server. It makes sure to leaves no trace for potential security breaches. Further, Surfshark masks your IP address, so it's impossible to link it to your online activity via IP detection.
You should know that this VPN service tries its best, so you get a NEW IP address everytime you connect. When you connect using "Optimal location" option, you are given an IP address of the server that is the closest. Also, the VPN has to ensure that it has the lowest load to ensure the best performance and speed.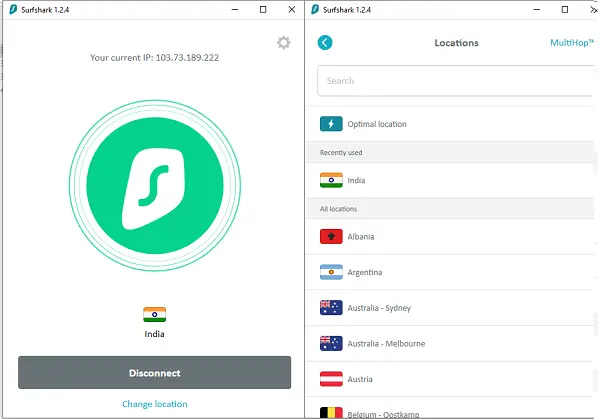 Every server holds a few sets of different IP addresses. When connecting to a specific country will connect you to the optimal server in that very location, therefore when you connect to the same country you may be assigned a different IP address.
If there are apps, and websites that have issues with VPN, you can always use the Whitelister option. This will let you select a set of apps and websites which will not use the VPN. They will route through the regular internet connection. Make sure to restart those applications once. I have seen that some App and Website makers can detect if a Proxy or VPN is used, and they don't allow it.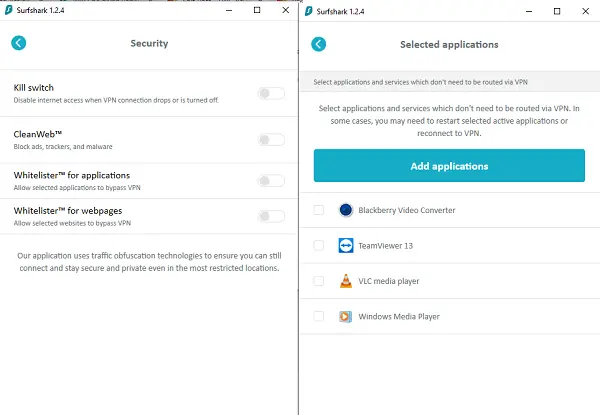 The only drawback here is that you can only select EXE based applications. App installed from Webstore cannot get a bypass which I think is a problem. This is a case with most of the VPNs, and I hope they do support apps from Windows Store as well.
While Surfshark VPN can select protocols automatically, you can also choose the network protocol manually.  You can choose between Open VPN / UDP, Open VPN/ TCP, and IKEv2. While the UDP is the best among all as a balance of speed and stability, IKEv2 is the fastest. So I would suggest you give that a try, and if your network doesn't have any issue, you can always choose it.
Since you can access restricted content using VPN, this service also offers NoBorders Mode. Its turned on by default and makes sure you can access everything from any server and any country. It makes sure that If you are in a country where VPN usage is restricted, it still works.
Last, but not least, you can configure the app to start automatically with Windows, and connect automatically. This ensures that you never forget to turn on the VPN and stay secure.
Surfshark VPN Pricing
You can buy the service to use on multiple devices at a very generous price. You have three options here. The first option will cost you $11.95 on a monthly basis. The second option offers 83% discount if you buy it for two years. This comes down to $1.99 a month. The last option is a 12-month plan. It costs you $5.99  per month which effectively saves you 50% on the actual price. All these come with a 30-day money back guarantee assurance.
Overall Surfshark looks like a great VPN service you can get for a good price. MultiHop, WiFi security, Kill Switch are some of the important features you can consider when buying this. You can download and buy it from surfshark.com.