VPNs are one of the most used tools on the internet if you want to encrypt all of your internet traffic, even your non-encrypted traffic (like HTTP). Thus, if your VPN is set up correctly, your traffic is hidden from snoopers and hackers, and you should be safe. However, your VPN should be secured and password protected.
While many VPNs are available, not every service ensures privacy, security, and anonymity. Some VPNs even ask users to connect to a specific server in the United States, and others do not even encrypt your traffic at all. In this post, we are looking at best player in the VPN game you can use in 2022.
Best 5 VPN service providers in 2022
We have handpicked these service providers for this article.
Surfshark VPN
EXPRESS VPN
NordVPN
PUREVPN
CYBERGHOST
Make sure to go through each of these posts and understand which VPN is best for you.
1] Surfshark VPN
Online privacy is imperative nowadays. With more and more of our lives being documented online, it becomes essential to have a strong VPN (Virtual Private Network) to keep our data safe. Surfshark is a VPN that allows you to surf online without being tracked or monitored.
One of the best parts of using Surfshark VPN is that it unlocks most streaming services over secure encryption and is available for much cheaper rates than its closest competitors.
Along with this, if you are an Android or Windows user, it delivers a better experience and deal. Along with this, it is also a perfect choice for gamers because of its faster upload/download speed and low latency.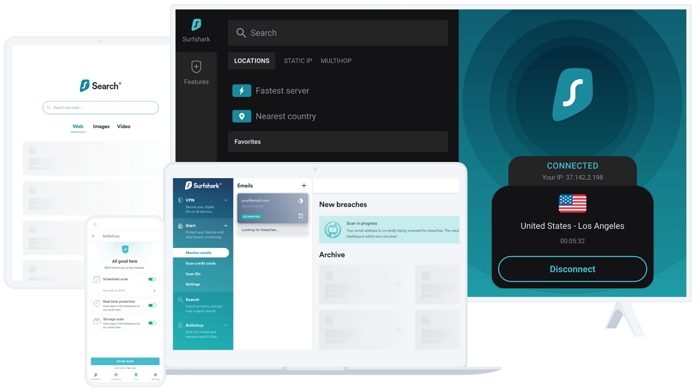 Advantages of using Surfshark VPN
Optimizes the browsing experience
Simple to use with a No Log policy
Consumes little bandwidth, and it encrypts all online data,
Protects your identity online, so people cannot track you.
No Limit on the number of devices you can use in the same account
Servers are available across 3200+ servers, 64 countries, and 110 locations.
Offers 1 GBit ports on all the servers for a faster experience
Supports OpenVPN, IKEv2, WireGuard, or SOCKS5 protocols, which are user-configurable
Excellent customer support
Surfshark Important Features
No Borders Mode
Surfshark VPN, No Borders mode, is a breakthrough VPN technology that lets you surf the web as if your IP address and location were not a factor. The No Borders mode enables you to tap into a global network, giving you access to your favorite websites from the same IP address wherever you are.
Surfshark Split tunneling and MultiHop Intuitive
Split tunneling: Surfshark Split tunneling allows customers to use multiple devices while connected to the same network. This network feature will enable users to connect to Wi-Fi hotspots without additional charges.
MultiHop: Surfshark's MultiHop feature enables users to maintain multiple internet connections always to be connected to the fastest and most reliable one available.
Surfshark RAM-only servers
RAM-only servers ensure no data is stored on the storage device and purges data so it cannot be recovered.
Kill Switch
Kill switch is an innovative feature on the Surfshark apps for Windows, macOS, iOS, and Android. If the VPN connection drops, it turns off your internet connection, protecting your data and location from exposure until you're reconnected.
Shurfshakr Privacy
You are in control of what data you share and with whom.
Surfshark encrypts your data and masks your IP address, allowing you to browse the internet anonymously.
Data leak protection, WebRTC protection, and ad-blocking
Check out more about Surfshark.
2] EXPRESS VPN
It is one of the popular VPN providers on the market. With strong encryption, speed, and servers worldwide, ExpressVPN comes in very handy. The primary features of Express VPN include instantaneous, secure, reliable, and private connections.
Express VPN allows anyone to connect to your VPN without a password. It can be dangerous because your unprotected computer can be infected or damaged by someone using the VPN. It would help if you never let anyone connect to your VPN.
3] NordVPN
NordVPN is an inexpensive and moral VPN provider. They encrypt your data and protect your online privacy. Their secure servers are based all over the world. There are a few drawbacks of NordVPN: even though NordVPN offers a hefty five simultaneous connections, its free version is available only for five days.
4] PUREVPN
PUREVPN is a virtual private network (VPN) service that provides users with end-to-end encryption. However, PUREVPN does not protect its users against surveillance or location tracking by governments or non-governmental organizations.
The one drawback is that PureVPN does not allow users to set a specific DNS server for their connection. Instead, all traffic is routed through the servers that PureVPN has set up. For some people, this is an inconvenience, but others will probably not care.
5] CYBERGHOST
CYBERGHOST VPN is a 3rd Generation Virtual Private Network service. It automatically encrypts all your network traffic, protecting you from hackers, snoopers, and identity thieves.
Cyberghost drawbacks include not keeping records about how much data you have used, not supporting a home network, not supporting FTP, free accounts is limited to 5 simultaneous connections, and more.
Conclusion
In conclusion, the best VPN of 2022 would have to be Surfshark. First, they have an excellent app for Windows and Mac. Another great feature is the high-speed connection which makes it perfect for gaming without low latency.