VPNs are one of the most used tools on the internet if you want to encrypt all of your internet traffic, even your non-encrypted traffic (like HTTP). Thus, if your VPN is set up correctly, your traffic is hidden from snoopers and hackers, and you should be safe. However, your VPN should be secured and password protected.
While many VPNs are available, not every service ensures privacy, security, and anonymity. Some VPNs even ask users to connect to a specific server in the United States, and others do not even encrypt your traffic at all. In this post, we are looking at best player in the VPN game you can use in 2023.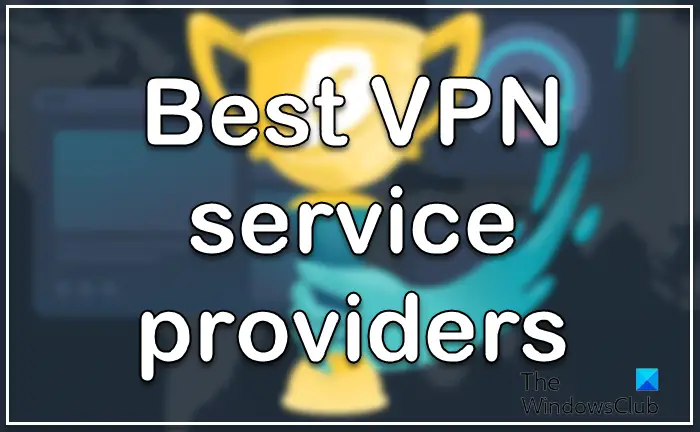 Best 5 VPN service providers in 2023
We have handpicked these service providers for this article.
Surfshark VPN
Nord VPN
Altas VPN
Express VPN
Pure VPN
Make sure to go through each of these posts and understand which VPN is best for you.
1] Surfshark VPN
Surfshark VPN is one of the most popular VPN services. Its competitive price and unlimited simultaneous connections make it a very attractive VPN option for all kinds of users. Surfshark also offers thousands of servers worldwide, excellent connection speeds, and military-grade AES encryption.
On top of that, Surfshark offers some really useful features like split tunneling, SmartDNS, GPS spoofing, the fast WireGuard protocol, and P2P-optimized servers. And to make matters even better, Surfshark is constantly rolling out new updates and features, such as a graphic interface for Linux and the features of Nexus.
Surfshark is an immensely popular VPN provider, and not without reason. Here are the main points why it is so:
Pricing. Surfshark is affordable – starting with $2.30 a month for a 2-year plan. Short-term pricing is higher: a 1-year plan is for $3.99/month, and the 1-month price increases up to $12.95. You can also get a 7-day free trial, and there's a 30-day money-back guarantee as well. Read more about Surfshark pricing (include aff link).
Security. AES-256 encryption, RAM-only servers, and an independently audited no-logs policy make Surfshark one of the most secure VPNs. It also has numerous additional features such as MultiHop, IP rotator, GPS spoofing, and more.
Streaming. Surfshark successfully unblocks geo-restricted streaming platforms such as Netflix, Apple TV, BBC iPlayer, Youtube, DAZN, and HBO Now. Besides all of its servers are P2P optimized, meaning that it works well for torrenting.
Speed. The WireGuard protocol works wonders, and others also show pretty good results. On average, Surfshark retains 88% of the original speed at all times.
All in all, it's safe to say that Surfshark still holds its title of being one of the best VPNs in today's market. It's packed with features, employs strong security measures, and is a near-perfect online security tool.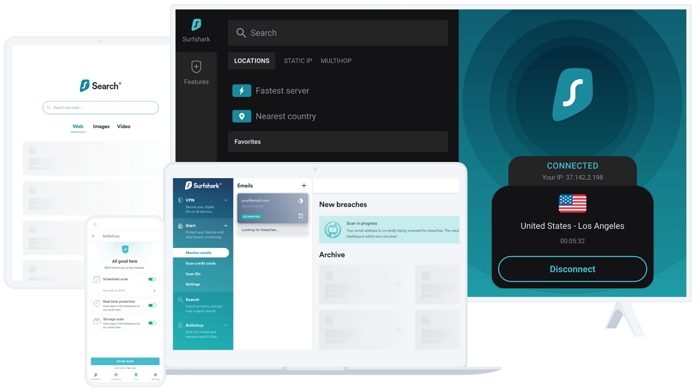 Advantages of using Surfshark VPN
Optimizes the browsing experience
Simple to use with a No Log policy
Consumes little bandwidth, and it encrypts all online data,
Protects your identity online, so people cannot track you.
No Limit on the number of devices you can use in the same account
Servers are available across 3200+ servers, 64 countries, and 110 locations.
Offers 1 GBit ports on all the servers for a faster experience
Supports OpenVPN, IKEv2, WireGuard, or SOCKS5 protocols, which are user-configurable
Excellent customer support.
Surfshark Important Features
No Borders Mode
Surfshark VPN, No Borders mode, is a breakthrough VPN technology that lets you surf the web as if your IP address and location were not a factor. The No Borders mode enables you to tap into a global network, giving you access to your favorite websites from the same IP address wherever you are.
Surfshark Split tunneling and MultiHop Intuitive
Split tunneling: Surfshark Split tunneling allows customers to use multiple devices while connected to the same network. This network feature will enable users to connect to Wi-Fi hotspots without additional charges.
MultiHop: Surfshark's MultiHop feature enables users to maintain multiple internet connections always to be connected to the fastest and most reliable one available.
Surfshark RAM-only servers
RAM-only servers ensure no data is stored on the storage device and purges data so it cannot be recovered.
Kill Switch
Kill switch is an innovative feature on the Surfshark apps for Windows, macOS, iOS, and Android. If the VPN connection drops, it turns off your internet connection, protecting your data and location from exposure until you're reconnected.
Shurfshakr Privacy
You are in control of what data you share and with whom.
Surfshark encrypts your data and masks your IP address, allowing you to browse the internet anonymously.
Data leak protection, WebRTC protection, and ad-blocking
Check out more about Surfshark.
2] NordVPN
NordVPN is a leading VPN provider, offering the best speeds on the market. It allows users to enjoy the internet without borders, censorship, tracking, or buffering.
More than 5,500 servers in 60 countries, three different VPN protocols, and bulletproof encryption make NordVPN an excellent choice for anyone looking to protect their browsing. But the main selling point is the speeds it offers.
The process of data encryption slows down your internet connection — that's the price all VPN users have to pay for a safe browsing experience. But NordVPN found a way to minimize the loading time for all their users. Their answer to the problem — NordVPN's own NordLynx protocol, ultralight and secure, is designed to bring both speed and security to the user.
But NordVPN is much more than just a VPN — it boasts extra features that make users' lives easier and safer:
Autoconnect and Kill Switch to make sure your internet connection is always protected by bulletproof encryption.
The Dark Web monitor is always there to notify you if your credentials are exposed online.
Threat Protection scans all downloaded files for malware and deletes them immediately if they are found to be infected. Threat Protection also blocks trackers, malicious websites, and intrusive ads to make your internet browsing safer and smoother.
Meshnet allows you to securely access other devices and the files stored on them, join virtual LAN parties, or share a local web server with your friends or coworkers.
The best part? It only costs a few dollars per month if you opt for the two-year plan. NordVPN also offers one-year and one-month plans, but they are a little bit more expensive. If you want to try the features for yourself and see how well the app works on your Android TV before committing, NordVPN has a free 30-day trial with a money-back guarantee.
3] ALTAS VPN
Atlas VPN is one of the best freemium VPN providers available. It has a broad server network and serves more than 6 million users. It offers advanced encryption protocols to protect traffic, has a solid no-logs policy, and other modern features for online security.
Here are some of the main features of Atlas VPN:
It uses AES-256 encryption and ChaCha20-Poly1305 for reliable and robust internet traffic encryption.
It works on the most popular operating systems and devices.
It has a kill switch feature.
It offers a helpful Help Center or live chats with customer support specialists.
It follows a no-logs policy, meaning that they do not log users' activities while connected to VPN servers.
Offers speed-optimized servers and those specifically designed to support streaming activities.
Compatibility
Atlas VPN works with Windows, macOS, Android, iOS, Android TV, and Amazon Fire TV/FireStick. It also offers unlimited simultaneous connections. So, you can protect each compatible device you own.
Currently, Atlas VPN has 750 servers in over 40 locations. It has three free locations that users can connect to with their free accounts.
All servers support two protocols: WireGuard and IKEv2/IPSec. Users can choose which they prefer or let the app pick the most suitable one. Furthermore, servers are P2P-friendly, many of which are designed for smoother streaming activities.
Premium servers include the most popular locations like the US, Canada, the Netherlands, Germany, Spain, Italy, Switzerland, and more.
Special security features
Atlas VPN offers Tracker Blocker, which blocks access to potentially dangerous websites. It also blocks many trackers and can serve as protection against threats like cryptojacking.
Additionally, Data Breach Monitor lets users scan the web to discover whether their email account is safe. It looks at known databases of leaked information and searches for details on your account.
Moreover, Atlas VPN provides SafeSwap and MultiHop+ servers aimed at rotating IP addresses. They are excellent for users looking for even more privacy and anonymity.
At the moment, Atlas VPN offers 1-month, 2-year, and 1-year plans. Currently, the best option for a premium VPN for Windows is the 2-year plan, which comes at $49.19 ($1.89 per month) and includes three months free.
4] EXPRESS VPN
It is one of the popular VPN providers on the market. With strong encryption, speed, and servers worldwide, ExpressVPN comes in very handy. The primary features of Express VPN include instantaneous, secure, reliable, and private connections.
Express VPN allows anyone to connect to your VPN without a password. It can be dangerous because your unprotected computer can be infected or damaged by someone using the VPN. It would help if you never let anyone connect to your VPN.
5] PURE VPN
PUREVPN is a virtual private network (VPN) service that provides users with end-to-end encryption. However, PUREVPN does not protect its users against surveillance or location tracking by governments or non-governmental organizations.
The one drawback is that PureVPN does not allow users to set a specific DNS server for their connection. Instead, all traffic is routed through the servers that PureVPN has set up. For some people, this is an inconvenience, but others will probably not care.
Conclusion
In conclusion, the best VPN of 2023 would have to be Surfshark. First, they have an excellent app for Windows and Mac. Another great feature is the high-speed connection which makes it perfect for gaming without low latency.