Every computer needs to optimized, no matter how powerful processor it is running on or how much RAM it has. Computer systems get slower day by day, and the reason is the unwanted and useless files cluttered on your hard disk. Also, the residual junk registry keys are responsible for slowing down your PC. All our activities on a computer system, leave some files in the registry which needs to be cleaned and optimized on a regular basis in order to make your Windows PC run smoothly. But, you cannot just delete the registry files like that; deleting the wrong files may make your PC unbootable. This is where Ashampoo WinOptimizer 16 helps you.
Ashampoo WinOptimizer, as the name suggests is a Windows optimization tool which optimizes your PC effectively and provides a smooth functionality and stability to your PC. The program comes with a revamped interface and functionality improvements. It cleans your PC, removes invalid and useless registry entries, and fixes system errors thereby improving the performance.
Ashampoo WinOptimizer review
WinOptimizer has added many different key modules to the latest version WinOptimizer 16 which speed up your PC and improves stability. The Duplicate File Finder and Optimizer works 50 times faster than its previous versions. However, the upgraded features and modules are available only in the paid version.
Simple design and User-Friendly Interface
Ashampoo WinOptimizer comes with a very simple design and a user-friendly interface which makes it super easy to handle, even for the novice PC users. The main overview has it all. Once downloaded and installed the program automatically starts scanning your PC for the junk files and gives you the result in no time. Click on the Magnifier Icon on the right end, and you can check the details of files deleted. Click on the Arrow at the bottom to go back. You can select the program to delete the junk files automatically or to ask for confirmation before deleting.
Powerful Performance
Ashampoo WinOptimizer comes with a powerful performance. It takes no time to scan your PC for the junk/duplicate files, delete them and optimize your PC. With its low-level system programming, this optimizer works up to 50 times faster than any other programs.
Maintain Your System in a Single Click
With just a single click you can maintain your system with this wonderful program. It helps you optimizing your system, cleaning the drive, cleaning the invalid registry entries, your browsing history, and also to defrag your thereby speeding up your PC. Other features of the program include a Service Manager which manages all your Windows services, Startup Tuner which optimizes the PC boot, Internet tuner which optimizes your internet connection, Uninstall manager, and SSD Wizard to optimize your system for SSDs.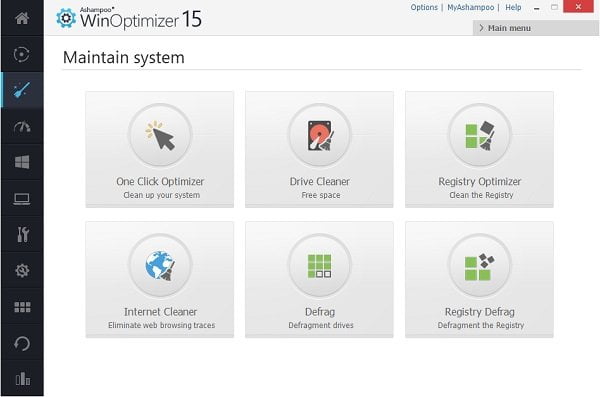 Clean Up Automatically
The program also includes the options like auto-clean, live tuner, and game booster. You can let the program clean all your junk automatically, live tuner accelerates the application launches, and the game booster ends all the non-essentials programs running in the background. Click on the icon in the left panel and turn on the tabs. You can also check the entire log of auto-cleaning, live tuning, and the game booster. Click on the Delete icon if you want to delete the history.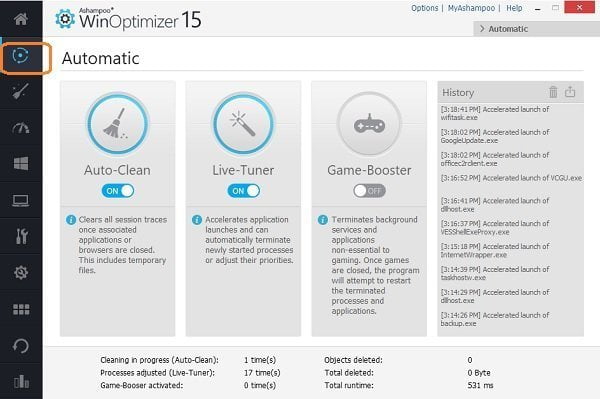 Customize Windows
Besides cleaning and optimizing your PC, the Ashampoo WinOptimizer 15 also helps you customize your Windows PC. You can tweak your system settings, configure and control your privacy settings, manage user rights, edit program shortcuts and much more. Click on the Windows icon in the left panel, and you can adjust the settings there.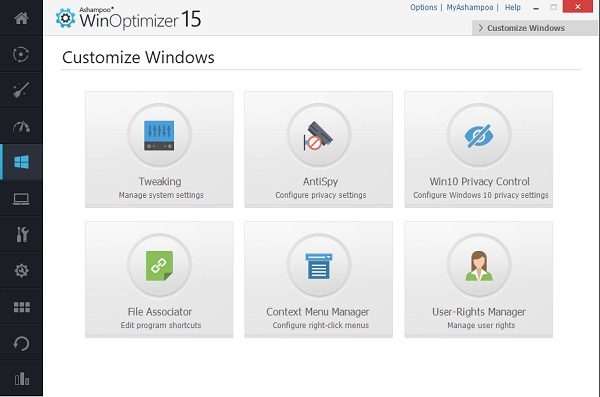 Analyze and Keep track of your system
With this optimizer, you can keep track of your system. It keeps you posted about your PC's health, drive errors if any, space available in your PC and much more. It displays the system information, benchmarks your hard disks, manages system fonts, runs a system benchmark and tracks down the resource hogs. File tools of the program help you checking your disks for any errors, encrypt the files, recover the wrongly deleted files, check shortcuts and find the duplicate files cluttering space in your PC.
Ashampoo WinOptimizer is a powerful Windows optimizer software that can help keep your computer running in top condition. It scans your entire PC, lists the areas that need to be cleaned, optimize or secured and carry out the repairs automatically with a click.
Buy Ashampoo WinOptimizer 16 from Ashampoo.com
This popular PC Cleaner and Optimizer is now updated and supports the latest web browsers. Ashampoo WinOptimizer is available for a free 30-day trial download for Windows PCs The full version is available for $49.99. But use our Coupon Code and get a whopping 50% discount!