While it is very important to keep the software updated for various reasons, the Device Drivers if they are working fine need not to be updated regularly. Updating the drivers may, in fact, create some issues at times. Making it simple, unless there is some real boost in performance, major bug fixes or addition of features, it is just okay to ignore the Driver updates.
But, if any of your programs/hardware isn't working properly or giving some repetitive errors, the first thing to do is a driver update. Now when it is about driver update, the first question that comes to our mind is where to get the drivers from. Windows often does that automatically when you plug in a device to your PC but sometimes you need to download the updated driver manually and install it on the PC for a smooth functioning of the device. While you can update device drivers manually via Devices manager, in this post, we will learn about a program, SafeBytes DriverAssist, that makes things very easy for you.
Driver Assist review
Once downloaded and installed, the program launches automatically and scans your PC for all the obsolete and outdated drivers. With a simple interface, this program displays a list of drivers on your PC and match them with the latest version available. It then gives you the status of the drivers and suggests the appropriate and compatible update. The program categorizes your existing Drivers in three categories- best, obsolete and inferior, where Best obviously include the up-to-date drivers.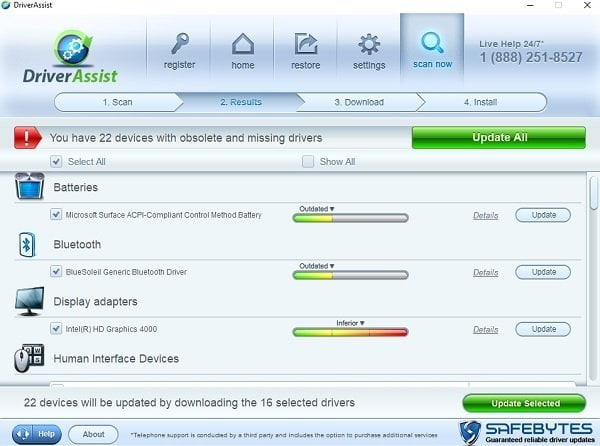 Clicking on Details tab will open the details like the driver version you are using and the latest one. You can then decide to Update or Ignore. You can update them all together by clicking on Update All tab, however, it would be better to update the drivers one by one so as to check if any of the updates creates any issues.
Once you make your choice, the software will start downloading the latest driver files.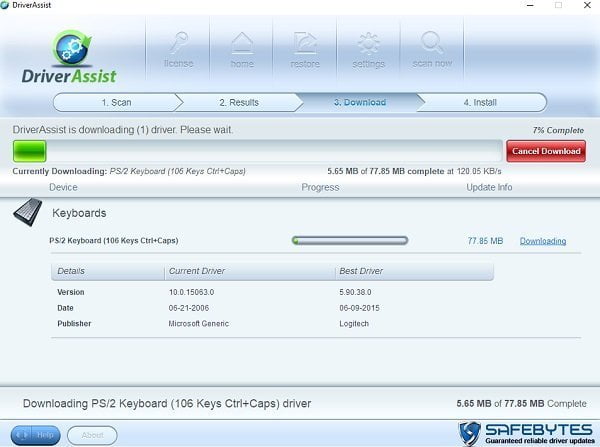 If you wish you can cancel the download anytime
Make sure you have an strong active internet connection to run the scan.
The program creates an automatic restore point before you start downloading the updated version of a driver so that you can return back to the previous configuration if face any errors after the update. Just click on the Restore button on the top menu ribbon in case you find any functionality issues after the update.
DriverAssist also helps you backup all your data before you proceed with any update so that you do not lose any of your important data if the update creates any problems.
This driver updater software also gives you the option to Ignore drivers.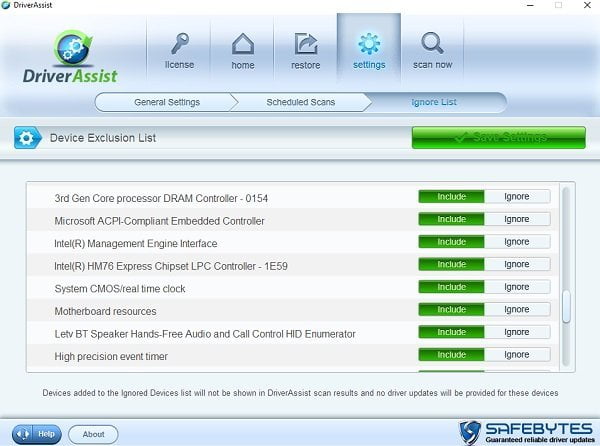 And then there is a list where you can select what all driver you want to include in the scan results.  You can either update or ignore it, or you can also click on the Include tab to include that particular device driver in the scan results. Click on Settings to get this Ignore List.
Driver Assist will also help you manage USB devices. There is no need to worry about safely removing hardware with Driver Assist running, as it makes the ejecting process safe.
Driver Assist also lets you configure program settings as follows:
Under General Settings you can adjust the general settings of the program which includes language settings, scan settings, application settings and download/update settings.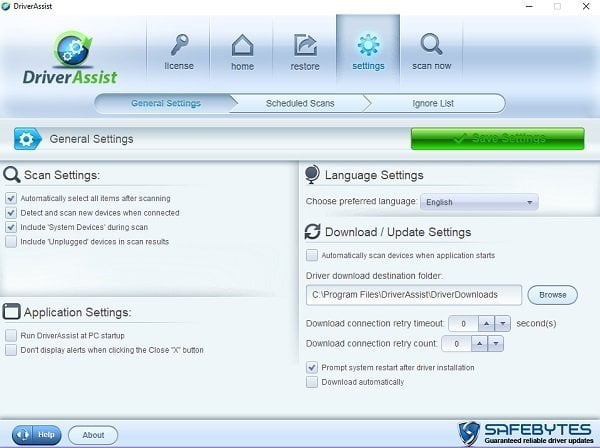 Download settings let you decide the driver download destination folder, download connection retry timeout, automatic download etc. The Scan settings let you select what all you want to include the PC scan. You can also select if you want to include the Unplugged devices in system scan or not. Application Settings let you decide if you want to start the program with PC startup.
Like most of such programs, DriverAssist also lets you schedule your PC scan to run once, every day, or every week. You can also select the date and time manually to schedule a scan. Click on Settings > Schedule Scan to adjust your settings.
If you need support, you will have to click on the Help button which appears in the bottom left corner.
Some observations:
Once you move from the scan results page, you need to run the scan again to see the results. So if you select update for a driver and come back to Home page afterward, you need to run the scan again to see the results.
DriverAssist program won't let you check anything else while downloading a driver. Which means while, downloading a driver, DriverAsisst won't let you go back to the home page of the scan results.
Hardware manufacturers keep releasing the updated version of their drivers with bug fixes and some improvements, so DriverAssist basically keeps you away from those hassles to keep a check on released updates and also saves your time. However, when we talk about drivers, it is said that – if it's not broken, don't mess with it.
Overall, DriverAssist is a nice, simple and useful program which helps you manage your PC drivers. It scans your PC properly to list all the drivers with their existing version as well as the available latest version. So the entire process is basically automated. The program also shows the details while downloading the updated version, for example, the publisher of your current driver and that of the latest version, and size of the file downloading etc.
You can download DriverAssist here and manage all your driver at one place easily. A 1-year license costs USD 39.99.