We usually face performance issues with our Windows PC here and there. Manually finding solutions and fixing issues requires expertise and a lot of time. While there are a lot of tools available, only a few of them can fix the common problems with our computers. SafeBytes Total System Care is one such optimization software that can not only help you resolve PC problems but also speed up and optimize your operating system for best performance. While it optimizes performance, it can also resolve registry and security issues as well.
Total System Care Review
Once you downloaded, installed and registered Total System Care, the program will automatically start scanning your computer for issues. The scan may take a while, and once it is completed, you can view the number of issues and the amount of space that can be cleared. The program generates a pie chart in order to give you an overview of where do the errors belong. You can include and exclude some components from the scan as per your requirements. TotalSystemCare scans your computer for five categories of issues – and all of them are discussed in details below.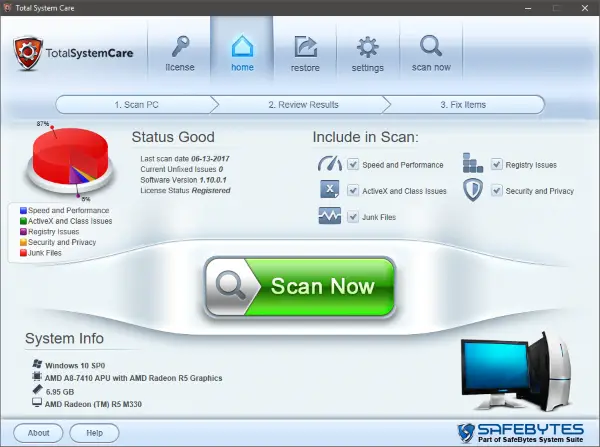 Speed and Performance Issues
Anything slowing down your computer cannot escape the attention of this software. Total System Care rigorously scans your computer for anything that is slowing down the start-up time or general performance. The program scans for issues with programs and services during Windows Startup. It then finds issues with missing virtual drivers or corrupt drivers. A deep system scan finds the missing or invalid System files that may cause any issues. Also, the missing or corrupt ActiveX entries are scanned and reported. Not just that, TotalSystemCare also scans for missing program Help files.
ActiveX and Class Issues
The optimization software also scans for various issues with the ActiveX components and other shared DLL files. Along with that, it also looks for invalid user installed software paths and entries. You can expand any of the sub-categories to view which files or components have caused the problem.
Registry Issues
Registry issues are very common and can be found in huge numbers on a computer. Fixing them time to time is a must. Total System Care lets you fix all the registry related issues and even view them in detail.
Security and Privacy Issues
Total System Care lets you clear off some basic security issues. The sub-categories include 'MRU' lists and History and Start menu.
Junk Files
Well, who likes junk files? Even this Windows optimizer doesn't. It scans your computer for all the unwanted files which can be deleted without any harm to the system. It displays the total space that can be cleared after deleting these files. On my system, the calculated space was around 1 GB; it can be more or less for you depending on how you use your computer.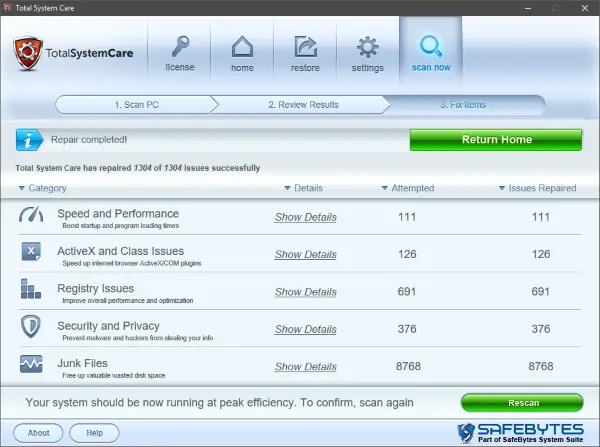 These were the five categories that this program scans issues for & fixes. You can expand into sub-categories and then into individual items to view complete detail about that file and problem caused by it.
If you need to manually start the scan, all you need to do is to click on the green Scan Now button. The program will automatically create a backup in case anything goes wrong and then start the optimization process. The entire process may take some time depending on the number of issues with your computer.
Once the process is completed, you will be able to see a noticeable change in your computer's performance and speed. There are many errors and their fixes available with this tool if you are looking for a particular error head over to program's website and search for it. Most of the common and some unusual errors and issues can be fixed with this tool and that too without you being a computer expert.
Buy Total System Care for your PC
Click here to download SafeBytes Total System Care. It is free to try and costs 39.99$ for a paid 12 months license.
If you need support, you may click on the Help button which appears on the bottom left side of the program UI. Product support is also available by visiting this page.