Are you looking for the best Windows deals to get a new OS for your computer? Here you can find all the information you need to be aware of regarding the most recent versions of the famous Operating System by Microsoft.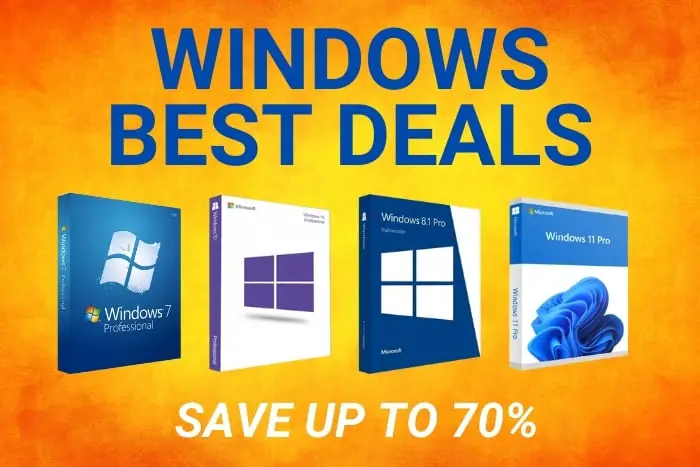 The latest version of Windows available for users is Windows 11, a system that offers a wide range of improvements over the previous editions. This new iteration is the quickest, safest, and most technologically advanced option on the market, featuring whole new graphics and a wide range of new security functionalities. Today you also have the chance to download Windows for free: Everyone with a PC running Windows 10 who satisfies the prerequisites is entitled to a free upgrade to the most recent version. For this reason, you can take advantage of the Windows 10 best deals to save on the price of Windows 11.
However, if you are not eligible for the free edition, the latest version of the system is still available for a very reasonable price from Mr Key Shop, a company with twenty years of experience in the digital software industry. The store is extremely well-known among customers all around the world for providing a great selection of genuine and high-quality digital software at a discounted price.
On the shop, Windows 11 and Windows 10 are now on sale at up to 70% less than the original cost. Mr Key Shop also offers many other original software products at a very advantageous price: for instance, you'll be able to enjoy the Microsoft Office best deals and purchase a wide range of other important security tools, such as antiviruses and VPNs. Let's have a look at the most effective methods for getting both Operating Systems while saving on the price list, and how to download and install Windows 11 and Windows 10.
Today's best Microsoft Windows deals
Windows prices: How much and where to buy it and save money
As a modern and advanced OS, Windows comes at a considerable price. Fortunately, today users have a wide choice when it comes to purchasing Windows Operating Systems, and the official Microsoft store is no longer the only option available. In fact, by relying on safe and dependable stores such as Mr Key Shop, you'll be able to save money on the original price list. As mentioned above, you can also purchase Windows 10 for cheap and get a free upgrade to Windows 11. By doing so, you'll be able to avoid paying the full fee while still getting to enjoy all the system's new features. On the shop, the Home and Pro editions of Windows 11 are currently available for purchase for 69.99 and 79.90 dollars, respectively.
Mr Key Shop is a very well-known and trustworthy company that offers the greatest digital software on the market at very advantageous prices. The great number of positive online reviews and the outstanding 4.9 rating on TrustPilot further confirm the validity and premium quality of the licenses. The company offers a great selection of the best Operating Systems by Microsoft (Windows 11, Windows 10, Windows 8, Windows 7), many different Windows Server Products for companies and business users (Windows Server, Windows Server CAL, Windows Server RDS CAL, Microsoft SQL Server), as well as many antivirus and VPN software suites for PC, Mac, Android, and iOS, that currently stand as the best ways of shielding your devices from the newest cyberthreats.
For a very good price, you can also enjoy the best Microsoft Office deals and a variety of other versions of the suite (Office 2019, Office 2016, Office 2013, Office 2010, Office for Mac). With Digital Delivery, you'll receive your products in a few seconds in your email inbox, along with clear instructions to download, install and activate the software you purchased. During the checkout, you will be able to choose among a wide array of safe and verified payment options, such as PayPal, Apple Pay, and more, with a full money-back guarantee.
Last but not least, Mr Key Shop offers free technical support in English to all its clients, before and after any purchase, even to provide personalized recommendations on the ideal software to choose according to specific requisites and hardware resources at hand.
Let's have a look at Mr Key Shop's best Windows deals.
Windows 11 Professional: $179.90 $79.90
Windows 11 Home: $169.99 $69.99
Windows 11 Enterprise: $229.99 $109.99
Windows 10 Professional: $149.99 $49.90
Windows 10 Home: $104.99 $44.99
Windows 8.1 Professional: $89.99 $29.99
Windows 7 Ultimate: $109.99 $29.99
Windows 7 Home & Premium: $109.99 $24.99
Windows 7 Professional: $109.99 $29.99
Buy Windows 7
Windows license or product key: Why not choose a physical copy
Today, purchasing a physical copy of digital software is no longer the only option available. Fully digitalized businesses like Mr Key Shop let customers receive their products right away, with no unnecessary waiting times and shipping costs. This is also a great way to help protect the environment and decrease pollution caused by physical good transport systems, as well as packaging waste.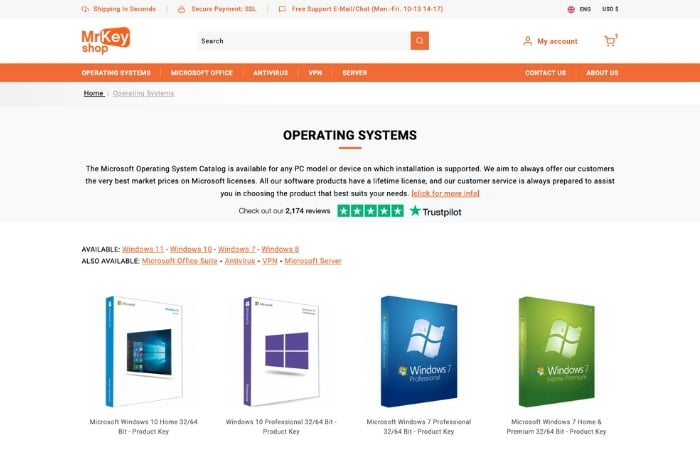 License or product key
What is the difference between a license and a product key? Let's have a look at how things work. If you purchase a physical copy of Windows 11 on the Microsoft official store, you will find your product key on a label inside the box. You can also find your product key in a digital locker accessible via the retailer's website or in the confirmation email you received after purchasing Windows 11. Based on the valid product key you entered, Windows 11 will be digitally licensed to your device.
If you decide to purchase Windows 11 or any other digital software on Mr Key Shop, you will find your product key on the confirmation email, along with your product and clear instructions to download, install and activate the software. The license will also be perpetual and it will always be connected to your Microsoft account. This way, in case of computer failure you'll be able to reuse the same product key to install the software on a new device, without any additional expense.
Windows 11: what's new
Windows 11 features a great diversity of improvements over the previous Microsoft operating system, both in terms of functionality and visuals. The latest version was specifically designed to provide a wide range of additional security measures to enhance online safety and safeguard private and corporate data. For instance, the new TPM 2.0 security module aims to protect the system against cyberattacks at a firmware-level.
Microsoft also offers regular updates intended to protect the computer and everything on it from the most recent digital threats. Windows 11 also features many new widgets that will allow you to check the most recent news, the weather, and other information from the convenience of your main screen. Graphics have also been improved. All the new enhancements included in the upgrade can be very useful both for private and professional use: in fact, many new features have been developed to enhance multitasking and remote work.
Last but not least, Windows 11 is a great option for gamers, who will discover a variety of fresh, amusing features aimed at enhancing the gaming experience. In addition to all that, Android apps are finally compatible with the system.
Windows 11 (and 10) requirements
If you decided to upgrade your system to Windows 11, you should check if your computer meets the minimum requirements outlined by Microsoft. Windows Update is a great helpful tool that will help you determine whether your computer is eligible for the upgrade and will also walk you through the download, installation, and activation of the system. To do that, just click on the Start button and select Settings > Update & Security, and then Windows Update.
Processor: 1 gigahertz (GHz) or faster with 2 or more cores on a compatible 64-bit processor or System on a Chip (SoC)
System firmware: UEFI, Secure Boot capable
Memory: at least 4GB RAM
Hard disk space: at least 64GB
TPM: 2.0
Display Resolution: high definition (720p)
Graphics card: compatible with DirectX 12 or later with WDDM 2.0 driver
Internet connection: Microsoft account and Internet connectivity are required
The same goes for Windows 10. Let's have a look at the minimum system requirement outlined by Microsoft.
Processor: 1 gigahertz (GHz) or faster processor or SoC
RAM: 1 gigabyte (GB) for 32-bit or 2 GB for 64-bit
Hard disk space: 16 GB for 32-bit OS or 20 GB for 64-bit OS
Graphics card: DirectX 9 or later with WDDM 1.0 driver
Display: 800 x 600
After determining whether Windows 11 or Windows 10 are compatible with your computer, you can choose to get it at full price on the Microsoft website or receive a discount of up to 70% by purchasing it through Mr Key Shop.
Is Windows 10 the most reliable OS?
Windows 10 is surely a great Operating System. Even if it isn't the most recent version of the operating system, it is still excellent and ideal for installation on older PCs. However, people who use computers in a business setting will find the additional security features included in Windows 11 to be especially helpful. The latest upgrade is also excellent for gamers, since it is able to provide an unmatched gaming experience.
Microsoft Windows: A beginner's guide to the best version to choose
Windows 11 is currently in a variety of versions and you can choose the one that best fits your computer and your needs. Windows 11 Home is the go-to option for domestic and private use, while Windows 11 Pro can be a better choice if you need to upgrade the system for business-related purposes. The Professional version has been specifically designed to provide a wide range of options to improve security and to safeguard any corporate software from unintentional data leaking. Features like Bitlocker can be very helpful in the event that a computer is stolen or lost, for it enables users to isolate data and restrict access to it. This version also provides a wider selection of apps and choices made especially for businesses in comparison to the Home edition. Lastly, you can opt for Windows 11 Enterprise, a distinct operating system designed for hybrid work. This edition provides even higher levels of security for business data.
Can I download Windows 10 or 11 for free?
The bad news is that if you own a computer running Windows 7 or Windows 8.1 you are no longer eligible to upgrade to Windows 10 for free, even if your PC meets the minimum requirements outlined by Microsoft. As for Windows 11, Microsoft will provide you a 30-day free trial of all the new features in the upgrade. You'll need to buy a Windows 11 license after the trial period is over. You can also keep using the system for free, but you will have to forget the majority of the updates included in the most recent version. Also, it is not recommended to use a non-activated system, for it can be very dangerous for the computer and for the data and files in it. If you want to keep enjoying all the new features included in Windows 11, Mr Key Shop will let you get it for a very good price. You can also take advantage of the best Windows 10 deals and still get Windows 11 for free: this way you'll be able to save even more on the original price.
How to download Windows 10 and 11
Once determined if your computer is compatible with the system you decided to purchase, let's have a look at the many choices you have for downloading Windows 10 and Windows 11.
Download Windows 10 or 11 ISO
The first option available to you is to go to the official Microsoft website and generate an ISO file or a bootable installation disc. To do that, click on Download Windows 11 Disc Image (ISO) and then Windows 11 (or Windows 10) from the Microsoft website. Select English as the language, and click on Confirm > Download. Double-click the ISO file you have downloaded, followed by the .exe file. Then click Next.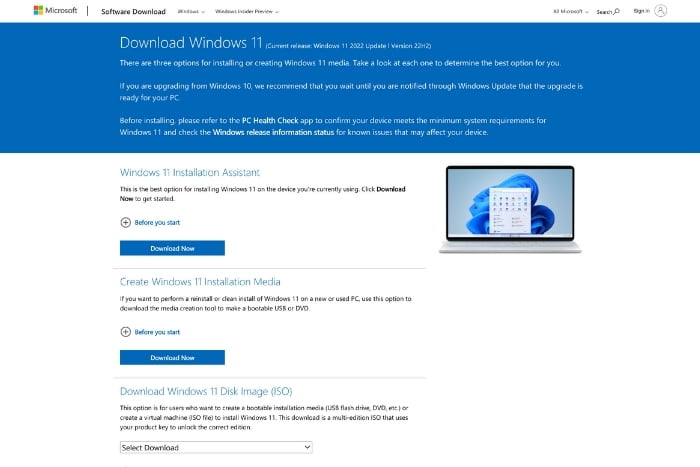 Media Creation Tool
You can also use the Media Creation Tool to quickly download, install, and activate Windows 11 or Windows 10. In this case, you'll just have to visit the Windows 11 Download page once again and select Media Creation Tool from the drop-down menu. Click on Download Now and choose whether you want to install Windows from a DVD or a USB device. Click on Save to end the process.
Windows Installation Assistant
Lastly, you can benefit from the invaluable assistance offered by Windows 11 or Windows 10 Installation Assistant. If you decide to opt for this method, visit the Microsoft website's page for Windows 11 download. Run the .exe file you just downloaded by selecting Run from the list of available options under the menu Windows Installation Assistant. Now, select Install and Accept and restart your computer. Login using your credentials.
How to install Windows 10 or 11
Both Windows 11 and Windows 10 are quite simple to install. You can use both Windows Update or the Installation Assistant to complete the task. In both cases, all you need to do is follow the on-screen directions. On the other hand, if you purchase the software from Mr Key Shop you'll be provided with clear and simple instructions that will guide you through the download, installation and activation phase.
Install and activate Windows OS
In order to be able to use it, you'll need to activate the system. To do that, just select Settings > Security > Activation > Update Product Key > Change Product Key from the Start menu.
If you already own a Windows 11 product key, you can enter it and start using the system right away. If you're not in possession of a genuine license, you can purchase it from Mr Key Shop and save on the original price. Within a few seconds, you will receive your new operating system via email along with step-by-step instructions for downloading, installing, and activating it.