Windows 11 is the latest Operating System from Microsoft. Officially launched in early October 2021, this new OS boasts a significant redesign compared to Windows 10. Read the article about the best Windows 10 deals for more information about the previous version. The Fluent Design language has been adopted across the Windows 11 system itself and its apps, with rounded windows and translucent tiles.
The menu button has been moved to the bottom center and some updates regarded the snap-in and widgets as well. A big new feature is Android compatibility, therefore you'll be able to use your favorite mobile apps on your desktop, with Microsoft being serious about it by introducing the TPM requirement. Furthermore, you can upgrade to Windows 11 for free if your PC runs a genuine Windows 10 instance, as long as your machine meets the relevant system requirements.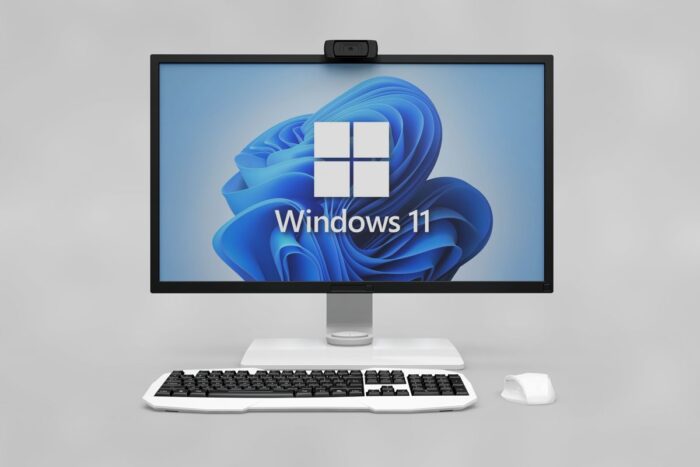 Before we start
If you're starting from scratch or you're not eligible for the free upgrade, after you download and install Windows 11, you'll need a genuine license to use your fresh Operating System. Although it may be expensive from the official Microsoft Store, you've got a cheaper but 100% legit alternative.
Mr Key Shop is a fully authorized third-party store where you can order top-notch software licenses, including Operating Systems like Windows 11 and Windows 10 – you can read guides about how and where to buy Windows 11 for further details. The vast catalog also offers Office suites like Microsoft Office 2021 – our guide about how to buy Microsoft Office is also available – and products for companies such as Windows Server products like SQL Server, Storage Server, and Microsoft Windows Server 2022 + the relevant USER and DEVICE CAL bundles. We have dedicated a guide to how to buy Windows Server at the best prices as well.
They've been in business for over 18 years, with an average rating of "Excellent" on TrustPilot: here you can save up to 70% over the recommended price points, pay via secure platforms like PayPal, Stripe, Amazon Pay, Google, Apple and more, with a full money-back warranty and free English-speaking Customer Support. Mr Key Shop is one of the best resellers online, and you can save significantly over your purchase. So, click on these links if you want to purchase Windows 11 or if you want to buy Windows 10 at the best price. We would like to remind you that the best brands of Antivirus are also available on Mr Key Shop's platform.
Mr Key Shop's catalog also gives Apple users their chance to buy Office for Mac and other products for cheap. That said, with no further ado, let's see how to install Windows 11.
How to install Windows 11 right away
Microsoft warned its users about the fact that non-compliant machines won't get any updates. To avoid any security risks and damage, before you download and install Windows 11 you should ensure your PC meets the system requirements and make a backup to avoid any data loss.
These are the official requirements to install Windows 11:
Processor: 8th gen Intel or higher, AMD Zen 2 or higher
RAM: 4GB for storage; 64GB for the System
Firmware: UEFI, Secure Boot compatible
TPM: Trusted Platform Module 2.0
Graphics: DirectX 12 or higher, with WDDM 2.0 driver
Internet connection and a Microsoft Account: Windows 11 Home requires an active Internet connection and a Microsoft account to complete the initial setup of the operating system or to exit from Windows 11 in S-mode.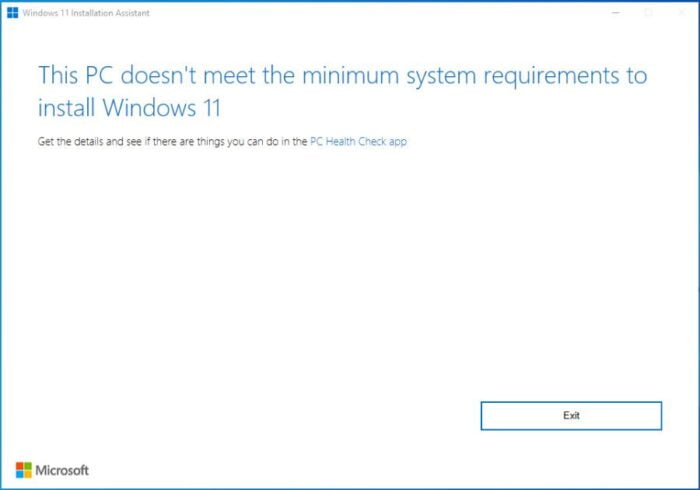 Once you checked your requirements and completed your backup, go to the Windows 11 download page. Here, click 'Download Now', then follow the prompts to download Windows for free.
How to upgrade to Windows 11 – Official procedure
If your PC is ready for Windows 11, download the PC Health Check App to be sure you meet all the official requirements. If you're green-lit, you can upgrade to Windows 11 from your Windows 10 installation: follow the prompts from PC Health Check and go to Windows Update from your OS.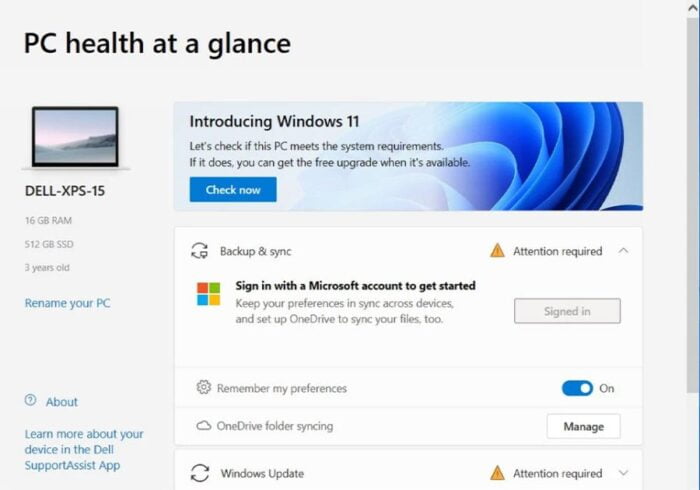 Again, we strongly recommend proceeding with a full system backup before you upgrade to Windows 11.
How to install Windows 11 from the ISO file
To perform this Windows 11, you'll need an official ISO file. If you buy a Windows 11 license from Mr Key Shop, you'll find a download link in the recap email you receive after you complete the order; otherwise, go to the official Microsoft Windows 11 download page and select: 'Download Windows 11 Disk Image (ISO)'. You'll be prompted to select your language, then you'll just have to click '64-bit Download' to get your ISO file.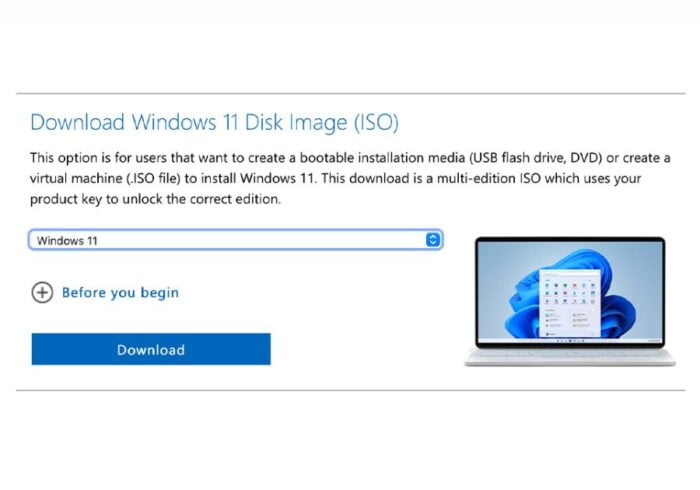 A the end of the download, you may proceed with the installation. To do so, you need a USB drive with at least 8GB of free space. Here you'll create a setup drive for Windows 11.
Format your USB drive for Windows 11
Connect your drive to a free USB port on your PC and go to 'Disk Management'. If you can't find this option, use the Windows search bar.
You'll see your USB drive in the device list. Remove all its partitions, if any, by right-clicking and selecting 'Delete Volume'.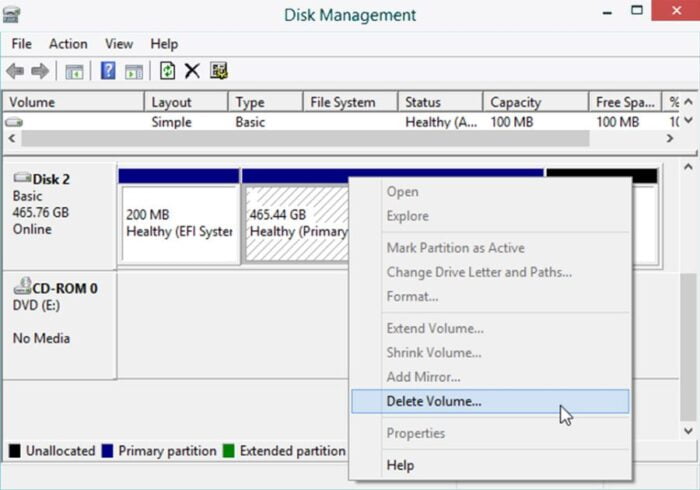 Now that you have all the required space, right-click on an empty slot and select 'New Simple Volume…'. Pick a name, but ensure the partition is at least 1 GB large and the File System is set on FAT32. Now create a second partition selecting the NTFS format.
Add the ISO file for Windows 11
Go to the Windows 11 ISO file location, right-click the file and select 'Mount'. This way, the ISO file should open as a standard folder, allowing you to explore its files.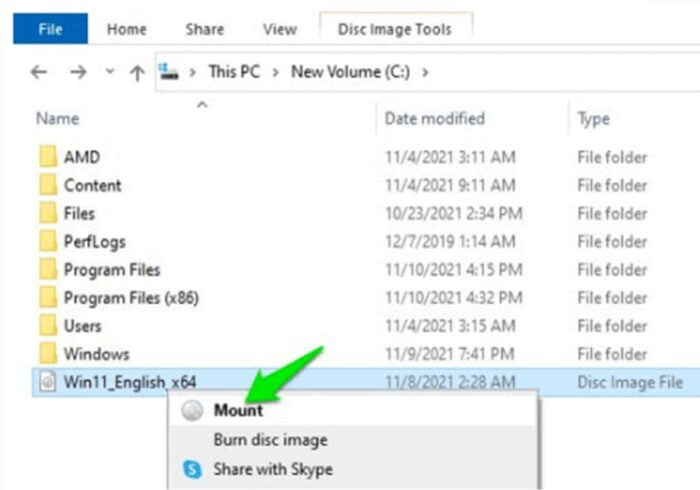 Copy all the content – except the 'Sources' folder – on the FAT32 partition of your USB drive. Then, create a new 'Sources' folder within the FAT32 partition and copy only the boot.wim file from the 'Sources' folder in the ISO file.
Finally, copy all the files (including the ones you previously copied) from Windows 11 ISO folder to the NTFS partition of the USB drive.
Install Windows 11
Once you complete the above steps, you'll have to reboot your target PC with the USB drive connected. Follow the wizard until you'll be prompted to select your preferred setup type.
Select 'Custom Setup' and choose the USB drive as the device from which you want to install Windows.
Proceed with the wizard and, in a few steps, you'll be done with your clean Windows 11 clean setup via the ISO file.
How to install Windows 11 via USB or DVD
If you already own a previous version of Microsoft Windows that's eligible for the upgrade, you can use Windows Update or the USB drive you found in your retail box (if applicable). However, if you chose to purchase your Windows 11 Product Key online from Mr Key Shop or any other reseller or if you lost your original install media and you wish to format your main drive, you can burn a DVD or create a bootable USB drive to install your OS. Please note that after installing Windows 11 you will also be able to install the latest version of Office Suite, so you can click on this link if you want to purchase Microsoft Office 2021.
This procedure can be useful if you need to install Windows 11 on a new computer with no previous Operating System or in case of issues during the upgrade.
The simplest way to create a backup installation unit is through USB. If you want to follow this procedure, you'll need a USB Flash drive with at least 8GB of available storage. Remember: Everything on your HDD/SDD will be deleted during the process, therefore you may want to run a backup before you start.
Alternatively, you can burn a DVD installation disk if you have a DVD burner. If you want to run the setup from DVD, you'll need to download and install a burning software. There are plenty of free or paid options out there.
Then, in order to activate Windows 11, you'll need your Product Key. You can find it in your recap e-mail (i.e. Mr Key Shop sends you an email with all you need to go right after purchase) if you ordered Windows 11 online. Otherwise, check your retail box or your PC if you bought a machine with Windows up and running.
If you're going to use the code in the computer you're running, you can collect it by using a specific command to be input as an admin from the Command Prompt. Follow this procedure:
Open the START menu and type CMD. Then select 'Run as Administrator'.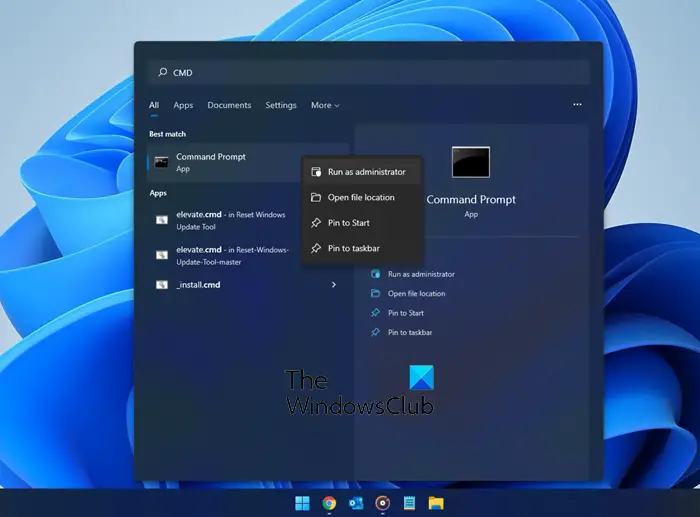 A Command Prompt window will open where you can paste with a right-click the following string:
wmic path softwarelicensingservice get OA3xOriginalProductKey
Your OS will return your key in the following format (25 alphanumeric symbols in 5 groups of 5 characters):
AAAAA-BBBBB-CCCCC-DDDDD-EEEEE.
Download Microsoft Media Creation Tool for Windows 11
Microsoft used to allow the direct download of their Operating Systems ISO files to be burned on DVD as an installation media. However, it's no longer possible. Your only way to get an ISO file (unless you purchased your license from Mr Key Shop since they always provide a direct download link) is using the Media Creation Tool.
For example, you can visit this page for Microsoft Windows 10 and download the app. Look for the 'Create Windows 10 installation media' section and click 'Download tool now'.
The same happens for Windows 11: go to this page and click 'Download tool now' under 'Create Windows 11 Installation Media'.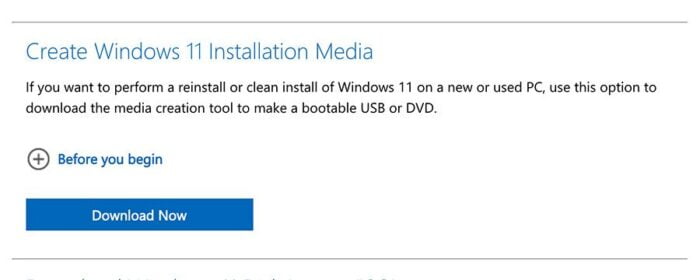 Prepare your USB drive for Windows 11
Again, this is the simplest method ever. Once you launched the Media Creation Tool, you can choose which version of your OS you want to install, by selecting Language, Edition, and Architecture (e.g. English, Windows 11, and 64-bit x64). Finally, you'll have to select the system letter of your flash drive and confirm by clicking 'OK'. Be advised that, once the procedure starts, everything in the drive will be definitely erased.
Then, the software will download the selected Operating System in the USB drive, which you'll use to boot your PC to initiate the setup.
Burn the boot disk to Install Windows 11
This process is quite lengthier than the USB method, therefore it will consume more time. After you download the ISO file by choosing the appropriate option in the Media Creation Tool, you can burn your setup disk using the burning software of your choice, for example, Ashampoo Burning Studio Free. Just insert a blank DVD into your optical drive. Choose the option to "write the image on disk" or "burn ISO image", ensure the DVD media is selected as the target and the ISO file as the source. Then click the relevant button to start the burning process.
Prepare to install Windows 11
If you've already installed an OS from USB or CD/DVD in the past, this step will be straightforward. The first thing to do is reboot your computer with the USB drive or the DVD in. Once the manufacturer's logo appears on the screen, press F1 or F2 to open the boot menu (some laptops may require pressing F12, check the relevant manual) and choose your boot unit. Once you see the menu, choose the boot option as USB or DVD, then press Enter. If you did everything right, the setup program for Windows 11 will launch.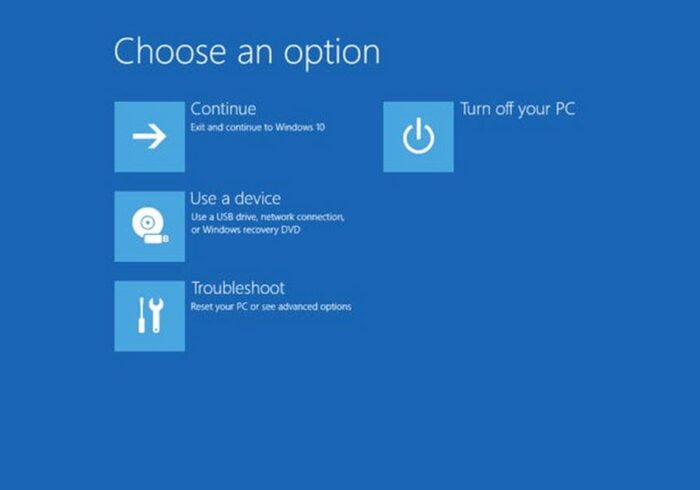 Let's go with the setup of Windows 11
Now you can expect the usual setup process you've already experienced with Windows 10: pick the destination unit, select the partitions, etc.
According to the file you downloaded from Microsoft, you may be prompted if you wish to upgrade from Windows 10 instead (remember, you can't do it from Windows 8.1 or Windows 7) or start a custom setup. You should also have the option to transfer your data from Windows 10.
The setup process won't take too much time, since Microsoft put some effort into reducing the Windows 11 OS footprint by removing some pre-installed apps.
If you're using a brand new computer or you wish to perform a clean installation, select Custom setup. Firstly, you'll have to choose how to manage partitions. In the case of a new PC without any preinstalled operating systems, you'll have to select the unallocated space. If you wish to erase all the data from your machine, remove the old partitions first, then, again, select the unallocated space.
If your current operating system runs a lot of programs and you're performing the upgrade, all the apps will be kept, however, some of them may stop working correctly or won't run at all. At the end of the setup, we recommend testing all your most-used apps to ensure they work normally.
Unless your operating system is under a specific, possibly hard-to-replicate configuration, we recommend starting from scratch and performing a clean installation process: the result will be optimal and you'll minimize any future issues.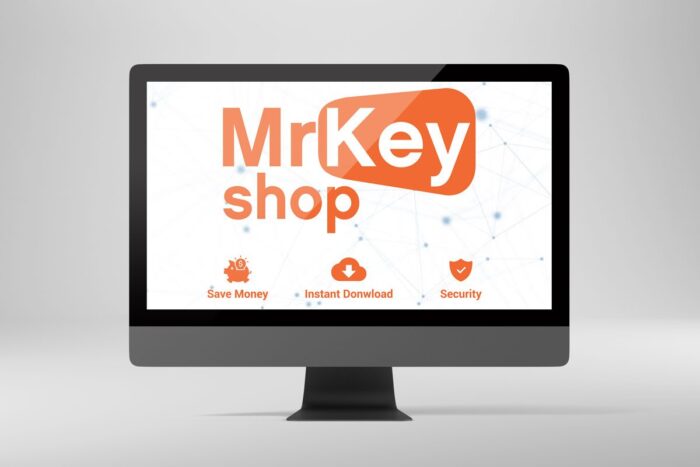 Final steps to install Windows 11
Once you launched the actual setup process, Windows will start copying files and may reboot a couple of times. Then, you'll be guided across the different prompts to customize your settings, configure an account and access your Microsoft account.
Just like Windows 10 21H2, Windows 11 requires a Microsoft account to complete the setup and make the system usable.
Then, your computer will prepare your desktop and you'll be free to use the freshly-installed OS as you wish. Good job!
Mr Key Shop -
As per Product
UI & Navigation -

95%

Product Inventory -

95%

Product Costing -

95%

Trust of Genuine Keys -

95%

Support and Payment options -

95%