In this Windows 10 reviews article, we'll talk about everything you need to know about this operating system. Its functions, its history, its future and the best offers.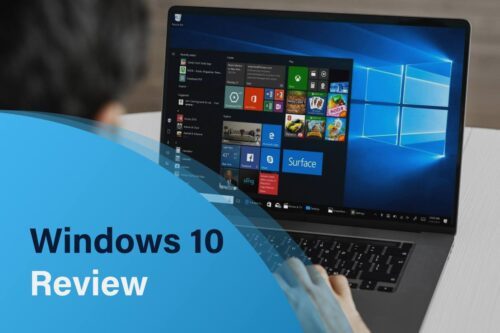 Windows 10 review: pros and cons
Windows 10 continues to offer several advantages in 2023. Its familiar and intuitive interface makes it easy for users to navigate and find their way around the operating system. The compatibility of Windows 10 with a wide range of hardware and software remains a significant strength, ensuring users can use their preferred devices and applications seamlessly.
The regular updates and security patches from Microsoft enhance the overall stability and protection of the operating system. However, it's important to note that as of October 14, 2025, Microsoft will no longer support Windows 10 with security updates, making the OS less secure than the newest version, Windows 11. Furthermore, occasional software compatibility issues, update-related glitches, pre-installed apps, and privacy concerns have been points of contention for some users.
Today's Windows 10 best deals


Windows 10: Latest Version Overview with Focus on 2H22 Update
The latest version of Windows 10 brings significant enhancements, with the 2H22 update taking center stage. This update, also referred to as the "Moment Update", introduces substantial improvements to productivity, security, and performance.
The 2H22 update boasts a refined Start Menu, offering a streamlined and customizable layout that allows users to personalize their desktops according to their preferences. Improved multitasking capabilities empower users to work more efficiently with multiple windows and virtual desktops.
In terms of security, the 2H22 update strengthens Windows 10's defenses against cyber threats by incorporating advanced security features. Enhanced Windows Hello biometric authentication and fortified protection against malware and phishing attacks aim to safeguard user data, ensuring a more secure computing environment.
Additionally, the Moment Updates within the 2H22 release provide incremental improvements throughout the operating system. These updates are dedicated to refining existing features, addressing performance issues, and enhancing overall system stability. Microsoft's commitment to delivering Moment Updates ensures that Windows 10 users consistently benefit from an optimized and reliable computing experience.
While Windows 11 represents the next generation of the Windows operating system, the 2H22 update demonstrates Microsoft's ongoing dedication to supporting and enhancing the previous version. With the 2H22 update, Windows 10 users can enjoy a refined and secure computing experience while maintaining compatibility with their existing hardware and software.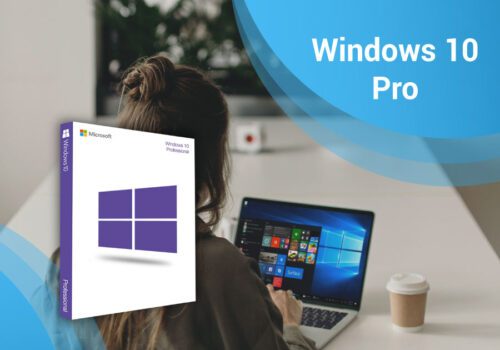 Windows 10 Pro: Advanced Features and Benefits
Windows 10 Pro is an advanced version of Microsoft's operating system designed for professionals and businesses. It offers a range of key features including enhanced security measures like BitLocker encryption and Windows Defender Antivirus. Windows 10 Pro provides users with the ability to join a domain, enabling seamless integration into enterprise networks.
Additionally, it offers advanced management tools such as Group Policy and Remote Desktop, empowering IT administrators to efficiently manage devices. The major benefits of Windows 10 Product key include its robust security features, advanced management capabilities, and compatibility with a wide range of software and hardware. However, it is worth noting that Windows 10 Pro comes at a higher price point compared to the standard Windows 10 Home edition.
Windows 10 Home: Key Features, Benefits, and Considerations
Windows 10 Home is the standard version of Microsoft's popular operating system, catering to the needs of home users and individuals. It offers a wide range of key features, including the familiar and user-friendly interface of Windows 10, Cortana digital assistant, and the Microsoft Edge web browser. Windows 10 Home provides essential functionalities such as the ability to use virtual desktops, access the Windows Store for apps and games, and utilize the built-in Windows Defender Antivirus for basic security protection.
One of the major benefits of Windows 10 Home is its affordability and widespread compatibility with various software and hardware. However, compared to Windows 10 Pro, it lacks certain advanced features like domain joining and BitLocker encryption. Nonetheless, for most home users, Windows 10 Home offers a robust and feature-rich operating system that meets their everyday computing needs.
See all the best Windows deals
Windows 10 Pro vs. Home: Key Differences Unveiled
When comparing Windows 10 Pro and Home editions, several notable differences come to light. Windows 10 Pro offers advanced features like domain joining, allowing seamless integration into enterprise networks, and BitLocker encryption for enhanced data security. It also includes advanced management tools such as Group Policy and Remote Desktop, catering to the needs of IT administrators.
On the other hand, Windows 10 Home focuses on providing a user-friendly experience for home users, offering features like Cortana, virtual desktops, and access to the Windows Store for apps and games. While Windows 10 Pro comes at a higher price point, its additional functionalities make it the preferred choice for professionals and businesses, while Windows 10 Home remains a more affordable and feature-rich option for everyday home computing needs.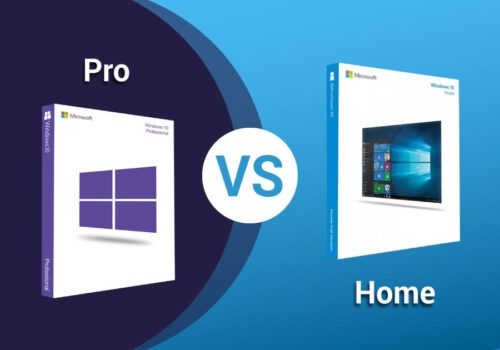 Buy Windows 10 while Saving Money. Here's Where.
When it comes to purchasing Windows 10 and saving money, two reputable online stores stand out: Mr Key Shop and Keycense. Both platforms are 100% legal and professional e-commerce sites that offer users the opportunity to save on the best digital software.
At Mr Key Shop, customers can find great deals on your Windows 10 pro key. The website provides a user-friendly interface, making it easy to browse and select the desired Windows 10 edition. With competitive prices and a reliable customer support team, Mr Key Shop ensures a hassle-free buying experience.
Another trusted option is Keycense, an online store dedicated to offering affordable digital software, including the best operating systems. Keycense prides itself on providing legitimate and genuine software products, ensuring that customers receive fully licensed versions of Windows 10 at discounted prices. Microsoft Office Suite, Antivirus and VPN packages are also available.
Both Mr Key Shop and Keycense offer secure payment options and deliver digital licenses promptly, allowing users to activate Windows 10 without delay. By choosing these trusted platforms, users can enjoy the benefits of Windows 10 while saving money on their purchase.
10 Windows: 10 Features That Enhance Your Computing Experience
Windows 10 is packed with a wide array of features that elevate your computing experience to the next level. From productivity-enhancing tools to seamless integration across devices, here are 10 standout features of Windows 10:
Start Menu Customization: Personalize your desktop with a customizable Start Menu, allowing you to organize and access your favorite apps and content effortlessly.
Microsoft Edge Browser: Experience faster browsing and improved performance with the modern and secure Microsoft Edge browser, designed for efficient web navigation.
Virtual Desktops: Stay organized and multitask efficiently with the ability to create and switch between virtual desktops, keeping different projects and tasks separate.
Windows Hello: Enjoy secure and password-free login using facial recognition or fingerprint authentication, ensuring convenient yet robust device security.
Task View and Timeline: Seamlessly switch between apps and access recent activities with Task View and Timeline, enabling efficient workflow management.
Continuum Mode: Effortlessly transition between tablet and desktop modes on hybrid devices, adapting the user interface to your preferred input method.
Windows Ink: Unleash your creativity with the Windows Ink feature, allowing you to take notes, sketch, and annotate directly on your touchscreen device.
Xbox Integration: Play games, connect with friends, and stream Xbox games to your Windows 10 PC, creating a unified gaming experience.
Universal Windows Platform: Access a vast range of apps and services from the Microsoft Store, optimized for compatibility across multiple devices.
Action Center: The Action Center is where all system and app notifications are displayed. It also provides quick access to various settings like Wi-Fi, Bluetooth, brightness, and more.
Important: Support for the Cortana mobile app on iOS and Android has ended, and the focus of Cortana in Windows 10 has shifted from being a general digital assistant to a productivity assistant within Microsoft 365.
If you are thinking of upgrading to Windows 10, also take a look at the best Microsoft Office Deals.
By leveraging these 10 Windows 10 features, you can maximize productivity, enhance security, and enjoy a seamless and personalized computing experience tailored to your needs.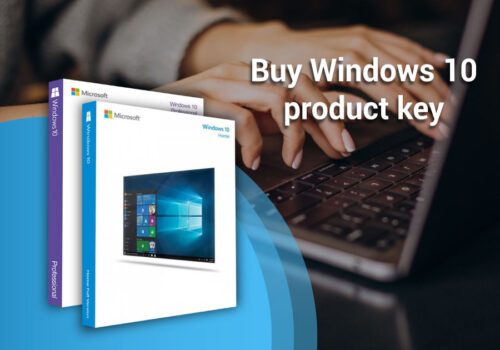 Windows 10 Reviews: User-Friendly Interface and Navigation
Windows 10 has received positive reviews for its user-friendly interface and intuitive navigation. The Start Menu, with its customizable layout, allows users to easily access their favorite apps and content. Additionally, features like Task View, Timeline, and virtual desktops streamline multitasking and improve productivity. The user-friendly design of Windows 10 makes it accessible to both novice and experienced users, contributing to a seamless and enjoyable computing experience.
For a complete Windows 10 experience also buy Microsoft Office at the best price?
Windows 10 Enhanced Security Features: Protecting Your Digital World
Windows 10 is praised for its enhanced security features that prioritize the protection of your digital world. Built-in defenses, such as Windows Defender Antivirus and BitLocker encryption, help safeguard against malware and unauthorized access to your data.
Windows Hello offers secure and convenient biometric authentication options, including facial recognition and fingerprint scanning. With regular security updates and features like SmartScreen and Windows Firewall, Windows 10 provides robust protection for users, ensuring a safe and secure computing environment.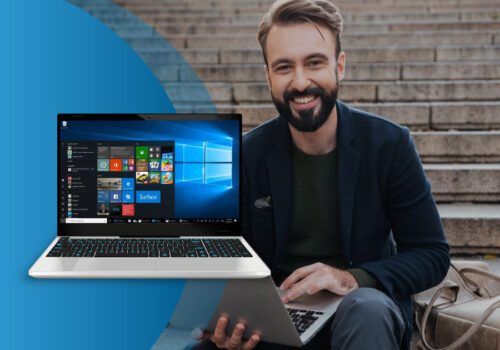 Microsoft Windows 10: Keeping Your System Up to Date
Windows 10 excels at keeping your system up to date with regular updates, ensuring optimal performance and security. Microsoft's commitment to delivering updates and patches helps protect against emerging threats and addresses software vulnerabilities.
With Windows Update, users can easily access the latest features, improvements, and bug fixes, ensuring a reliable and up-to-date operating system experience. By the way, you also must know how to best backup Windows 10!
Windows 10 Gaming Features: Taking Your Gaming Experience to the Next Level
Windows 10 offers a range of gaming features that elevate your gaming experience to new heights. With Xbox integration, you can connect with friends, stream games, and enjoy a unified gaming experience. Game Mode optimizes system resources for smoother gameplay, while DirectX 12 enhances graphics performance. Windows 10's gaming features ensure immersive gameplay and maximum enjoyment for gamers.
Windows 10 Compatibility and Cross-Platform Integration
Windows 10 excels in compatibility and cross-platform integration, allowing seamless collaboration and connectivity across devices. With Microsoft's ecosystem, you can effortlessly sync your files, apps, and settings across Windows 10 PCs, tablets, and smartphones.
Compatibility with a wide range of software and hardware ensures a smooth experience, enabling you to work and play without limitations. Windows 10's compatibility and cross-platform integration make it a versatile and interconnected operating system for those who are reluctant or unable to upgrade to Windows 11.
If you're curious, here's how to install Windows 11.
Windows 10 System Requirements
To ensure a smooth and successful installation of Windows 10, it is important to meet the following key requirements:
Processor: 1 GHz or faster compatible processor
RAM: 1 GB for 32-bit or 2 GB for 64-bit
Storage: 16 GB of available hard disk space for 32-bit or 20 GB for 64-bit
Graphics: DirectX 9 or later with WDDM 1.0 driver
Display: 800 x 600 resolution
Windows 10 continues to be a versatile and widely used operating system, offering a user-friendly interface, enhanced security features, and seamless integration across devices. Whether you are a home user or a professional, Windows 10 provides a reliable and productive computing experience. And remember: you can find your Office 2021 Key and Windows 11 Key without breaking the bank!
Windows 10 Deals 2022 -
As per Product
UI & Navigation -

90%

Product Inventory -

90%

Product Costing -

90%

Trust of OEM keys -

90%