Discover all the features and the best offers for Windows 10. Everything you need to know about one of the best Microsoft's modern OSs, from its features up to the best deals for Windows 10.
In time, Windows 10 became one of the most efficient and flexible operating systems ever developed by Microsoft. For those who write Windows 10 reviews, one important aspect to consider is the consistent updates that made such OS even more functional, lightweight and convenient to use. For this reason, you should always read only the most recent Windows 10 reviews. From this perspective, half-yearly updates gradually brought several new features to the OS, making it one of the best ones ever provided by the company.
TIP: We recommend that you also read our article on Where and How to Buy Microsoft Office?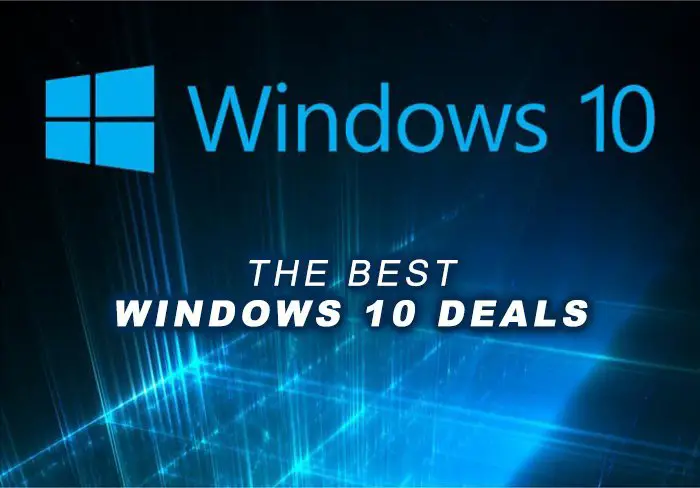 The Best Windows 10 Deals in 2021
Windows 10 inherited some optimal features from the previous iterations of Windows 7 and 8.1 and provides users with a friendly and familiar interface: whoever used Microsoft's OSs in years will recognize the iconic desktop and the toolbar, but today Windows 10 offers more enhanced functionalities, such as Cortana, a new folder navigation system allowing users to pin the most accessed folders, as well as the Timeline that allows to access the activity history with one click and go to the most recently used apps. The new features and updates are a lot more, of course. Keep on reading to see everything Windows 10 has to offer.
If you're on Windows 7, you may still have the chance to update to Windows 10 for free. If this is not your case, you can purchase a license from Microsoft, or if you wish to save some money, you can get in touch with an online reseller offering ESD license codes, 100% legit and genuine. Surfing the Web you can find a certain number of solutions, including Amazon and eBay, however, we recommend being particularly careful: not all the resellers have legit ESD licenses. In some cases, the keys – especially the ones that are WAY TOO cheap – may come from the so-called grey market and thus be stolen or purchased with cloned or forged credit cards.
Mr Key Shop
Luckily, there are some authorized and legit resellers offering ESD licenses for a small price via premium services. One of them is Mr Key Shop, offering different products, such as Windows 10, Microsoft Office, and many antiviruses at good price points. Whatever store you pick, check their reliability by reading some reviews, i.e. going to check TrustPilot.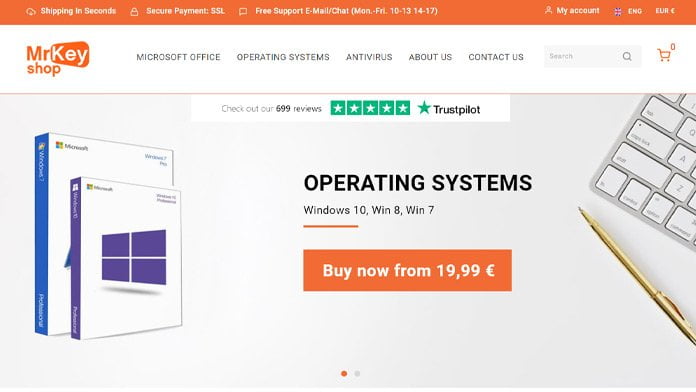 Windows 10, a future-proof system
Unlike its predecessors, Windows 10 is an OS focused on modern devices, and not necessarily on desktop PCs only. Its UI, in fact, is also designed to be used with touch devices, from Windows tablets to 2-in-1 laptops, where you can detach the keyboard and use the devices as a normal touch screen tablet.
Icons are well distanced and the windows, following Microsoft's new design philosophy as known as Fluent Design, have thin borders, a slight translucency on its surface (as those you can see on the most common mobile OSs), and can be snapped to a portion of the screen, although the latter feature, which has been inherited from Windows 7 – aka Aero Snap – is better on bigger displays (keep in mind that a similar feature was only available via paid third-party apps on mac until recently).
Furthermore, the integration with Artificial Intelligence allows you to rely on a virtual assistant, Cortana (named after the homonymous character of the Halo series) that you can ask for anything using your voice or typing into the search bar next to the Start button. Cortana will help you find your contents, information, and text, both online through the Bing search engine and on your computer, searching for snippets of text on your file names and within the files themselves. A very useful feature that will accelerate your workflow.
You can also ask Cortana to do some simple math or convert currencies or measures, all from the search bar, with no further apps needed.
Microsoft aims to offer a modern and touch-friendly OS, as shown by the new Action Center in the lower right corner of the toolbar. Here you can see all your recent notifications from apps and the system, grouped in a tidy and consistent fashion, plus you can access other feature like the Airplane mode, the nearby sharing feature, the VPN mode, and more, just by clicking an icon or tapping and scrolling with your finger.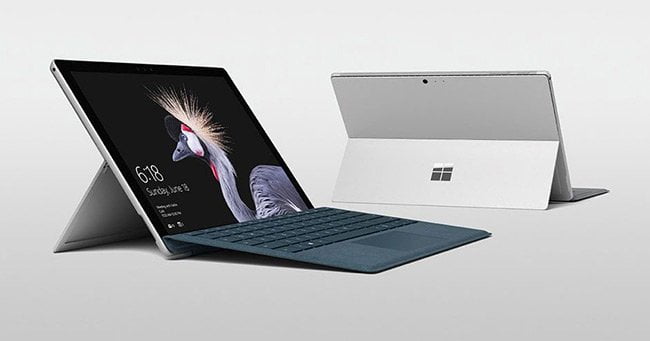 And let's not forget Windows Ink, the working area designed for touch input with an active pen. Here you can jot down your notes and convert them into plain text. Your typical tablet and mobile feature, very useful for those who often work on the go.
Windows 10 seems to compete with macOS and especially ChromeOS on the ease of use in portable mode, but also on the performance side. In fact, Microsoft OS is way faster at the startup and lightweight than its predecessors, the setup process is the most intuitive one ever and requires few, simple steps to complete.
Windows 10, a constantly updated system
Unlike the past, when a new version of Windows was released every couple of years (just think about Windows 95, 98, XP, and so on), Microsoft aims to transform Windows 10 into an "operating system as a service", thus deploying a series of enhancements and new features through the so-called cumulative updates, usually released every six months.
From this perspective, the latest half-yearly cumulative update –  as known as 20H2 – integrated Edge, the new Microsoft's Chromium-based browser, with the system, that's very satisfying to use (and not so much of trauma if you come from Chrome), but also lightweight, since it optimizes the memory usage, unlike other browsers. Its features are quite similar to Google Chrome, also considering that both of them are based on Chromium, to the point that importing your profile and preferences is a no-brainer.
With the latest update, you can also move from one tab to another using the ALT+TAB menu. Previously, you can only pass from one app to another from here, but now you have an overview of all the running programs and you can also choose to pass to a specific tab on Edge.
Another very useful feature introduced by the latest Windows 10 updates is the Timeline, accessible from the Task View: by pressing the Windows key + TAB, you can see the history of your activities on the system from the last 30 days. Furthermore, you can create a new desktop, i.e. to differentiate your files and shortcuts, and separate work, entertainment, and personal activities.
In its effort to making the system more mobile-friendly, Microsoft introduced Windows Hello, an authentication system that uses biometric data such as fingerprints or facial recognition to protect and safeguard Windows 10 without passwords. With the FIDO 2.0 system, biometric data are safely stored on hardware, controlling access against unauthorized or malicious users.
Lastly, closing this short overview of the evolution of Windows 10 OS, we want to mention the updated version of Windows Explorer, the tool that allows users to browse files and folders within their system and their internal/external drives.
With Windows 10, this program has been renamed as File Explorer and is further integrated into the system, allowing users to pin the most used folders, search files, directories, and text snippets within files even more efficiently, as well as sharing and archiving files in compressed formats, with few and simple steps, and more.
Is it worth upgrading Windows 7 to Windows 10?
A little spoiler: it totally is!
The benefits of upgrading Windows 7 to Windows 10 are multiple: firstly, the old Microsoft OS is no longer supported, therefore you'll have some trouble running the most recent apps. Plus, from a security perspective, any vulnerabilities still affecting Windows 7 will no longer be fixed via updates.
These two reasons alone should be more than enough to convince you to say goodbye to the old operating system, but we also want to highlight the fact that Windows 10 uses your hardware resources more intelligently, to the point that such OS runs well also on older machines.
OF course, you need enough storage space (for example, the latest 20H2 update requires up to 32Gb) and soon the 32-bit systems won't be supported anymore. Therefore, if you have a particularly obsolete computer, you may want to consider picking something more recent.
However, for most users, upgrading Windows 7 to Windows 10 is easy and still free, you just have to download the Windows Media Creation Tool and follow the instructions on the screen.
Generally speaking, you can download the ISO image for Windows 10 from Microsoft's official website and install it following the very clear instructions on that page. You must also own a license code, however, to use the system. If you have a laptop, probably the OEM license that came with your machine will suffice, but if that's no longer applicable for the upgrade or in case you want to build a computer from scratch, you'll have to purchase a new product key.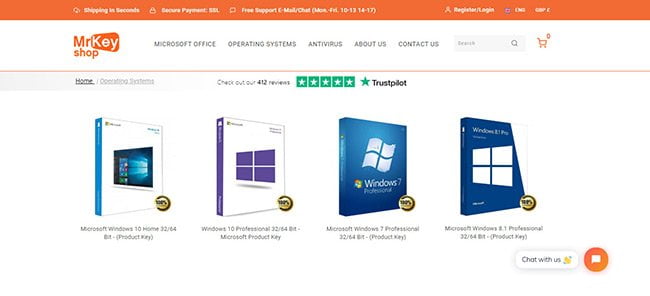 Microsoft website also offers licenses for the different editions of Windows 10 – we'll get back to this later in this article – but you must be ready to spend a couple of hundreds.
Alternatively, you can purchase an ESD license code from a third-party reseller. Such practice is totally legit, as stated by the European Court of justice. Some companies use to buy licenses in batches, to be activated as needed, and according to the seats installed. Sometimes, to optimize costs and recover an investment, they sell the overstocks, therefore you can find some ESD code providers that specialize in such kinds of transactions, which are 100% legit and legal.
However, you need to be extra careful about the source of such codes. In fact, many websites are selling excessively cheap license codes, since they come out of the grey market, an area of dubious legality where you may incur in codes that have been stolen or purchased with forged/cloned credit cards, with all the related legal risks.
To avoid any unpleasant scenario, you always have to be careful and check the sellers and their feedbacks/reviews. And if the prices are too good to be true, they probably are.
As an excellent alternative, you can purchase your next Windows 10 license 100% legally and safely from an authorized and trusted reseller.
One of them is Mr Key Shop, which offers license codes for many Microsoft products and antivirus software at a competitive price and with premium service.
Visit their official website for all the best deals for Windows 10.
Where to buy Windows 10 – The Best Deals
A Windows 10 license may be expensive, especially at full price. It is worth keeping an eye on the Microsoft Store, however, for any possible deals.
A good alternative is the third-party stores like Mr Key Shop, offering product Keys for Windows 10 at cheap prices all year round. You can also signup for Mr Key Shop's newsletter to stay up-to-date for any deals and promos for Windows 10 and all the other products in their catalog.
But if you just can't help buying from Amazon and eBay, always be extra careful to sellers relying on those platforms: do your search and check for feedbacks. Even in these cases, you can always monitor any possible discounts and deals for Windows 10 during the year.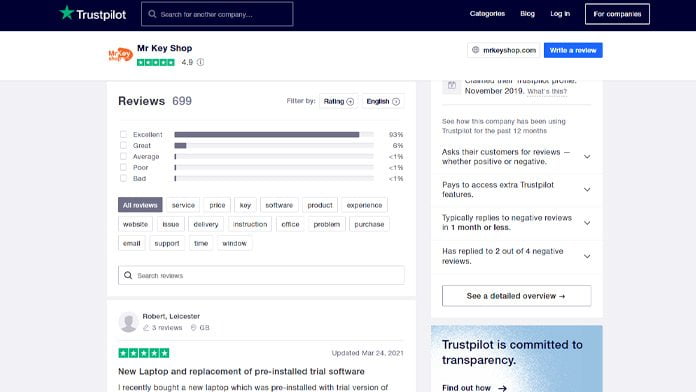 Using a valid Windows 10 license has different benefits: you can use all the potential of your Microsoft account, synch your work across your computers and use the Windows Hello protection. Plus, if you love video games, you can also access Xbox services like Game Pass Ultimate and Microsoft store with its rich library of exciting games.
The bottom line is, if you are still on Windows 7 or Windows 8.1, you have no more excuses: upgrading to Windows 10 is easy, fast, and above all safe and beneficial. Enjoy the best Microsoft OS to date: if you purchase it now, you can already benefit from all the updates released up to 20H2, waiting for May, and the arrival of the long-awaited 21H1!
Windows 10, which version should you choose?
Windows 10 comes in two main editions, namely Windows 10 Professional and Windows 10 Home. There are also some sub-versions like Enterprise or IoT Core, focused on very specialized use cases in the business and tech fields, but the basic features are the same.
Both Windows 10 Home and Windows 10 Professional offer security features such as Windows Hello and FIDO 2.0 protection via biometric data.
Win10 Professional, however, includes an extra layer of security with Bitlocker encryption and also offers access to Microsoft Azure, ideal for all the professionals that use this platform at work.
In both cases, Windows 10 licenses ensure all the free updates, both the half-yearly cumulative ones (the latest was released in October 2020, as known as 20H2), including the upcoming May 2021 update, 21H1 that we will cover later, and the minor, intermediate updates.
Windows 10 21H1 update, what is it all about?
Expected for the first half of 2021 (hence the name 21H1), this update will introduce some interesting enhancements, as announced by  Microsoft on their Official Blog.
The main goal is to increase the system's speed and stability,  as well as its security. In fact, Windows Hello is going to be updated to support multiple cameras, i.e. when your PC has both an internal and an external webcam. In this case, you'll be able to set your default device for facial recognition.
Windows Defender Application Guard will be even more effective, with faster loading times when opening a document.
Other technical enhancements will relate to Windows Management Instrumentation (WMI) Group Policy Service (GPSVC), to make remote working more efficient.