In this Windows 10 reviews article, we'll talk about everything you need to know about this operating system. Its functions, its history, it's future and the best offers.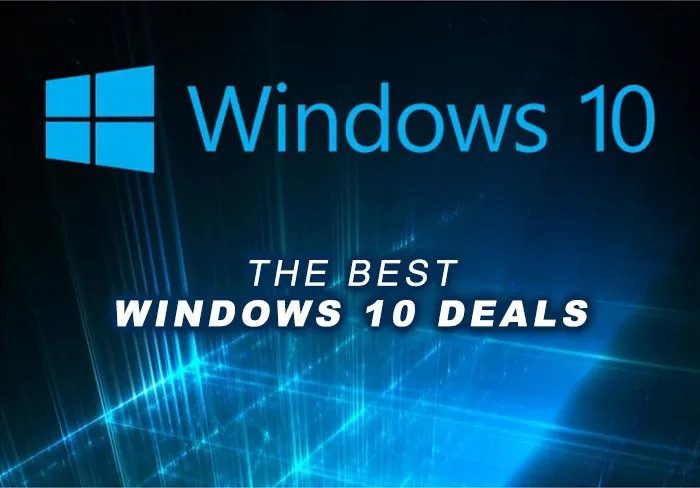 Does it make any sense to read Windows 10 Reviews in 2022? All the buzz is around Windows 11 now, and Microsoft seems totally focused on their new OS, despite the company has promised that Windows 10 would have to be the ultimate OS released, back in the day. Well, Windows 10 is still one of the most popular Operating Systems made by Microsoft, and, although it had a slow start, it conquered the hearts and the drives of a huge portion of users. As shared by Microsoft's CEO Satya Nadella, Windows 10 is running on over 1.3 billion devices, proving how this OS has grown in popularity since its inception.
Read also: Where and How to Buy Microsoft Office
Still, a slice of Microsoft users are still on Windows 7 or Windows 8.1; while Microsoft tried hard and harder to convince them to upgrade to Windows 10 by never ceasing the free upgrade option via the Windows Media Creation Tool procedure, a lot of people (and businesses) just won't leave their old Operating Systems, although their critical exposures to threats.
Now, the scenario seems to be shifting towards the Windows 10 – Windows 11 upgrade, where Microsoft is allowing their user to opt-in for free and supporting Windows 10 until 2025 at the same time.
That said, should we consider Windows 10 as an out-of-date OS? Should we disregard any new review attempt? In short: no.
The Best Windows 10 Deals in 2022
Buying Windows 10 in one of its editions can be a daunting task if you want to ensure to buy your Windows 10 license at the best price. Although you might be able to upgrade from Windows 7 or Windows 8.1 for free, if you have to build a system from scratch or, depending on the edition owned, you might be needing a brand new product key.
Going for it on the Microsoft Store means shelling out hundreds of bucks, while searching the web may get you to incur one of the questionable third-party sellers in the grey market – there are several deals, offers, cheap price alerts around the web, many websites sell Windows 10 licenses for dirt-cheap asking prices, but a word of warning is necessary: when a bargain is too good to be true, it probably is.
Whenever you surf the Amazon or eBay third-party merchants' offerings, be always careful about the feedback and reviews: some keys may be "fake", or obtained by questionable or illegal practices (i.e. bulk-purchased with forged or stolen credit cards).
Read: Where to buy Microsoft Windows Server?
Reliable reseller of Windows 10 software
That said, there are some reliable and affordable stores where you can buy the best digital software at competitive prices. If you're looking for the best deals for Windows 10 or other software, you can visit a store like Mr Key Shop.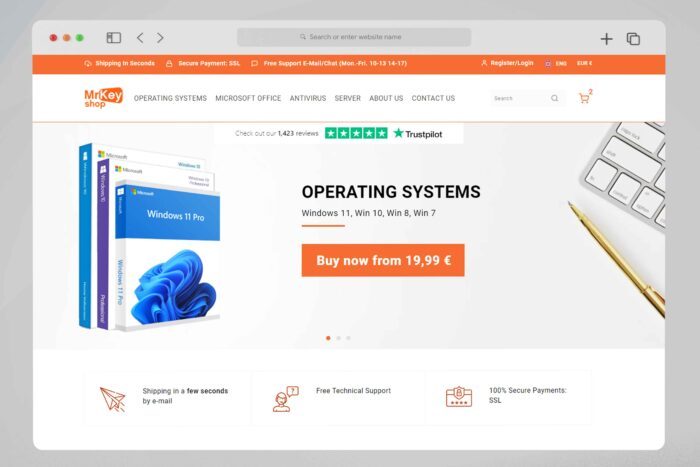 Mr Key Shop is an authorized and legit reseller offering genuine digital licenses from a complete catalog, spanning from Microsoft Operating Systems like Windows 10 and Windows 11, Microsoft Office suites like Office 2021 and Office for Mac, Antivirus Tools like Kaspersky and Avast, and Microsoft Server products like Microsoft Windows Server 2019, Windows Storage Server 2016, and Microsoft SQL Server 2019.
All product keys are guaranteed and 100% authentic, with instant email delivery after purchase. You can save up to 70% compared to other stores or first-party catalogs and pay with SSL-Secured Payment Methods (PayPal, Stripe, Google Pay, Apple Pay, Amazon Pay, etc.), with a full money-back warranty and free English-speaking Customer Service.
If you're looking for the best Windows 10 deals in 2022, Mr Key Shop is your go-to destination, as you can see from their feedback on TrustPilot (over 90% Excellent rating): keep an eye on their store, because they often launch deals and sales for all their encompassing catalog.
And you'll enjoy the professional service put in place by Mr Key Shop, all based on three pillars: simplicity, speed, and reliability. The shopping process is exactly like this: buy, download Windows 10 immediately after purchase, then install and activate your Microsoft Operating System within a few minutes by following the straightforward instructions, also included in your order.
Another great benefit of shopping from Mr Key Shop is protecting the environment: since they won't ship any physical goods, they can cut pollution and waste. For this reason, Mr Key Shop defines itself as an Eco-Friendly Company.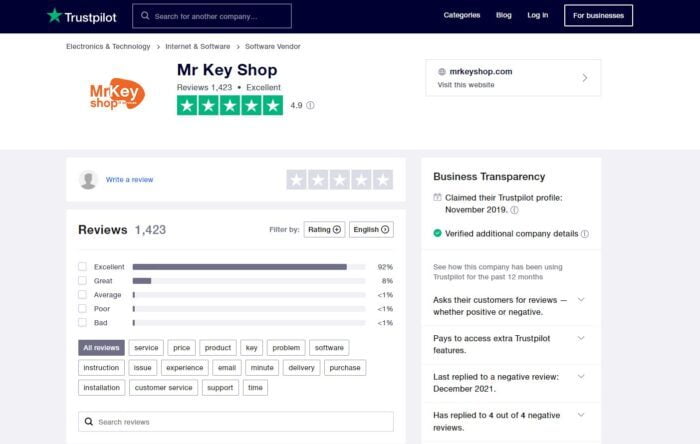 Windows 10 – A review in retrospective
First of all, Windows 10 is still a modern and performing Operating System, fine-tuned by years of updates like the latest 21H2, and optimized for modern 2-in-1 laptops and other touch-based displays.
Icons are well distanced and the windows, following Microsoft's new design philosophy as known as Fluent Design, have thin borders, a slight translucency on its surface (as those you can see on the most common mobile OSs), and can be snapped to a portion of the screen, although the latter feature, which has been inherited from Windows 7 – aka Aero Snap – is better on bigger displays (keep in mind that a similar feature was only available via paid third-party apps on mac until recently).
Furthermore, the integration with Artificial Intelligence allows you to rely on a virtual assistant, Cortana (named after the homonymous character of the Halo series) that you can ask for anything using your voice or typing into the search bar next to the Start button. Cortana will help you find your contents, information, and text, both online through the Bing search engine and on your computer, searching for snippets of text on your file names and within the files themselves. A very useful feature that will accelerate your workflow.
You can also ask Cortana to do some simple math or convert currencies or measures, all from the search bar, with no further apps needed.
With Windows 10, Microsoft aimed to offer a modern and touch-friendly OS, as shown by the new Action Center in the lower right corner of the toolbar. Here you can see all your recent notifications from apps and the system, grouped in a tidy and consistent fashion, plus you can access other features like the Airplane mode, the nearby sharing feature, the VPN mode, and more, just by clicking an icon or tapping and scrolling with your finger.
And let's not forget Windows Ink, the working area designed for touch input with an active pen. Here you can jot down your notes and convert them into plain text. Your typical tablet and mobile feature, very useful for those who often work on the go.
Windows 10 seems to compete with macOS and especially ChromeOS on the ease of use in portable mode, but also on the performance side. In fact, Microsoft OS is way faster at the startup and lightweight than its predecessors, the setup process is the most intuitive one ever and requires few, simple steps to complete.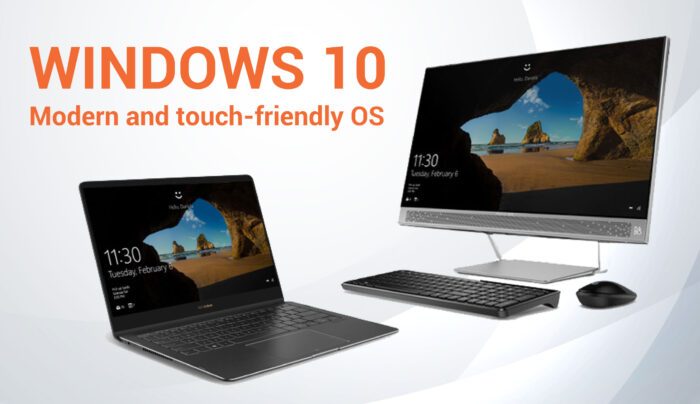 Windows 10 – A system designed to be future-proof
Unlike the past, when a new version of Windows was released every couple of years (just think about Windows 95, 98, XP, and so on), Microsoft aimed to transform Windows 10 into an "operating system as a service", thus deploying a series of enhancements and new features through the so-called cumulative updates, usually released every six months.
From this perspective, the several half-yearly cumulative updates – like the latest 21H2 – integrated Edge, the new Microsoft's Chromium-based browser, with the system, that's very satisfying to use (and not so much of trauma if you come from Chrome), but also lightweight, since it optimizes the memory usage, unlike other browsers. Its features are quite similar to Google Chrome, also considering that both of them are based on Chromium, to the point that importing your profile and preferences is a no-brainer.
With the latest update, you can also move from one tab to another using the ALT+TAB menu. Previously, you can only pass from one app to another from here, but now you have an overview of all the running programs and you can also choose to pass to a specific tab on Edge.
Another very useful feature introduced by the latest Windows 10 updates is the Timeline, accessible from the Task View: by pressing the Windows key + TAB, you can see the history of your activities on the system from the last 30 days. Furthermore, you can create a new desktop, i.e. to differentiate your files and shortcuts, and separate work, entertainment, and personal activities.
In its effort to make the system more mobile-friendly, Microsoft introduced Windows Hello, an authentication system that uses biometric data such as fingerprints or facial recognition to protect and safeguard Windows 10 without passwords. With the FIDO 2.0 system, biometric data are safely stored on hardware, controlling access against unauthorized or malicious users.
Lastly, closing this short overview of the evolution of Windows 10 OS, we want to mention the updated version of Windows Explorer, the tool that allows users to browse files and folders within their system and their internal/external drives.
With Windows 10, this program has been renamed as File Explorer and is further integrated into the system, allowing users to pin the most used folders, search files, directories, and text snippets within files even more efficiently, as well as sharing and archiving files in compressed formats, with few and simple steps, and more.
The 2021 updates were expected to be big and ground-breaking, under the name of Sunny Valley. Eventually, most of the big news announced will be featured on Windows 11, while the 21H1/2 introduced some good quality-of-like enhancements, like the Clipboard History that allows you to recover some previously copied elements by pressing Win + V, and the enhanced screen capture tool to easily get screenshots by pressing Shift + Win + S, plus other performance, stability, and remote working-focused improvements, like Windows Management Instrumentation (WMI) Group Policy Service (GPSVC).
Windows 10 is still a great operating system and, in some cases, your only choice if you don't meet the strict requisites for Windows 11 (like the infamous TPM module). Since it will be supported until 2025 and some of Windows 11 features will be included in Windows 10 with the upcoming updates – like the DirectStorage tech to speed up I/O streams – it is absolutely worth both reading Windows 10 reviews and buying a license. However, a product key for Windows 10 can be expensive, especially if you go for it via the Microsoft Store, fortunately, there are some cheaper but still legit alternatives to go.
But is it still worth buying Windows 10 in 2022?
Buying Windows 10 in 2022 makes perfect sense. And purchasing Windows 10 at the best price is even better: if you buy Windows 10 in one of its versions from Mr Key Shop, for example, you'll save plenty of bucks over the suggested price and you'll also be able to upgrade to Windows 11 for free. If you compare the MSPRs for Windows 10 and Windows 11, you can see how smart this move would be.
However, if you don't meet the requirements for Windows 11, Windows 10 is still an excellent choice due to its performance and stability, as well as the full compatibility with the latest version of Microsoft Office 2021, also available from Mr Key Shop's catalog.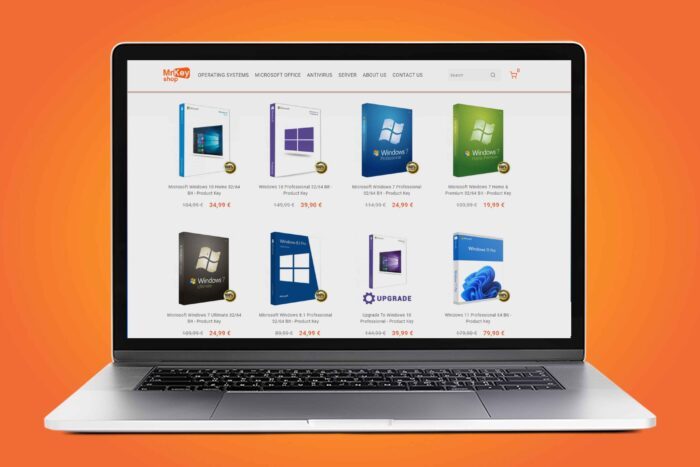 You'll enjoy a fully-fledged, modern operating system that is the farthest from being obsolete, with a modern interface and all the excellent perks offered by Microsoft, like the Xbox Game Pass Service, Cloud Sync for all your Office works, and much more.
Windows 10, which version should you choose?
Windows 10 comes in two main editions, namely Windows 10 Professional and Windows 10 Home. There are also some sub-versions like Enterprise or IoT Core, focused on very specialized use cases in the business and tech fields, but the basic features are the same.
Both Windows 10 Home and Windows 10 Professional offer security features such as Windows Hello and FIDO 2.0 protection via biometric data.
Win10 Professional, however, includes an extra layer of security with Bitlocker encryption and also offers access to Microsoft Azure, ideal for all the professionals that use this platform at work.
In both cases, Windows 10 licenses ensure all the free updates, like the latest 21H2.
Windows 10 Deals 2022 -
As per Product
UI & Navigation -

90%

Product Inventory -

90%

Product Costing -

90%

Trust of OEM keys -

90%